TatSaraasa Resort & Spa
Udaipur, Rajasthan.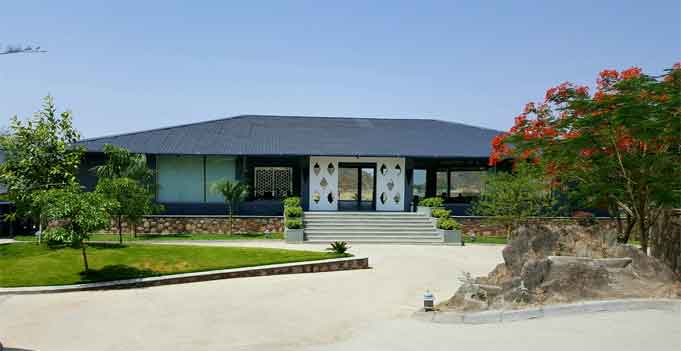 The word 'TatSaraasa' is derived from Sanskrit and means – that which is calm, serene and beautiful.

The resort is set over 6 acres of serene land surrounded by the magnificent Aravalli Range. It is ideal for the travelers who are looking for isolation, tranquility and want to explore beautiful countryside at the same time has an easy access to the modern lifestyle in just blink of your eyes when stepping into the resort.
We have 40 Luxury rooms reflecting sophisticated and contemporary design with all modern day amenities. Our resort has following facilities; A large open swimming pool, SPARSH: Spa with three therapy rooms, Jacuzzi, Gym, Sauna & Steam, AANGAN: kids play area with swings and slides, 9 hole golf putting area for adults, Tattvam: a multi cuisine restaurant, bicycles to move around and free YOGA session every morning. You can also contact our front office desk for sports equipment like badminton, cricket, village Jeep drive etc. The resort is situated on a country side, located around 12 kms away from city center, in a village called Lakhawali on north of Udaipur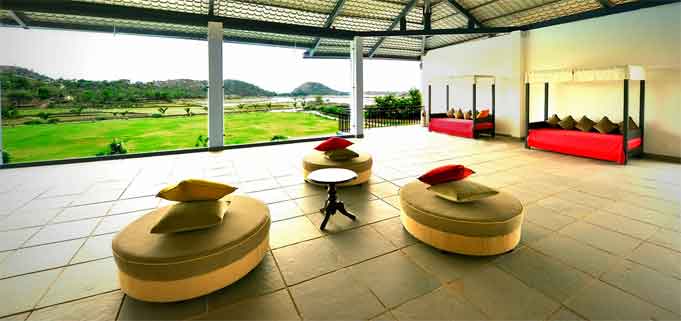 ACCOMMODATION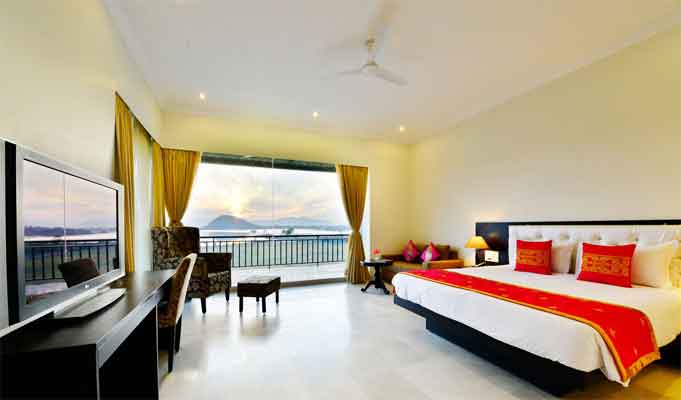 Restaurant ( TATTVAM)
At Tattvam we offer scrumptious and exclusive options for private dining around the clock at locations in the resort. We offer delicious local rajasthani cuisine, gujarati delicacies, western specialities or meals made just your liking.
Service timings are: Breakfast 0700 hrs to 1000 hrs. Lunch 1230 hrs to 1500 hrs. Dinner 1900 hrs to 2300 hrs. Snacks and light refreshments are available all day.
Bar (SAMAA)
The bar at TatSaraasa is to immerse yourself in some thought generating ideas while sipping your favourite drink. Situated at the lobby level and over looking the lake, the "SAMAA" bar is the ideal place to be at for a coffee during the day or that relaxing drink in the evening. Drinks and light snacks can also be served at the pool side.
Private Dining You can experience a real delicious food on the bank of the lake with a private dining space. We will offer personalized dining with candle light dinner at your private garden just for you or then by the lake side; an enjoyable cooking demonstration followed by a private meal.
Spa (SPARSH) There are few greater pleasures in life than a soothing massage. After a tiresome and a monotonous grind for days at work, we as humans definitely need respite in form of a rejuvenation for the body, mind and soul. It's the perfect way to unwind after a stressful day and a simple way to relieve aches and pains. But as good as we know it feels, we rarely find the time to work this luxurious treat into our schedules. Hence a great way to treat your own self is to visit SPARSH. Now you can treat yourself to a relaxing, pain-reducing massage. Be pampered and rejuvenated with our traditional treatments and professional therapists who will suggest a treatment best suited for you, here in "SPARSH" you can enjoy the sunken bath with rose petals and the steam, sauna and Jacuzzi facilities.
Aangan Resort has a playground for children to play and enjoy. There's lots of fun to be had climbing, swinging and sliding, a climbing frame with masses of slides and poles to go down and climb the Giant Octonet with its intricate maze of rope ladders.
Conference facilities and services
Over 1200 sq. ft. of meeting space Theatre seating up to 100 guests Banquet seating for up to 80 guests Classroom seating for up to 60 guests Cluster seating for up to 50 guests U shape seating for up to 30 guests On-site audio visual equipment Pre – function area Podium
Party room that can accommodate 30 guests Board rooms for meetings of 6-12 guests Tailor made menus to meet the specific needs of every event. Live food counters and theme menus Wireless connectivity Complimentary valet parking Projector & Screen Microphone – Collar & Handheld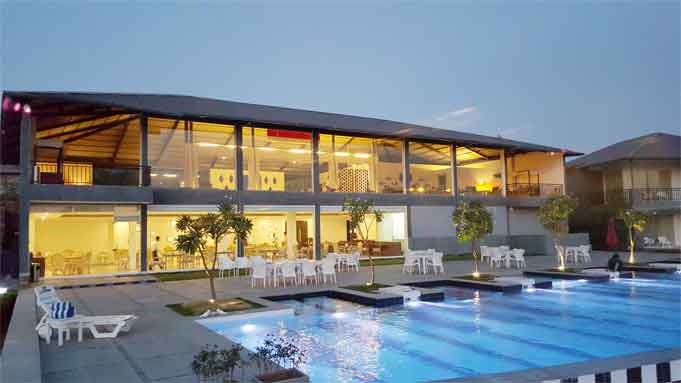 TatSaraasa offers a plethora of activities to ensure maximum involvement and much more than just the sightseeing – a walk in the Aravalli Hills; a camel cart ride through the village in the neighbourhood; Jeep ride around the lake ora yoga session on the banks of calm and mesmeric Lakhawali lake. You decide your place – we make it happen.
Resort has a modern gym with steam and sauna to keep you healthy and fit. One can enjoy personal music also while excercsing .
Swimming Pool TatSaraasa offers large 90ft Infinity Pool with wet bed recliners and under water seats. Our infinity pool, offering a beautiful view, blends with the view of the lake and hills across, please feel free to use it at your convenience. However kindly inform guest service (Dial 0) should you be using it after 8 p.m.
Winter Rates for Luxury Lake View Room Single Occupancy per day @ 8999 + taxes, including breakfast Double Occupancy per day @ 9999 + taxes, including breakfast
Single Occupancy per day @ 10999 + taxes, including breakfast & dinner Double Occupancy per day @ 11999 + taxes, including breakfast & dinner
** Above rates are valid from 7th Nov. 2016 till 31st March 2017 and not valid on holiday weekends & festivals. **Breakfast is on fixed menu. **Dinner will be a Three course meal.
Monsoon & Winter Package for Luxury Lake View Room 2 nights / 3 days pkg. on breakfast plan @ 19,999/- + taxes twin sharing 2 nights / 3 days pkg. on breakfast + dinner plan @ 23,999/- + taxes twin sharing **Above rates are exclusive of taxes. ** Above package is valid from 7th Nov. 2016 till 31st March 2017 and not valid on holiday weekends & festivals.
Inclusions Refreshing welcome drinks (non alcoholic ) on arrival. 2 nights accommodation at well appointed Luxurious Lake facing room on double/twin sharing basis. Daily Breakfast & Dinner on fix menu basis. In-Room Tea/Coffee maker with complimentary replenishment once daily. 2 Bottles of packaged drinking water in the room replenished once daily. Free use of Wi-Fi internet services. Below 5 years age kids complimentary on parents sharing bed. 10% discount on Spa & Laundry. Happy hours at Bar ( timing 5-7 p.m). Early check-in and late checkout (subject to availability) will be charge extra on per room basis. Free use of swimming pool with proper swim wear. Free usage of cycles. Complimentary usage of Fitness centre facilities.
Please note:
• We will require all members photo ID card upon Check-in and passport from foreign national.
• Our check in time is 1400 Hrs and check out is 1200 Hrs, if you wish to retain your room beyond this time please contact our front desk. Extension will be given depending on the availability.
• All our meals are on fixed menu basis and are served at our restaurant (Tattvam) & buffet is subject to Occupancy.
• One child up to 6 years of age can share parents room without any additional charge. However, a second child will be charged whether an extra bed is taken or not.