The Serai
Jaisalmer Code No- AT-RJ
The Serai, Jaisalmer, is a Luxury Desert Camp and Spa set on a hundred acre estate of indigenous desert scrub and is a luxurious base from which to explore the medieval desert kingdom of Jaisalmer, Rajasthan. There are twenty-one guest suites, each pitched on a base of beautiful Jaisalmer Stone. The 'Luxury Tented Suites' have a private plunge pool set in a walled-in garden, and 'The Royal Suite' boasts its own pool, spa, dining and lounge tents. Some of the facilities include an infinity pool inspired by traditional step-wells and raised ten feet above the ground, which offers a commanding view of the camp, and the surrounding wilderness, a Spa created by Raison d'Etre, one of the leading Spa companies in the world, a Dining Tent and a Lounge Bar.

The Serai, Jaisalmer is a member of the prestigious Relais & Châteaux. Relais & Châteaux is a family of hoteliers and Grand Chefs from all over the world who share a passion for and a personal commitment to ensuring their guests are privy to moments of exceptional harmony. To choose Relais & Châteaux is to experience an unforgettable celebration of the senses.

The nearest railhead is at Chandan Railway Station, 4 kms from The Serai. The first major railway station is Jaisalmer which is 52 kms from The Serai. There are several trains every day from Delhi, Mumbai, Jaipur, Jodhpur and other cities. We are happy to provide transfers if required. The nearest airport is in Jaisalmer. It is located at 30 kms from The Serai.
Accommodation
A centrally air-conditioned 65 rooms are elegant & thoughtfully furnished would make your stay There are three types of Suites at The Serai. The Tented Suites of which there are fourteen, are pitched on a base of beautiful local 'Jaisalmer' stone. Each comprise of an exterior relaxing area, a covered sitting room, a spacious bedroom and en suite bathroom, covering an area of over a thousand square feet. The Luxury Tented Suites have in addition, a private walled-in garden with a sunken pool. The Royal Suite boasts its own private spa, outdoor pool and dining and lounge tents.
Restaurant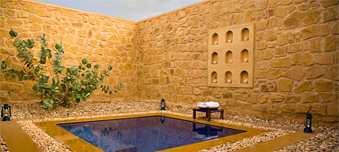 The Dining Tent serves sumptuous local delicacies as well as delicious western repasts – using much home grown organic produce. Guests can choose something from our wide range of wine and spirits, while slipping into one of the comfortable leather club-chairs in the Library Bar, with a book and a Cuban cigar. Alternatively, guests may drink or dine al-fresco anywhere on the estate.
Tariffs 2010-2011 valid from

15th September 2010 to 31st March 2011
Tented Suite
INR 25,000
Luxury Tented Suite
INR 35,000
The Royal Tented Suite
INR 50,000
Please Note The tent rates are based on single / double occupancy per tent. The tent rates include one night accommodation and breakfast for two people, as well as applicable taxes. Transfers and excursions are not included in the tent rates and must be booked in advance. Rates and government taxes are subject to change without prior notice.
The Serai Spa is created by the world renowned Spa company, Raison d'Etre. Four treatment tents are set around a little garden and offer treatments designed to meet all needs - whether your tastes favour a rousing or relaxing massage, a foot fixation or a cleansing scrub… The chemical free products, inspired by the Rajasthani environs, are blended from Indian herbs and spices that are both soothing and healing.
Tele : +91-11- 41612107, 26823836. Mobile: 9810002772, 9910002772.
Email :-
reservation@ashextourism.com