Accommodation With 19 air-conditioned suite & 4 luxury tents, the wild life resort wins you over with its attention to minimalistic chic interior and stylish architecture. Each room is spacious & furnished with king-size beds, chairs, & tables. Each room has a verandah at the back with deck chairs for sunbathing & watching landscapes. The bathrooms are large & each bathroom comes with a separate dressing area providing urban comforts. There is an alternative open air shower area near the bathroom for guests who want to enjoy a hot water shower under the tropical sun in the close environs of nature. The resort will soon boast of a swimming pool & an open air barbecue area for their guests.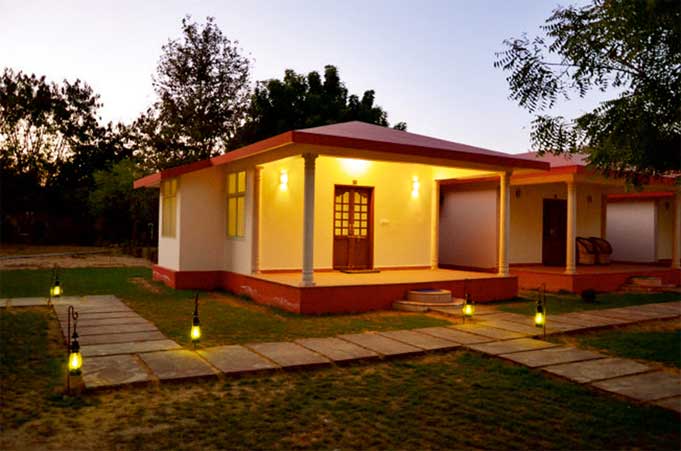 Dine Under The Star
An exclusive dinner by the poolside surrounded by serenity romance & lives traditional INDIAN music. Indulge in our master chef's creation from the royal kitchen. Enjoy a romantic dinner beautiful crafted & set with flowers & candles in your room balcony. Our private butlers will pamper you with the choicest of food & drink balcony overlooks the resort's lush gardens.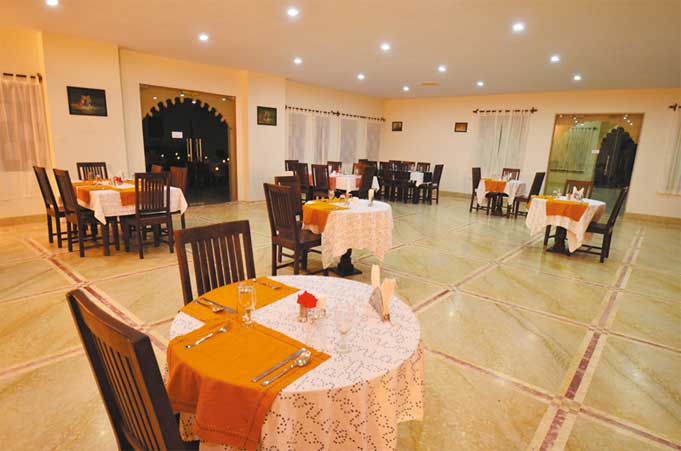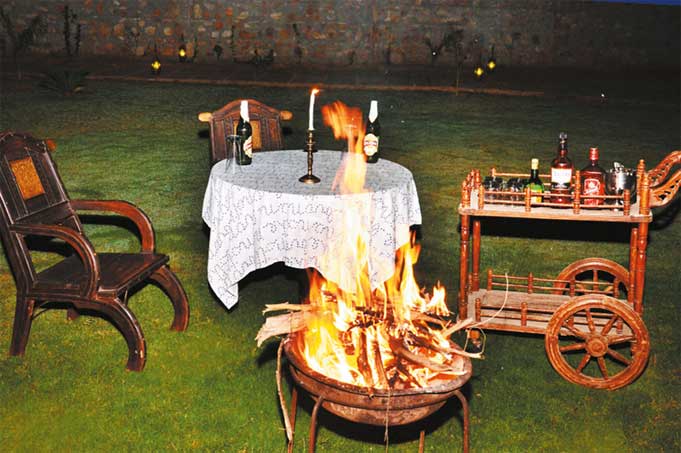 Bush Dinner Special Bush dinner can be arranged on prior Notice at an additional cost INR 3000.00. Min for four people inclusive of taxes (Please contact reservation/sales office of the resort).
Our expansive luxury suits features an elegant living room, bedroom with unique two poster bed, walk in ward robes & private balcony with panoramic views across the Aravalli hills. The Classic pink granite and evergreen marble bathroom is fitted with a gleaming separate shower, sinks and vanity corner.
Stay in luxury tents and transported back to the times of the Raj, when caravans of Royalty would rest overnight and under magnificent shelters in the vast Rajasthani desert. Our luxury tents are temperature controlled.
Conference Hall
Our conference hall has a capacity of 50 pax with all amenities like LCD, OHP, Slide projector, AV system. We organize Conference, theme parties etc. To top it all we have specially trained staff to take care of all your needs & service you with a smile..
The Pool
Refresh your weary spirit with a swim in the cool blue water of the pool. If this does not sound too exciting, try the massage therapy by our trained masseurs for a perfect therapeutic relief & our poolside bar will serve you all kinds of delightful Mock tails, while you relax. The Sher Garh in Ranthambhore is the perfect base from which to explore the territory of the majestic tiger. Vibrant frescoes and richly detailed interiors create the ambience of a royal hunting palace. With personalized options for each destination, you could well have The Sher Garh Experience that stays with you long after your holiday ends.
Attractions
Ranthambhore Fort Perhaps the only one fort, which is not visible from a long distance. The Fort is a massive enclave and quite high. Mughal Emperor Shah Alam gifted it to Sawai Madho Singh I of Jaipur in 1754 AD and since then it was maintained as the private hunting preserve. Much later, Queen Elizabeth II and Duke of Edinburgh were part of the Royal Hunting, who stayed here too. It's a unique Rajput Fort.
Distance from the fort 4kilometres Driving time: 15 minutes
Surwal Lake The lake of Surwal is situated next to a small village, also called Surwal. This place is frequented by bird watchers as it attracts a lot of winter migratory birds. Different types of herons, egrets, ducks and waders can be seen in large flocks here. The lake is used for fishery by some locals. The fish also attract some large fishing birds like the Brown Fish Owl and the Osprey. It takes almost half-a-day to explore Surwal, and the evening return drive can yield sightings of Jackals and Jungle Cats as they have been often spotted in the area
Distance from the Hotel: 17 kilometres Driving Time: 45 Minutes
Local Shopping
Women Craft: The Sher Garh is a nationwide organization, which helps local artisans make various handicraft products and then sell them. In Ranthambhore, Women Craft works with many women from the villages situated on the outskirts of the park. Most of the families from these villages were displaced when their old villages were shifted outside the forest. Today women Craft helps provide income-support for these families.
Major Facilities Telephone, Doctor on Cal,l Wi-f,i Complimentary Laundry Service, Money Exchange,r Guest Car Parking, Swimming Pool, Power Backup, Running Hot & Cold Wate,r Reading Hall, Massage, E-Brochure, Conference Facilities, Jungle Safari, Folk Dance & Puppet Show (On Request & Chargeable).