Umaid Lake Palace
Kalakho - Rajasthan
Umaid Lake Palace , Kalakho - The resort is designed in the traditional Rajasthani style and provides the perfect gateway to spend a weekend away from the city amidst the natural surroundings. This Dausa resort can accommodate up to 300 pax and can entertain more than 1000 guests in the mughal style push garden with fountains and colourful gaiety from a breathtaking landscape and beautiful flowers. Umaid Lake Palace lives up to the romance and history of its name. The serene environs inspire each onlooker to rediscover themselves bringing them closer to their innermost selves and their dear ones. Often you find time stands still as the kaleidoscopic vistas invite ,filling every soul with wonder.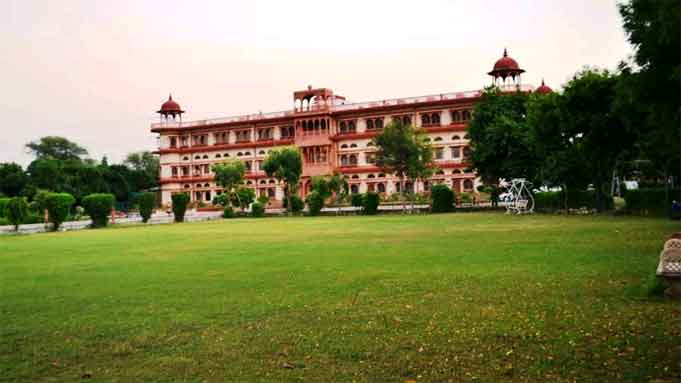 Spread across 20 acres of verdant land, Umaid Lake Place is landscaped to capture the beauty of the Mughal palace gardens of yore. Experience a perfect Organic Retreat away from the mundane - we have our own farmyard where we grow most of our produce. Very so often, guests venture out with the chef to the farms, and help him select their preferred vegetables for the day & try their hand at our interactive kitchen.
Perfect Weekend Getaways from Delhi Umaid Lake Palace is the perfect weekend gateway from Delhi located near the village of Kalakho on the Jaipur - Agra road - a quaint little place close to some amazing sites that you must visit. Whether it is the Sariska National Park or the famous Abhaneri Step Well or even the Haunted Fort of Bhangarh that you have heard so much about - Being at the Umaid Lake Palace Hotel will work just right!.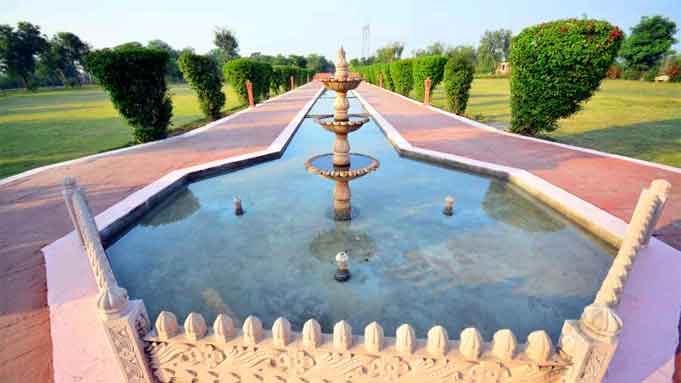 We are located on the main Golden triangle of Jaipur, Agra & Delhi. It is a 4 hour drive from Agra, just an hour's drive from Jaipur, about 3 hours from Ranthambore enroute to Agra.

Located on the golden triangle, or rather first of its kind on the main Jaipur-Agra highway
On the picturesque Kalakho Lake about 13 kilometers from Dausa on the Jaipur - Agra national highway. Distance Umaid Lake Palace, Kalakho - Jaipur 70 kms, Agra 160kms Bharatpur 110kms
Please note that we do not guarantee that there will be water in the lake at all times as it's a natural lake and the water level in the lake is subjected to the annual rains in the region.

Types of Accommodation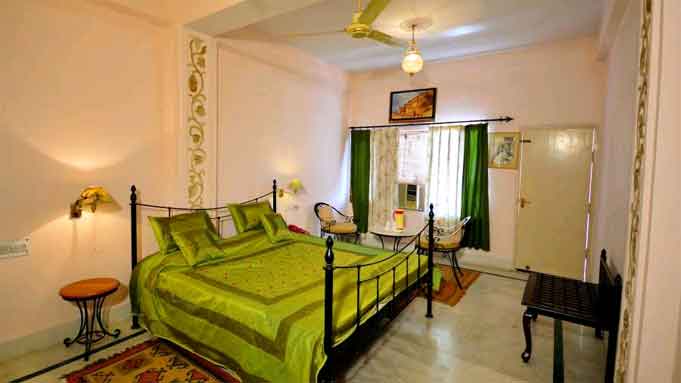 Royal Deluxe Rooms
Our Royal Deluxe Rooms come with over 300 sq. ft. of space and have been aesthetically designed with a Rajasthani flavour in tribute to the extraordinary skill of the local artisans. There are a total of 22 Royal Deluxe Rooms to choose from.
The windows look out into open courtyards or the lake and ensure privacy. The arresting view that meets the eye from the room is either the Mughal gardens or the undulating land of the countryside in the distance. The highlight of these rooms is that each room has its own private sit out so that you can have those moments of watching night come to bid the day goodbye or wake up at dawn and watch daybreak with your cuppa.
Foam memory beds with slip covers made of the finest down ensure you have quality rest.
Amenities Air conditioning Balcony Satellite TV Room service Study desk In room safe Table lamp Telephone - direct dialling 24/7 Hot and cold water, Hair dryer Laundry and dry cleaning Attached private bathrooms with toiletries Open air verandah or sit out Room heaters Bed linen 100% Power back up In room furniture.
Royal Suites
Our 3 Royal Suites are designed with comfort and luxury in mind. Each suite, with a carpet area of over 400 sq. ft., comes with separate living and bedroom areas along with a balcony. These corner suites look out into the vastness beyond the fountains close by.
The beauty created by the local artisans in the bedspreads or in other knick knacks, is for you to savour and delight in. We are proud of their skill and believe that even if your stay is a short one, you will enjoy the aesthetics of their art and craft.
Care has been taken to see that you lack nothing during your stay here. We are sure that you will feel pampered and spoilt in the physical surroundings we have created for you. The memory foam beds and the specially created down covers, will give you the quality sleep you need.
Amenities Air conditioning Separate living area Satellite TV Room service Study desk In room safe Table lamp Telephone - direct dialling, 24/7 Hot and cold water Hair dryer Laundry and dry cleaning Attached private bathrooms with toiletries Room heaters Bed linen 100% Power back up In room furniture.
Swiss Tents
Our Swiss Tents give you the option to relate directly to the outdoors according to your fancy. Complete with a bedroom and wash room attached, these outdoor living spaces are ideal for the travellers who want a totally different experience. Needless to say the tents add that extra zing to a visit and stay in this part of the world.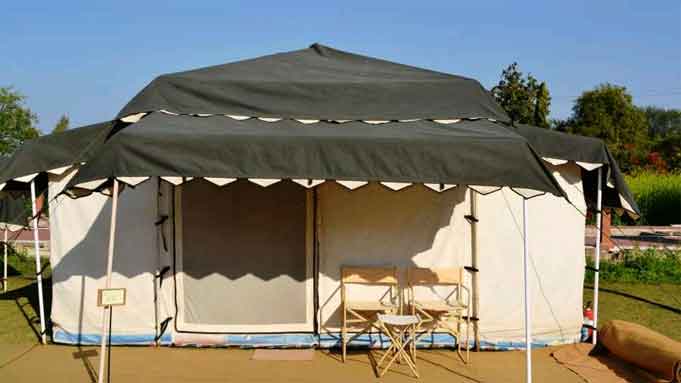 All tents have attached bathrooms with hot running hot & cold water. They are spacious, comfortably furnished with locally crafted furniture, and have well appointed private facilities.
Please note that tents are pitched on special requests, subject to the weather and are not available throughout the year.
Amenities Attached private bathrooms with toiletries Open air verandah or sit out Room heaters, Bed linen 100% Power back up In room furniture
.

Dining at Umaid Lake Palace Hotel
Umaid Lake Palace hotel has its own organic farmyard where it grows most of the produce needed by the chef and desired by our guests. To do justice to the produce, our chefs rustle up some wonderful palates of choice dishes. The cuisine whether vegetarian or non-vegetarian, is created with produce that is sourced locally. This ensures freshness and when sourced from our own farmyard, promises organic farming quality.
Our air conditioned restaurant can seat 300 people and cater to their requests. The multi-cuisine menu on offer has been repeatedly mentioned by our guests, as something they really liked. For theme dinners special menus have been created and served. Our competent chefs dish out mouth watering Mughlai or Indian or Continental fare.
When required the indoor can spill out into the outdoor and include the gardens. The seating can now expand to cater to over a thousand guests. The function can be either formal or a family gathering and with the help of the managers on site, a menu can be suitably created.
Gala Dinners at Umaid Lake Palace Hotel
Gala dinners accompanied with a local cultural experience is sure to leave a memory. The dinner menu can be created to suit the occasion and you can choose the food to suit your taste. Apart from the food, we take interest in creating the ambience as well. So you will get waiters dressed up in local ethnic wear. Local dance troupes and music enliven the evening. Our guests have loved the magic that is thus created. We can always end with some fireworks to brighten up the night sky.
Gala dinner can be clubbed with a mesmerizing game of Camel Polo at our Mughal lawns floodlit at night. A true highlight !!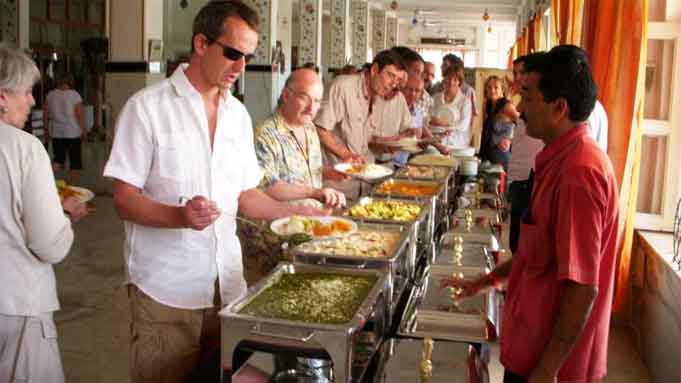 Facilities and Services Theme Lunch / Dinner / High Tea Royal Traditional Welcome » 30 Rooms and Swiss Cottages overlooking the lake. » Swimming pool with massage Facilities. » A Children's park and Facilities of boating and fishing. » A camel or Jeep Safari can be arranged. » Visit the 1000 years old ruins and temples in Bhangarh /Ajabgarh (45 kms). » Visit the Step Well(baveri) and 1000 year old Harshad Mata temple at Abhaneri(18 Kms). » The traditional art of Sikandra Sandstone carving has been revived by the local people around this resort. » Visit the Mendipur Balaji Temple, the sacred image of Lord Hanuman. » Bird lovers can capture the sight of a variety of migratory birds. » Trip to Keoladeo National Park, Bharatpur, Sarisk Tiger Reserve , Alwar , Ranthambhore Nation Park, Sawai Madhopur. » Camel Race & Camel Polo can be organised. » Conferences, seminars and weddings can be arranged.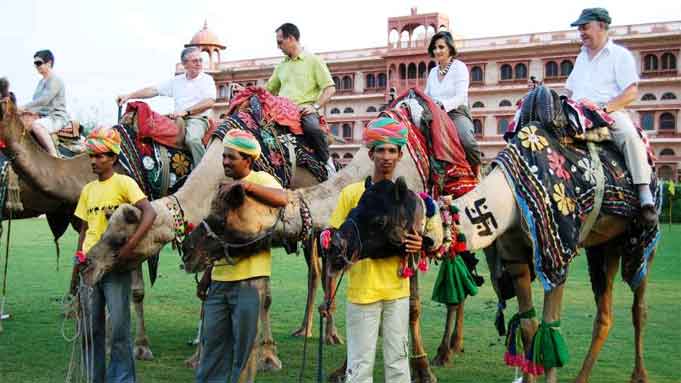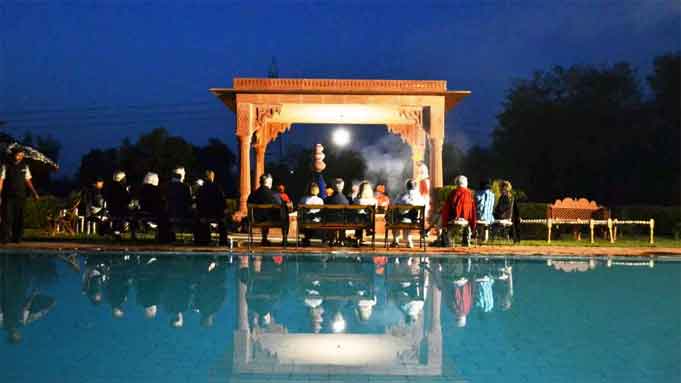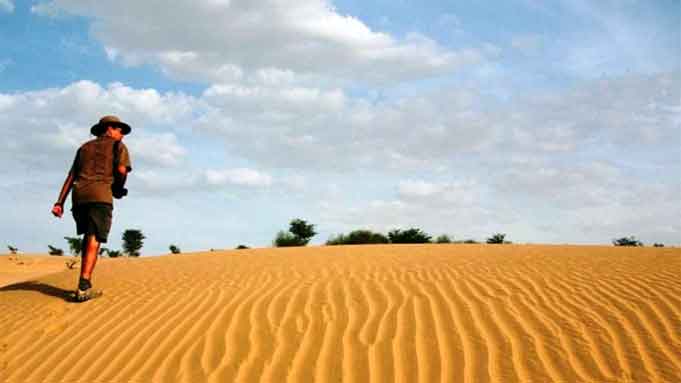 Meetings and Conferences
Our on site event manager and staff will help put up the best show you can dream of. All the details of seating whether cluster or auditorium style will be attended to. Other details like music and flowers, audio and video equipment, welcome drinks, snacks, welcome garlands, banners, brochures - will be worked out. We have not forgotten the publicity arrangements you may need. The press or external photographer or videographer can be arranged. Yes food too can be arranged. You may want only snacks and a beverage or a full three or four course meal.
We have Organized
Product launches Birthday and anniversary parties Farewell meets Corporate events Company celebrations Concerts and musical evenings Fashion shows, Theatre Food festivals Art exhibitions Health and wellness lectures Exhibitions and seminars Movie premiere parties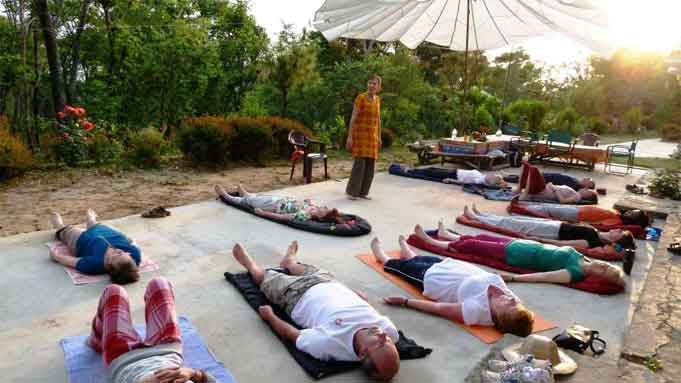 Tariff 2015

Royal Deluxe

Rs. 4500/-

Royal Suite
Rs. 6000/-

Extra Bed

-
All Rooms are Air Conditioned and rates are inclusive of taxes.
• Check out and Check in Time-12 Noon. Late checkout subjected to availability.
Children below age of 5 yrs are complimentary and above that up to 10 yrs. 25% of single person charge.
ll foreign guests are requested to carry their passport and valid visa & Indian nationals a valid Photo ID for Check-in. Ex- Passport copy, driving license etc.
Click here for Booking Form

Tele : +91-11- 41612107, 26823836. Mobile: 9810002772, 9910002772.

Email :- reservation@ashextourism.com