Fisherman's Cove
Covelong Beach- Kanchipuram Chennai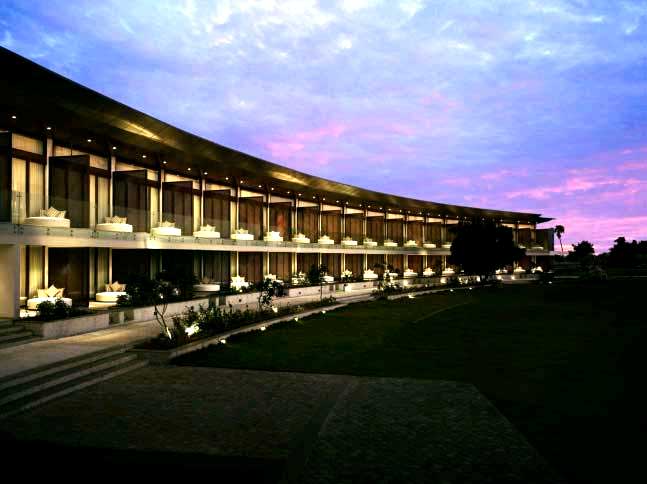 Vivanta by Taj - Fisherman's Cove, Chennai, built on the ramparts of an old Dutch fort, is now riding on a fresh new wave. Yet it remains the charming beach resort that's almost one with the Bay of Bengal. Where fun lovers return for good times. There's a nice new buzz however. In the renewed cottages and villas, the nouvelle restaurants, the high energy bar, and the spa where you'll go Ah! The Chef remains as eager to wow you with specially designed meals. Try mixing biz with fun and see how well wired the resort is.
Soak in the space that reflects the spirit of the sea. Drive in enjoying backseat surprises (we're not revealing here). The 40 km drive from the airport will be a breeze for sure, with Vivanta by Taj delight moments all the way. You might break in to a jig at the reception. When live musicians entertain guests in the open air space between the lobby and the pool. And that's just for starters.
Accommodation - Modern European and Scandinavian architecture marks the stylish cottages and villas. Relax in leisure where the past engages the future to make a stylish present.
DELUXE DELIGHT ROOM They're new. They're exciting. These stylish, contemporary rooms are located on the ground floor of the deluxe wing. Deluxe Delight rooms are based on a mix of Scandinavian architecture and design along with an Indian touch and feel. These rooms have large bathrooms and a private balcony overlooking the lush green lawns and have custom designed day beds for relaxation. Each of these 460 sq ft rooms are elegantly appointed. They are centrally air-conditioned with international direct dial facility, have a mini-bar, tea/coffee maker, 24-hour room service, television with satellite programs and a state of the art intelligent home panel system. Dig it.


DELUXE DELIGHT ROOM AMENITIES AT A GLANCE Deluxe Delight Room - 460 sq ft Ergonomically designed study table and chair 32" LCD TV screen with home theatre system and surround sound to personalize your entertainment Dual line telephones Large Bathrooms Private balconies with day beds Intelligent home panels Bath amenities are Forest Essentials made from natural ingredients 100% cotton robes Egyptian cotton towels Wall-mounted makeup mirror, hair drier and scale Electronic safe High Bandwidth wireless Internet (usage fee applies) Complimentary personal tea/coffee makers, mineral water & newspapers. Use of pool and fitness centre Mini bar with a selection of drinks, snacks, chocolate treats and beverages (charge applies) Menu with choice of pillows 24-hour in room dining Housekeeping service twice daily - morning cleaning and evening turndown Rollaway beds and cribs available on request .
SUPERIOR CHARM Superior Charm rooms are located in the main resort building. These stylish rooms have Malaysian wicker wood furniture. All rooms in this category have international direct dial facility, a mini-bar, tea/coffee maker, 24-hour room service, television with satellite programs.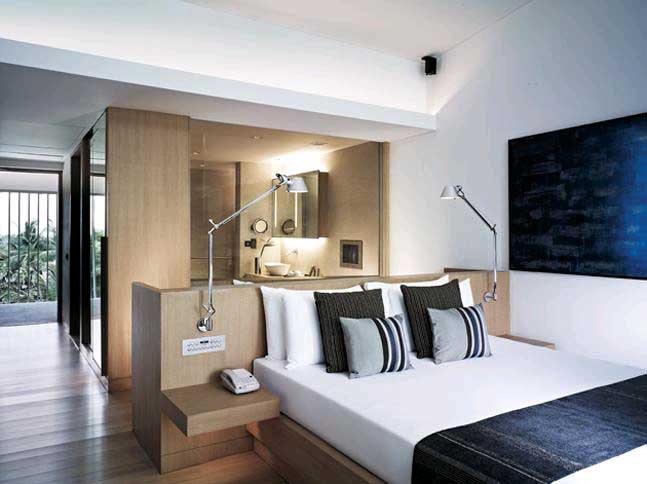 SUPERIOR CHARM - SEA VIEW Superior Charm - Sea View rooms are located in the main resort building overlooking the beautiful Bay of Bengal and the swimming pool. These 291 sq ft rooms have Malaysian wicker wood furniture. They have international direct dial facility, a mini-bar, tea/coffee maker, 24-hour room service, television with satellite programs. Enjoy the water view
DELUXE DELIGHT COTTAGE So you want that little extra space and more privacy. It's here. Charming spacious and rustic cottages located in lush greenery. These stand alone cottages with slopping roofs allow you to stretch in a private sit-out. Enjoy the experience of open air outdoor showers in the privacy of the cottage. Let it flow..
PREMIUM INDULGENCE COTTAGE - SEA VIEW Lovers of the sea. This is your space. Rustic cottages on the beach front with an uninterrupted view of the Bay of Bengal. Step out of these charming stand alone cottages on to your private sit out and examine the sky in a hammock. Also enjoy open air garden showers in the privacy of the cottage. What fun!.
PREMIUM TEMPTATION VILLA Go for luxury on the beach front. See the Bay of Bengal through elegant French windows. This 419 sq ft villa has exotic Malaysian wicker wood furniture. Walk out into your private garden to lush lawns and inviting hammocks. This is it. Complete .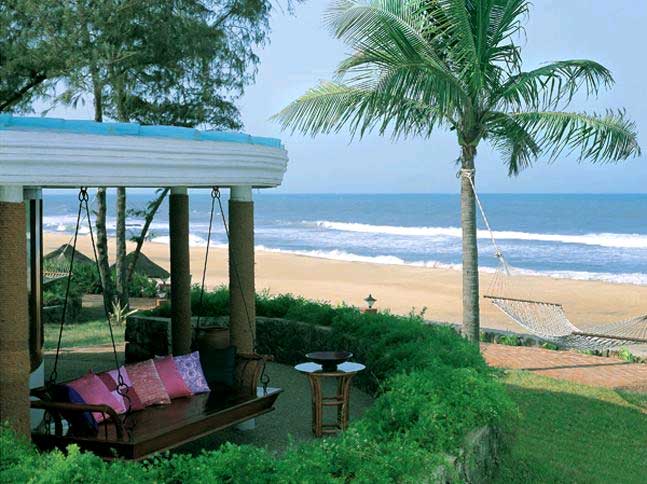 Restaurants and Bars
COOL DOWN. CHILL OUT. Cool down. Chill out. Soak in the relaxed groove of this sunken pool bar with seating inside the pool. The Pool Bar is where guests gather for the perfect afternoon of conversation and an array of beverages, cool cocktails and multi-cuisine snacks. Arrive before sunset and bask in a mellow afterglow of calmness as the sun teases its way down to the other side of the hemisphere. Sip a Mojito or sample any of the potent Sun Burst Bar creations; they will keep your spirits up all afternoon long. Dip. Sip. Dip. Cuisine type: Bar Location: Poolside Hours: 10:00 a.m. to 07:00 p.m. Attire: Informal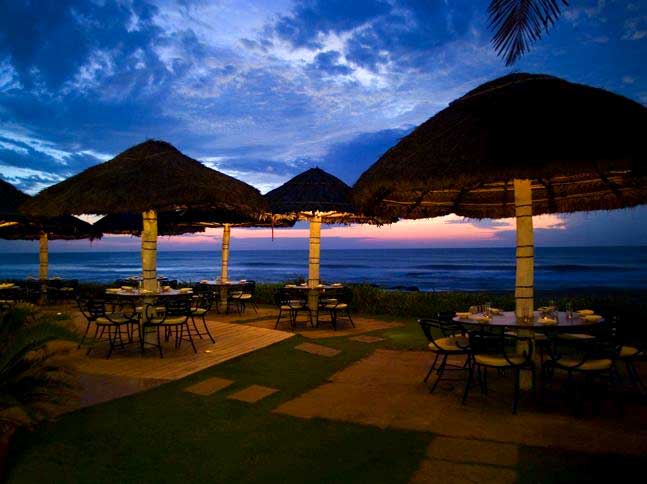 VIVID MEALS Chennai is an ever expanding, ever changing city and the restaurants at Vivanta by Taj - Fisherman's Cove, Chennai certainly keep up. With the sea as a backdrop, you can enjoy imaginative cuisine and our undeniably happening ambience.
Be pleasantly surprised to find some of Chennai's most celebrated restaurants just around the corner. Bay View, where fresh sea food is celebrated in an open air surrounding. Upper Deck - the stylish Mediterranean restaurant for candlelit, alfresco dining overlooking the Bay of Bengal. Seagull, for 24x7 multi-cuisine offerings. And Anchor Bar, where Chennai's most imaginative cocktails come alive. Should you want to dip and sip, try the sunken setting in the pool at the Sun Burst Bar.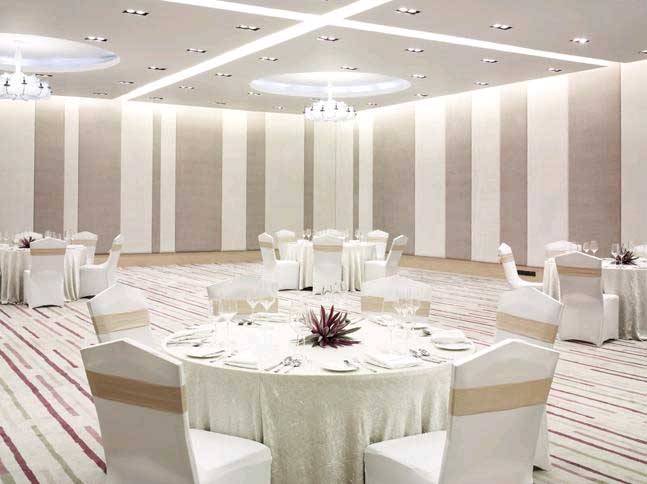 Our indoor and outdoor venues are a treat for the senses. The flavours. The aromas. The live cooking sounds. And the artistic display. All come together in a fine harmony. Dig in. Be thrilled. Let the spirit of Vivanta by Taj enliven you.
DINNER BY THE BAY Fall in love with the charm of the Bay of Bengal. Feel the waves under your feet. Enjoy a customized menu selection to satisfy your fine taste. All private dining experiences are subject to availability and weather conditions. Please reserve your experience at least 12 hours in advance to enable us to make your evening special.
NON STOP EXCITEMENT MENU This vibrant all day dining restaurant overlooking the pool serves multi-cuisine delights with Continental, Chinese and Indian favourites. Loyal guests drive down for the popular weekend buffets on Saturday and bubbly brunches on Sundays. Recharge in the casual ambience with open, interactive kitchens and inside/outside dining that overlooks the pool. Take your pick from the buffet or sit back and relish a menu specially designed by our chefs. A hot favourite is the Uppu Kaari - a boneless lamb gently cooked in assorted spices. Also much in demand is the salmon grain bread. Enjoy it all, while you are looked after with the finest service. Always attentive. Never obtrusive. Cuisine type: All-day dining multicuisine Location: At lobby level overlooking the swimming pool Hours: 24 hr Reservations: Recommended for Sunday Brunch Attire: Smart Casual Average Check: Rs 850 Telephone: 91 44 6741 3353 Seating Capacity: 112 covers
A FRESH VIEW AT SEA FOOD MENU As fresh as fresh can be. We've got it all covered. Both the morning and the afternoon catch of the day from the Coromandal coast. Enjoy the fresh catch of the day cooked with Bay Spice - local peppers, coriander and tamarind. You'll relish the French seafood broth with shredded vegetable, diced seafood and a peg of tender coconut water. Celebrate the panoramic view of the Bay of Bengal in the open. And don't miss the Friday barbeque on the beach, where select spirits and beverages flow unlimited. Get hooked on the finest sea food. That's your bait. Cuisine type: Speciality Sea Food Location: Overlooking the sea Outdoor Dining Hours: 12:30 p.m. to 11:30 p.m. Reservations: Recommended Attire: Smart Casual Average Check: Rs 1200 Telephone: 91 44 6741 3356 Seating Capacity: 120 covers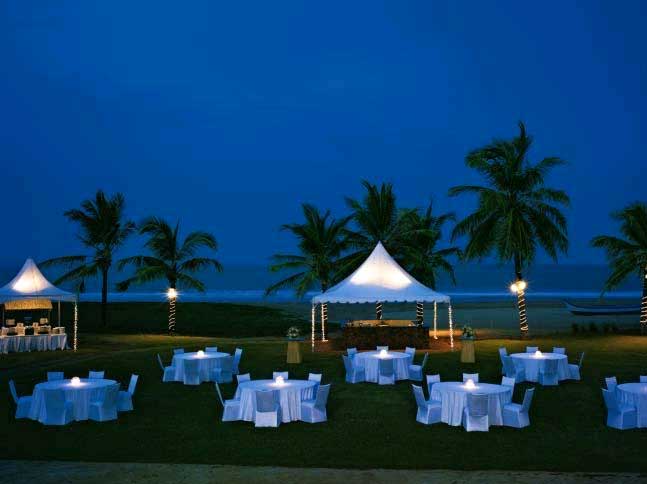 THE MEDITERRANEAN WAVE MENU Go in for an unforgettable experience. A vibrant setting. A vivid view. And food that challenges you to resist. The Upper Deck is a refreshing fine dining Mediterranean restaurant situated on a split-level green lawn. Soak in a stunning view of the Bay of Bengal in a rustic and woody setting. Relish handmade pastas and succulent lamb chops. Depending on the weather don't miss the champagne brunch that's laid on every Sunday. This stylish restaurant offers candlelit, alfresco dining with a superb selection of courses. Viva! Cuisine type: Mediterranean Location: Lawns by the shore Hours: 7:30 p.m. onwards every day, except Mondays. Attire: Formal Average Check: Rs 1450 Telephone: 91 44 6741 3388 Seating Capacity: 42 covers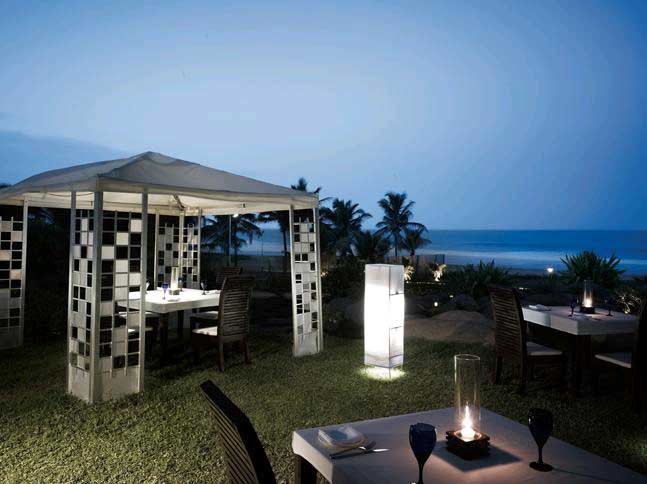 FITNESS CENTRE Stay energized. Work up a sweat. Cool down. Stretch out. The Vivanta by Taj Fitness Centre has everything you need to meet your health and fitness requirements on the go
FITNESS CENTRE AMENITIES AT A GLANCE Open 24-hours, instructor available from 6:30 a.m. to 8:30 p.m. Free weights. Personal training. Equipped with Life Fitness circuit training and cardio machines. Yoga
JIVA SPA
Enjoy a range of signature Indian spa experiences including Indian therapies, Aromatherapy, Ayurveda, beauty treatments and Yoga. The Jiva Spa has single and couple treatment suites with private soak tubs and outdoor showers as well as a meditation and yoga pavilion. There is also a separate Ayurveda enclave. All products used at Jiva Spa are natural and uniquely developed from Indian herbs, essential oils and special ingredients. You can also purchase these products at the spa.
Spa Hours: Monday - Friday 07:00 - 21:00 hr Saturday - Sunday 07:00 - 21:00 hr Health Club: Timings: 06:30 hr to 20:30 hr
Meetings & Conferences
Vivanta by Taj - Fisherman's Cove, Chennai has dynamic meeting space for company getaways and incentive retreats. No matter what your agenda, Vivanta by Taj - Fisherman's Cove will complement it with the appropriate space, staff and service. And when the day's work is done, Vivanta by Taj offers a sophisticated blend of options to entertain and recharge your group.
MEETING ROOMS AND BANQUET FACILITIES INCLUDE 10,000 square feet of conference spaceSeating capacities for up to 350 delegates theatre-style and 25 for seated configurations and receptionsLawns for hosting cocktails and High Tea for up to 3000 guests
Events at Vivanta by Taj - Fisherman's Cove, Chennai are all this and more. We know just how to put together great dinners, weddings, fashion shows and memorable parties. We plan like crazy to achieve that natural balance where everything's perfect without trying to hard. If you can think it up, Vivanta by Taj - Fisherman's Cove can make it iconic. Our skilled personnel look after your guests, so you are assured of a lively bash from start to finish.
VENUES It's big. It's modern. It's pillar-less. This banquet hall integrates style, energy and elegance. On the technical front, soundproof partitioning provides multi function capability. The music system includes wall mounted, high-powered cube speakers and sub woofers powered by independent amplifiers mounted on moveable racks. Microphones, mood lighting and remote controlled, pull-down screens and floor-concealed, audio/visual switch boxes, all ensure that Vivanta by Taj - Fisherman's Cove provides hosts with the latest and greatest technology that they can operate via a control panel for perfect adjustments during the event.
CASUARINA Casuarina: 4000 sq ft Capacity: Theatre style - 350 guests Classroom style - 130 guests U-shape - 100 guests Cocktails - 500 to 800 gues
NEW BEACH - OUTDOOR - An open air venue. Excellent for cocktails, dinners, launch parties and social celebrations. Cocktail - 3000 guests
CASUARINA GROVE - OUTDOOR - A smaller open air venue. Ideal for cocktails, dinners, launch parties and social celebrations. Theatre style - 300 guests Classroom style - 140 guests U-shape - 100 guests Cocktail - 800 guests
MACHAAN - OUTDOOR - A cosy open air venue. When you need to host small gatherings. Theatre style - 30 guests Classroom style - 20 guests U-shape - 25 guests Boardroom - 25 guests Cocktail - 40 guests
TANGO (GROUND FLOOR), STRATEGY & ANALYSIS (FIRST FLOOR) - INDOOR - This banquet facility in the new block has been benchmarked internationally with both hotels and large convention centres to ensure that Vivanta by Taj - Fisherman's Cove, Chennai is able to meet the increase in demand for inbuilt technology and multipurpose lighting. Inbuilt technology allowing drop-down screens, high-speed wireless internet communication through the entire banquet area and plug in video conferencing facilities A handheld remote control unit (used by staff) to operate the audio-visual and lighting Lighting levels range from standard incandescent lighting to RGB lighting, for multiple hues to suit various occasions. Latest projection system and built in screens All AV with round the clock assistance Video Conferencing available in all halls on request
MAKE THESE AREAS WORK WONDERS FOR YOU - Tango - Ground Floor: 2660 sq ft Capacity: Strategy & Analysis - First Floor: 896 sq ft (each) Capacity (for each): Theatre style - 215 guests Classroom style - 120 guests U-shape - 70 guests Boardroom - 74 guests Cocktail - 224 guests Theatre style - 45 guests Classroom style - 35 guests U-shape - 20 guests Boardroom - 20 guests Cocktail - 50 guests
DEBATE (RESORT BUILDING & NEW WING) - These remarkable rooms are fully wired for connectivity and can accommodate 10 people for an exclusive meeting. Boardroom: 400 sq ft (each) Capacity: Boardroom - 12 guests
EXECUTIVE LOUNGE - AGENDA - Another great option for smaller meets of 10 people.Boardroom: 378 sq ft Capacity: Boardroom - 12 guests
LEISURE SERVICES 24-hour in room dining Pool table Tennis Court Badminton Court Beach Cricket, Football and Volleyball available Beauty Salon Fitness centre Outdoor swimming pool Souvenir Shop Indoor games Library Signature Activities Catamaran Ride Deep Sea Fishing Turtle Walk (Season l)
Click here for Booking Form

Tele : +91-11-41612107, 26823836. Mobile: 9810112772, 9910003772.
Email :- reservations@ashextourism.com