TAJ CONNEMARA CHENNAI
The Taj Connemara is Chennai's oldest 5 star hotel. There's a new buzz in Chennai. Just 17 km from the domestic airport. In the heart of the commercial district of Chennai. It's "Colonial Brilliance" at its best. Vivanta by Taj - Connemara, Chennai is the city's only heritage hotel, built in 1854 as the Imperial Hotel, renamed Albany in 1886, and finally re-established as The Connemara in 1890. It was an Art Deco look that the Connemara sported when it 'reopened' in 1937. And the legendary architect Geoffrey Bawa added his touch to the tower block and linking pool in 1974. Today it is infused with the spirited style of Vivanta by Taj. A fresh new vibe that complements tradition.
This arrival zone sets the tone for guestrooms and banquet facilities that deliver the ultimate in urban relaxation. The rooms are some of the largest and most spacious in the city and are appointed with modern comforts. Get set to be delighted with small surprises from the moment you enter. Discover the most happening restaurants which create an enticing food corridor offering the best in world cuisine. Technology is woven through it all. Vivanta by Taj - Connemara, Chennai has all the entertainment and connectivity options today's traveller requires. Become a part of our world. Feel the pulse of an international business and conferencing destination. Soak in the colonial charm. Experience the buzz.
Accommodation
Art Deco architecture marks cosmopolitan rooms. Relax in leisure where yesterday meets tomorrow. And business meets pleasure.

SUPERIOR CHARM Ah! The pleasure of large, comfortable spaces. Well appointed and equipped with the latest amenities for ultimate comfort, Superior Charm rooms offer 450 sq ft of luxurious space. Enjoy Direct International Dial, Mini Bar, LCD Satellite Television, Wireless Internet access. These rooms are equipped with a living space and a writing table and are designed with ample scope for natural light.
DELUXE DELIGHT These 420 sq ft rooms combine classical dcor with a contemporary twist and offer views of the garden or swimming pool. They cater to the needs of business and leisure travelers and offer facilities like. All rooms in this category have a Treat Yourself mini bar, DVD player on request, LCD television, 2 line phones and newly designed colonial bathrooms with a bathtub. A modern and chic bath area allows you to relax after a hectic schedule. Some of the rooms on the ground floor have direct access to the swimming pool. Dive in.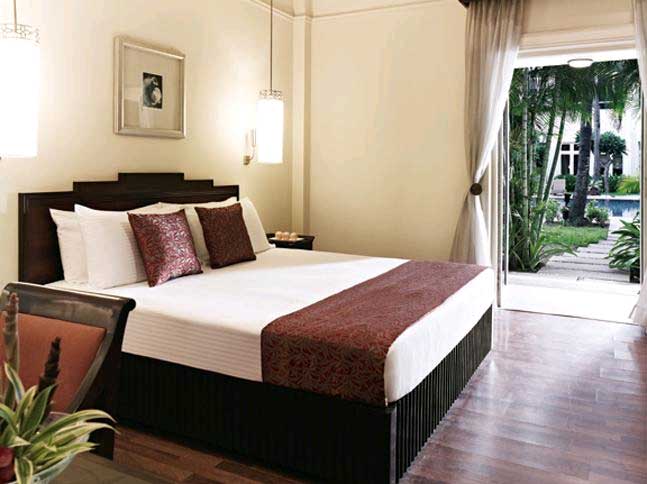 PREMIUM INDULGENCE The "signature collection" of Vivanta by Taj - Connemara, Premium Indulgence rooms give you more. Much more than just a bedroom and sitting area. More style. More space. Right from Victorian arches, dcor, to other elements of the interiors, these 700 sq ft rooms have hip modern amenities. All the ground floor rooms have direct swimming pool access. The unique feature of these rooms is the 13.5 ft high ceiling which makes them some of the largest in the city. The sitting area of the room is separated from the bedroom by tall colonial columns. 4 fixture bathrooms feature a separate bathtub and shower cubicle and a bidet. Back to the future!
DELUXE ALLURE SUITE It's the unique artefacts in the rooms which lend an interesting heritage touch. With 700 sq ft of space containing the finest creature comforts across two spacious rooms. The stylish design cues make these suites extra special. Give in to a spacious living room, bedroom and a study, wardrobe or dining room. All rooms in this category have a Treat Yourself mini bar, DVD player on request, LCD television, 2 line phones and the bay windows allow lots of natural light in during the day. Perfect for leisure travellers and long stay guests to 'feel at home'.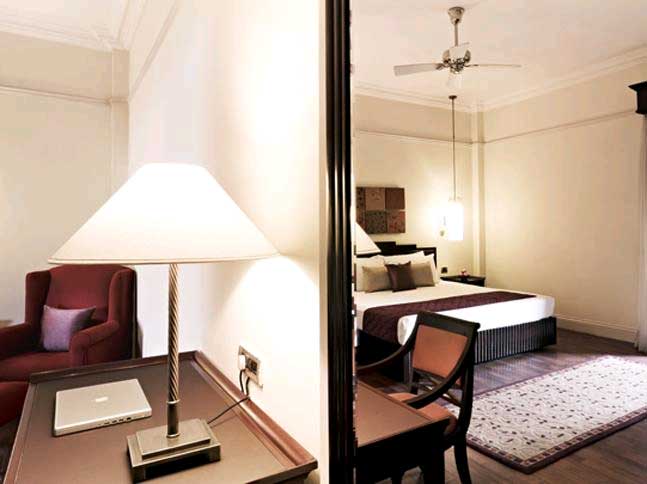 PREMIUM TEMPTATION SUITE The Premium Temptation Suites will surely remind you of a home away from home. These 700 sq ft suites with a twin room set up are fully loaded and wired for connectivity. A great choice for business bigwigs to enjoy modern amenities and efficient service on call.
PRESIDENTIAL NIRVANA SUITE It's so easy to lose yourself in 1800 sq ft of sheer luxury. This icon of opulence has 2 bedrooms, a private courtyard and a Jacuzzi. This is it. Complete.
PRESIDENTIAL NIRVANA SUITE AMENITIES AT A GLANCE Presidential Nirvana Suite - 700 sq ft Ergonomically designed study table and chair 32" LCD TV screen in all rooms Dual line telephones Bath amenities are Forest Essentials made from natural ingredients 100% cotton robes Terry towels Wall-mounted makeup mirror, hair drier and scale Electronic safe High Bandwidth wireless Internet (usage fee applies) Complimentary personal tea/coffee makers, mineral water & newspapers. Use of pool and fitness centre Treat Yourself cabinet with a selection of health drinks, snacks, chocolate treats and beverages (charge applies) Rest Easy menu with choice of pillows 24-hour in room dining Non-smoking rooms available Housekeeping service twice daily - morning cleaning and evening turndown Rollaway beds and cribs available on request
Facilities and Services- Swimming pool, fitness centre, beauty parlour, barber shop, book shop, travel desk, car rental, currency exchange, safe deposit lockers, doctor-on-call and baby-sitting. 24-hour room service and laundry service.
Restaurants and Bars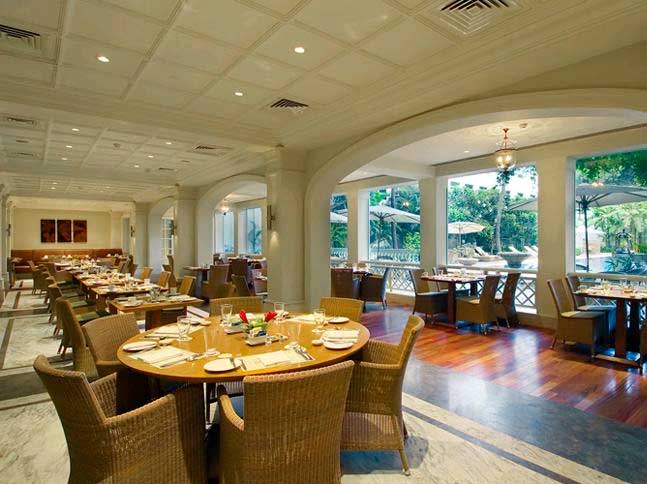 VIVID MEALS
Chennai is an ever expanding, ever changing city and the restaurants at Vivanta by Taj - Connemara, certainly keep up. Vivanta by Taj - Connemara, Chennai entices guests into our superb food zone. The atmosphere is lively. The crowd, exceptional. Jet set foodies Anglo-Indian, Italian, South Indian and Indian. Hip Asia - the stylish and innovative Pan Asian restaurant features sample different exotic menus night after night. The Verandah is buzzing round the clock and offers an interesting mix of cuisines including Japanese, Malay, Thai & Vietnamese cuisines. And everyone gravitates to Distil - the most sought after watering hole in the city for a fast and fashionable late night chill out. Perhaps you may choose to experience authentic 'Chettinad' cuisine in a refreshing, open-air alfresco ambience as well as an air-conditioned indoor setting at The Raintree.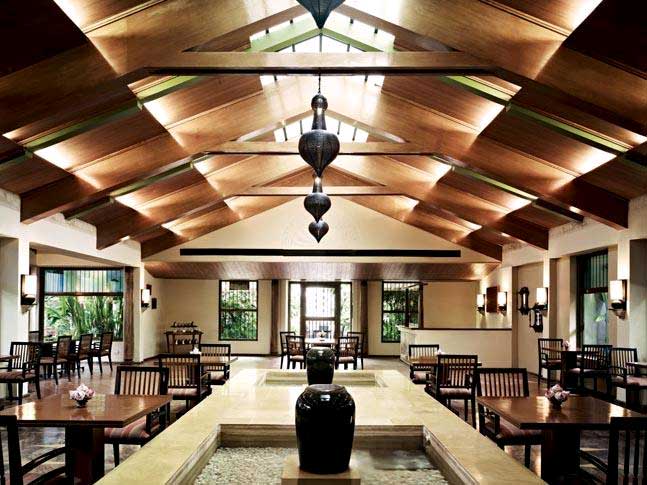 Our venues are a treat for the senses. The flavours. The aromas. The live cooking sounds. And the artistic display. All come together in a fine harmony. Dig in. Be thrilled. Let the spirit of Vivanta by Taj enliven you.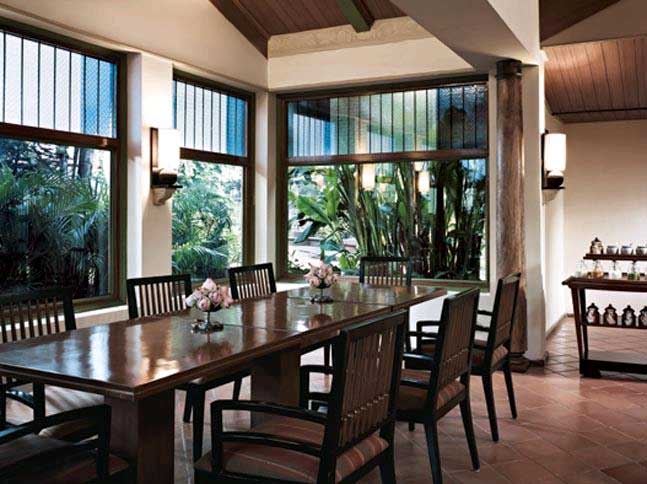 ROUND THE CLOCK. YET TIME STANDS STILL. Menu The Verandah overlooking the swimming pool is a contemporary all-day dining restaurant. Enjoy a medley of Anglo-Indian, Italian, Indian and South Indian cuisine, and a wide variety of fine beverages. The look is chic, the vibe informal. An interactive kitchen sets the tone. Here's where iconic dishes on the menu complement a lavish breakfast buffet. Choose from an elaborate and rich dinner buffet on weekdays, an extravagant brunch on a lazy Sunday. Or an exclusive dinner buffet on Friday nights, comprising of North Indian & Chinese Delicacies. Regular food festivals feature prominent and exotic cuisines from around the world. Not to be missed is the timeless Grandma's Chicken Country Captain. And also the Sole with Basil and Pinenuts. There is no better choice for 3 a.m. coffee or snack attack. Fans rave about the Prawns in Green Masala Curry and the all time favourite Railway Cutlets. Whenever you need to eat, The Verandah is there with exactly what you need. We'll even pack you a breakfast to go. Drinks at The Verandah range from fresh fruit blends, choices of teas and coffees to a wide range of liquors: from aperitifs to malts & cognac. The wine list is truly exhaustive, ranging from champagne to whites and reds from France, Italy, California, Chile, Australia, South Africa and India. Cuisine type: All-day dining multi-cuisine Location: Overlooking the pool Hours: Open 24 hours Attire: Casual Average Check: Rs 900
Seating Capacity: 90 covers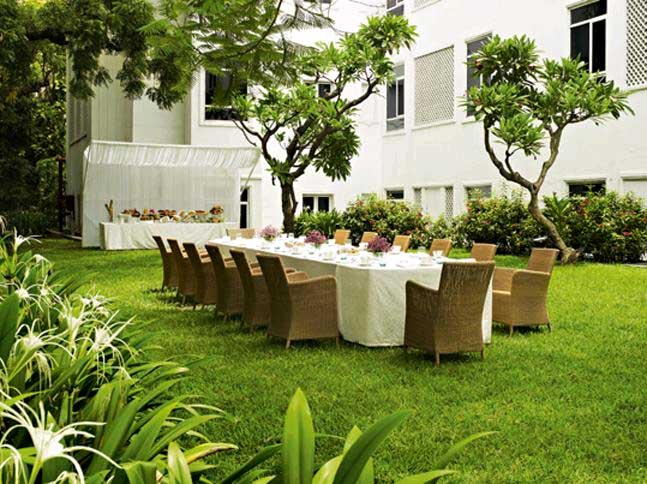 PAN ASIAN WITH PANACHE. Menu Welcome to a restaurant where orders can be placed on PDA's, the ambience and staff livery changes subtly, music is specially composed keeping in mind the ambience and every dish on the menu has been selectively picked from across the Asian region by expert chefs. The finest ingredients and the most authentic recipes come together at Hip Asia, giving patrons a chance to experience the real tastes of Asia. Some of the mouth-watering delicacies include Prawns in Tamarind Sauce, Murtabak (a Malaysian savoury pancake), Rice Paper Rolls from Vietnam, Grilled Soya Paste on Sugarcane Sticks, Satay Chicken or Lamb, Asparagus and Haricot Soup and Stewed Lamb Shanks in Chilli and Oyster Sauce. In addition to this, 'Hip Asia' offers a choice of Teppanyaki set and a-la-carte menu and a selection of 5 set-meals in vegetarian, meat and poultry; specially created at the live Teppanyaki counters. Australian Sea Bass, Scallops, Norwegian Salmon and New Zealand Lamb Rack have been specially imported to make every meal at Hip Asia truly authentic. Cuisine types: Japanese, Malay, Thai & Vietnamese Location: Lobby level Indoor dining Hours: Lunch 12:30 pm to 3:00 pm; Dinner 7:30 pm to midnight Reservations: Recommended Attire: Semi Formal, Seating Capacity: 78 covers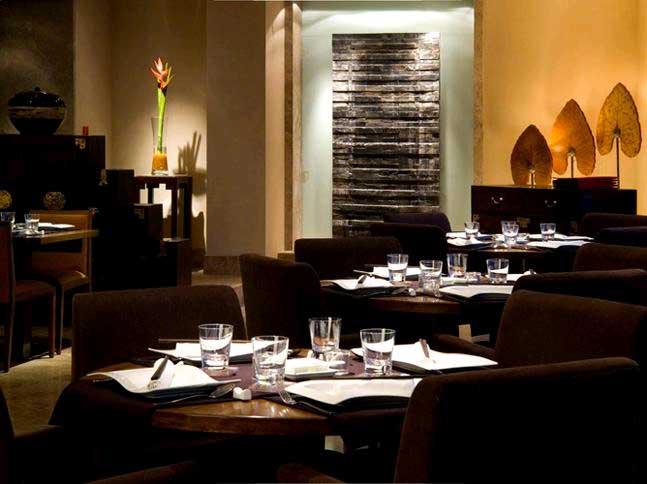 THE ROOTS ARE CHETTINAD. VERY DEEP. Menu This is not a restaurant, but a journey. Through time. Past. Present. And future. Walk through an amazing path with stone pillars catching the flickering flames of oil lamps. Ladies dressed in silk greet you with offerings of traditional snacks at the entrance to The Raintree. The setting in both open and air-conditioned. Under a canopy of magnificent rain trees you can break papadum to the beat of classical music. Check out the murals which capture the spirit of an old Chettinad home, and reflect life in a village. Try resisting the offerings on chutney and pickle trolley. Enjoy authentic Chettinad food cooked in clay pots over a wood fire. Our Innovative Chefs have even designed a menu with zero spice. This is where you can discover Chennai's deep rooted cuisine. Come, explore. Cuisine type: Chettinad, South Indian Location: Ground level Hours: Lunch 12:30 pm to 3:00 pm; Dinner 7:30 pm to midnight Reservations: Recommended Attire: Semi Formal Seating Capacity: 105 covers
INFUSION. IT'S THE IN THING. Unwind. Chill out. Then watch the night warm up at Distil, the high-energy nightspot at Vivanta by Taj - Connemara. The drinks flow easy. See fresh fruit and herbs happily muddled to make refreshing cocktails. It is sheer delight as the bar man creates amazing cocktails. With his infused spirits. You must try the Margarita made from tequila infused with Kaffir leaves. Or the Porn Star Shot which is a heady mix of vanilla infused vodka, passion fruit and champagne. And it's a Bloody Shame that's served virgin if you want to hit the alcohol free zone. Check out the lychee and white grape Mojito. And lose yourself to the winner - Fresh basil Martini. Find yourself spoilt for a choice of international spirits. Distil boasts of fine selection of rare whiskies, vodkas, a variety of domestic and imported beers with the best selections of cognacs and liqueurs. The food offerings have been created with an eclectic touch to suit all tastes. Groove to superbly selected music that will have you on your feet. It's all happening here.
Cuisine type: Bar Location: Lobby Level Hours: 6:00 p.m. to 11:00 p.m. Attire: Informal Average Check: Rs 700 Seating Capacity: 64 covers
THE BALLROOM, BINNY ROOM, WALLAJAH ROOM, ARCOT ROOM, NATRAJ ROOM AND ENGLISH GARDENS ARE SURE TO MAKE HEADLINES FOR: Corporate meetings Product launche sLarge themed events Grand Weddings
MEETING ROOMS AND BANQUET FACILITIES INCLUDE
Over 7,850 sq ft of conference space spread over 5 kinds of conference spaces The Ballroom, Binny Room, Wallajah Room, Arcot Room, Natraj Room and English Gardens with seating capacities for up to 60 delegates in board room-style, 400 for theatre-style receptions and 600 for cocktails.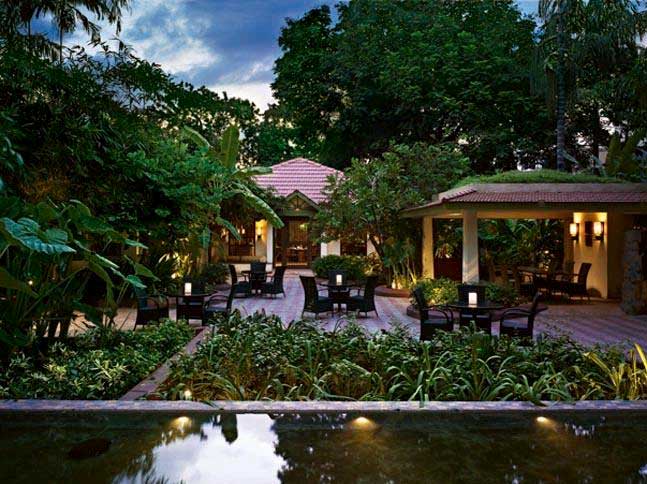 BUSINESS SERVICES: READY FOR BUSINESS 24 X 7 Open 24 hours High speed Internet access Wi-Fi access Video-conferencing & Webcasting facilities Boardroom that accommodates 12 delegates Facsimile Photocopying Laptop computers & printers on hire Translation/interpretation services with advance arrangement
Tele : +91-11-41612107, 26823836. Mobile: 9810112772, 9910003772.
Email :- reservations@ashextourism.com