Restaurants and Bars
The Taj Coromandel experience is enhanced by its world famous cuisines served up by some of the best Indian and International chefs. Taj Coromandel offers three distinctive specialty restaurants - Prego, the Italian Fine Dining restaurant; Southern Spice, the traditional South Indian cuisine restaurant serving the cuisines of the four southern states of India; Golden Dragon, the Signature Chinese restaurant of the Taj. Experience Global delights at the multi-cuisine, All Day Diner, Anise. Live it up at Chipstead, the Bar at Coromandel while sipping on unique cocktails or indulging in our collection of Single Malts and Cognacs. Authentic flavours, excellent service and welcoming ambience create a remarkable dining experience that is unrivalled anywhere else in Chennai.
WINE LIST The Wine Menu at the Taj Coromandel features a careful selection of some of the world's most well received wines as well as lesser known wines that display character beyond expectation. The selection has been compiled bearing in mind the diversity of labels and wine making styles which exist. The extensively stocked wine cellar or wine library 'Enoteca' accommodates more than 270 labels, around 1000 bottles under proper temperature control. Each varietal lists an array of wines from different parts of the world. A brief description of the characteristics of each varietal with a paring suggestion offers to aid in wine preference. The menu has been created by our team, to cater to every taste and occasion. Allow them to assist you in selecting exactly the right wine to pair with each course or activity. Special tasting menus can be arranged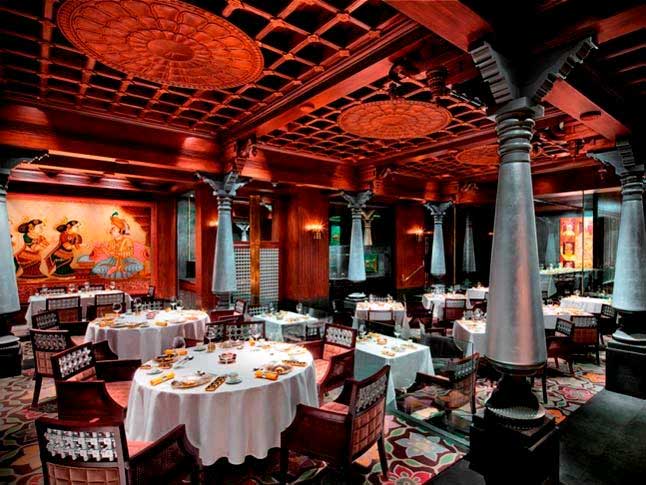 WINE AT PREGO Prego, at the Taj Coromandel, Chennai boasts of one of the finest wine selections in the country. Specializing in Italian wines, it houses more than 50 labels from all parts of Italy. The menu also features other European, Californian and new world wines from across the world, featuring around 270 labels altogether. Besides the wines, the menu also consists of Grappa, Limoncello and various quality spirits to fulfill the requirements of a top quality bar. The interactive Wine Cellar, 'Enoteca' is located at the entrance of the restaurant. The room accommodates around 1000 wines under proper temperature control. For the true wine connoisseur, the 'Enoteca' allows for a wine tasting where one can experience the different wines accompanied by varieties of olives and cheeses. The selection includes a diverse choice of grapes and labels. The team at Prego assists guests in pairing the appropriate wine with their food.
RESTAURANTS The Red Room at Prego seats up to 10 people and offers guests a three to six course chef's tasting menu. The mood lighting and place settings change throughout the dining session.
IN-ROOM DINING Guests can enjoy private, intimate dining in the comfort of their own room or suite, 24 hours a day. Guests may order from the menu which features special menus and selections from the Anise and Southern Spice menus.
PRIVATE DINING Meals are often communal experiences but sometimes guests wish to savor a delicious meal in very select company. You may make any meal a private and special affair in a secluded setting. Private dining adds a new dimension to the already extraordinary culinary offerings at the hotel. Eclectic menus are created by the Chef for a gourmet experience, with wines paired to each course, if so desired.
Prego features a ten seat Private Dining Room, Golden Dragon offers two, Eight seat Private Dining Rooms, which may be combined as one, allowing for a larger setting.
Timing: Lunch - 12.30 pm to 2.45 pm; Dinner - 7 pm to 11.45 pm Prior reservations are required. Our kitchens are at your disposal to create unexpected, personalized meals beyond compare. Speak with the concierge who will see that every detail is well taken care of.
VENUES Taj Coromandel suggests Clive and Dupleix as ideal locations for private dinners.
Taj Coromandel is a much sought after banquet venue that has been host to high profile meetings, product launches, international conferences, education fairs, road shows and exhibitions, and formal banquets. The hotel offers a luxurious theme dinner where your guests can enjoy a traditional South Indian evening, complete with Bharatnatyam dances and delicacies
Centrally located close to the city's prime entertainment and shopping areas, the Taj Coromandel offers 12,000 square feet of event facilities, plus wireless broadband Internet access, and can host up to 500 for meetings or 800 for cocktails.
An enviable location and superlative conference and meeting facilities make Taj Coromandel the perfect venue for confabulations, product launches, international conclaves and celebrations. Located in the heart of the city with an exclusive approach to the convention area, the Taj Coromandel is ready for any conference, meeting or special event, from an intimate party for 20, to a seminar for 500, to even a grand reception for 1500 to 2000 guests. You get numerous combinations and possibilities of space and seating arrangements, accessibility to high quality audio-visual equipment, simultaneous translation facilities, creative menu options, and of course, themes which make business at the Taj not usual but extraordinary, especially for hosting conferences, meetings and corporate events.
OUR SERVICES INCLUDE: Video conferencing Web casting facilities Business Centre High-speed Internet access Security services Secretarial Services
WEDDINGS From your engagement to the joyous day and all the important milestones in between, Taj Coromandel will handle all your wedding functions with flawless aplomb. Consult with our wedding planner to create an event that will delight the couple, parents and all friends and family who attend. Whether a couple chooses a traditional ceremony or themed extravaganza, the Taj team will move heaven and earth to ensure that your wedding is nothing short of perfection
BALLROOM The re-imagined and renovated ballroom offers 13,000 sq feet of uninterrupted space with a ceiling height of 14 ft. Le tout Chennai congregates here for any event of significance. Be it the signing of a take-over deal, an address by a leading luminary or a timeless wedding. The Ballroom can seat 400 people classroom-style and up to 2000 people for casual dinners. Opulently decorated, the Ballroom is used for multitude of events, from formal business set-ups to social functions, and can be broken down into two smaller rooms if needed.
CLIVE This room measures 1400 square feet and can accommodate up to 50 people in theatre style seating
DUPLEIX This room measures 1400 square feet and can accommodate up to 50 people in theatre style seating.
CLIVE DUPLEIX The Clive and Dupleix Rooms can be combined for a larger event space.
WILLINGDON This room measures 912 square feet and can accommodate up to 35 people in theatre style seating..