Savoy Hotel
Ooty -Nilgiris Tamil Nadu
Savoy Hotel Spread over 6 acres, the hotel consists of 150-year-old tiled-roof cottages, set in the midst of a riot of colourful flower beds. The hotel has 40 old world rooms, including 6 suites. The Savoy Hotel is located amidst 6 acres of lush green lawns and overlooks the valley and the hills around it. This graceful 150-year old building was once a school for European children. The massive wooden beams that support the roof were dragged all the way from Tipu Sultan's palace in Srirangapattanam up the Singhur Ghat by elephants! The Savoy Hotel has several independent cottages, a well stacked bar, a spacious lounge and a sprawling lawn.
Ensconced high on a rising hill, the Savoy Hotel sprawls over six acres of landscaped gardens, offering colonial style cottages that were built between 1834-1865. Colorful flowerbeds merge to form a multi-coloured quilt around the cottages, adding to their gentle refinement and old English Charm. A quiet retreat, the Savoy Hotel offers a little pocket of paradise.
Types of Accommodation 40 centrally air-conditioned cottage rooms including 6 suites.
40 rooms. All the rooms are in cottage style on the ground floor and open out onto lush landscaped gardens. The cottages are tastefully decorated with a delightful old-world, ethnic colonial touch. The rooms are equipped with old-fashioned fireplaces or heaters. Most of the bathrooms have bathtubs, health faucets and a handshower. All the rooms are equipped with Tea / coffee Makers.
• 3 Deluxe Two Bedroom Suites (One Bathroom) • 3 Deluxe One Bedroom Suites • 25 Superior Rooms • 9 Standard Rooms
The Deluxe Two Bedroom Suites have two spacious bedrooms with a large sitting area, large comfortable sofas, writing desks, an intricately decorated fireplace and one bathroom. Guests also have a choice of electric heaters.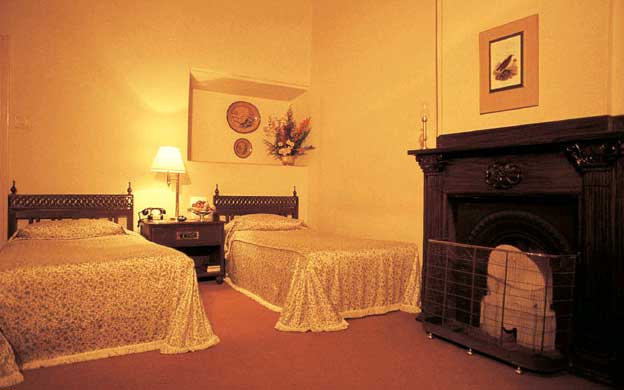 Standard Rooms Elegant, comfortable, and rich in color, each room offers guest amenities like international direct dial facility, channel music and colour television with satellite programmes. Most rooms have a fireplace.
Superior Garden-facing Rooms Spacious rooms including all of the above guest amenities with views overlooking lush green lawns.
Suites Include all of the above guest amenities, as well as spacious rooms, large comfortable sofas, old-fashioned writing desks, and intricately decorated fireplaces that add warmth to the interiors
Recreation Tennis court, billiards table, table tennis and other indoor games.
Facilities and Services Hotel Leisure and Other Services include: 24 Hours Room service-Limited Menu Baby sitter on prior request Car rental Currency Exchange Doctor-on-call Free Safe Deposit Locker Internet Connectivity/Fax International Direct Dial/ISD & STD Kids essential items (crib, pram, sterilizer) Laundry Mobile Chargers available
Food and Wine
From casual, all-day eateries to formal, fine dining, guests can look forward to a wide selection of delectable dishes and refreshing drinks. At Taj, we offer a distinctive dining experience, one that explores the nuances of the finest Indian and international cuisines, serving traditional and contemporary favourites.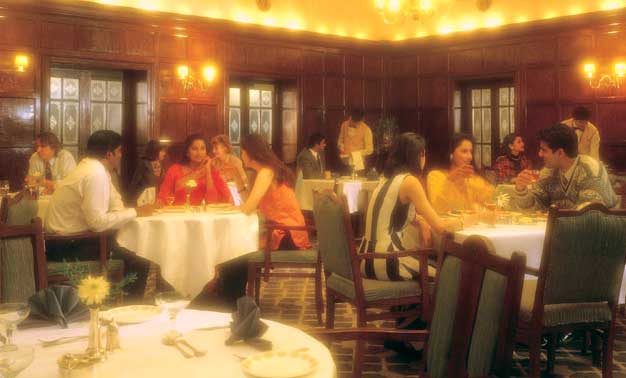 CANTERBURY BAR: Canterbury bar offers a fine selection of international and domestic cocktails, mocktails, wine, liquor, and liqueurs. Open Air Meal Experience Guests can also enjoy alfresco Breakfast and Lunch, amidst lush lawns, and can also look forward to barbecue dinners with bonfires.
Attire: Casual
Hours: 11:00 am — 3:00 pm 6:00 pm — 10:00 pm
Dining Room Guests can also enjoy alfresco Breakfast and Lunch, amidst lush lawns, and can also look forward to barbecue dinners with bonfires
Attire: Casual
Hours: 11:00 am — 3:00 pm 6:00 pm — 10:00 pm
THE LOUNGE: Rosewood panelling, rare antique plates, a pianist, candlelight dinner, and polished service create an atmosphere of warmth and intimacy. This irresistible restaurant serves a diverse selection of cuisines including Indian, Chinese, Oriental, and Continental.
Attire: formal
Hours: 7:30 am — 10:30 am 12:30 pm — 3:00 pm 7:30 pm — 10:30 pm
Meeting Rooms & Banquet Facilities include Conference hall with a capacity ranging from 25 to 80 persons Theatre style, U shape Seating for 35 persons, or 50 to 200 persons for cocktails/receptions. The manicured lawn is also available for outdoor functions, special theme evenings, and bonfire dinners..
Click here for Booking Form

Tele : +91-11-41612107, 26823836. Mobile: 9810112772, 9910003772.
Email :- reservations@ashextourism.com