Some Important distances to Nainital are :

Delhi

326 km

Ranikhet

59 km

Ramnagar

101 km

Corbett

95 km

Almora

66 km

Mussoorie

350 km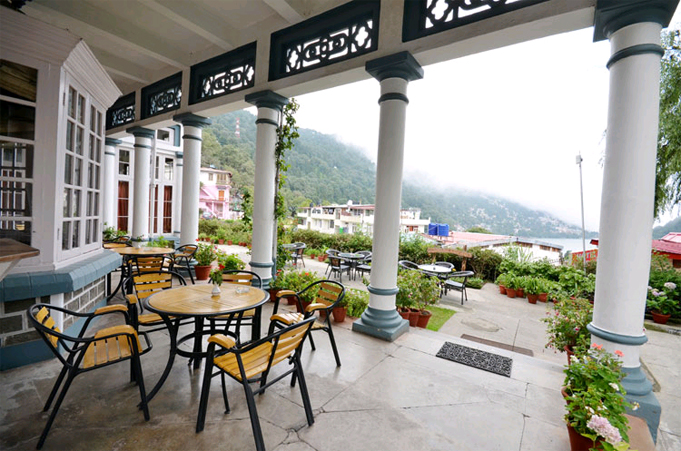 Things to Do - Visit Nani Peak, Snow view, Dorothy Seat, Zoo, Land's End & terrace fields, visit the state of observatory and enjoy boating on the lake
Places to Visit
Naini Lake The nucleus of Nainital's uncomparable beauty is it's beautiful lake. In the day, mirrored in its waters stand seven proud hills, dotted with pretty cottages and villas. More beautiful than this however is the lake at night when the myriads of bulbs from the hill sides and quite a large number hanging near the lake's edge stab their magic light into its waters.
St. John Church The church of St. John was established in 1844 and is located on the north end of town (Mallital), about half a mile north-west of the Naina Devi temple. The church was so named by Daniel Wilson, the Bishop of Calcutta, who, after falling ill during a visit to Nainital in 1844 to lay the foundation of the church, was obliged to sleep in an unfinished house on the edge of the forest. A brass plaque on the altar is inscribed with names of the victims of the Landslip of 1880.
Raj Bhavan & Golf Course Government House also known as Raj Bhavan and formerly, Government House was built in 1899 and designed in the Victorian Gothic domestic style by the architect F.W. Stevens. Originally built as the summer residence of the governor of the North West Province, it later became the summer residence for the Lieutenant Governor of the United Provinces. Presently, Raj Bhavan is the official guest house for the governor of Uttarakhand and for visiting state guests. The complex consists of a two-storied mansion with 113 rooms, a large garden, a swimming pool, and golf links. One have to take permission for visiting Raj Bhavan.
Cheena Peak The highest peak in the region, 5km from Nainital, is about 2.5 hrs. Walk from the top (2610m ) there are stunning views of the Himalayan peaks & Nainital town. One can either trek or go on horse back.
Dorothy Seat/ Tiffin Top / Land End A 4 km. walk 1.5 hrs. to the west brings one to this point, which offer an excellent view of Nainital and surrounding. From here, a 45 min. picturesque trek leads one to Land's End (2100m) through a forest of oak, deodar and pine. This is a cliff, offering an excellent aerial view of khurpatal lake and terraced field. It is accessible by horse also.
Hanumangarhi This is a temple, 3kmSouth of Nainital, and offers a very picturesque view of the setting sun.
High Altitude Zoo Perched at an altitude of 2075m, 1.5km from the mall, the zoo is high altitude animals & birds.
Aerial Ropeway It is one of the main attractions of Nainital. This ropeway connects Snow-View Point (at 2270 Mts.) with Nainital near flats. Aerial ropeway starts at Mallital , and takes approx. 151.7 seconds to cover one way journey by trolley.

02 Nights Package.
Valid from 1st October 2013 to 31st March 2014.

Deluxe Room: Rs.12799/- per room per couple.
Special Rate: Rs.11661/- per room per couple.

Garden Room: Rs.12899/- per room per couple.
Special Rate: Rs.11752/- per room per couple.

Lake Facing Suite: Rs.15299/- per suite per couple.
Special Rate: Rs.13939/- per suite per couple.

Belvedere Suite: Rs.16499/- per suite per couple.
Special Rate: Rs.15032/- per suite per couple.

Extra Bed: Rs.2150/- per person.
Includes: Accommodation, American Breakfast , Lunch , Dinner and All currently applicable taxes. Package Includes: These package is based on short break of two nights. The prices are inclusive of a double room (for two persons) with American breakfast and all applicable taxes. Free stay for two children below 5 years of age on room only basis without extra bed. Extra bed is available on extra payment. Extra bed rates are on per night basis. Check out time is 1200 hrs. In case a late check-out is required it can be extended free of charge to 1600 hrs, subject to availability of rooms, Packages extendable on pro-rata basis, subject to availability of rooms, These packages are valid for Indian citizens and foreigners residing in India, These packages cannot be combined with any other offer. The rates are subject to change without prior notice. These packages are valid from 1st October 2013 to 31st March 2014. These packages are not valid during certain times of the year.
New Years Package 2014 - 2015.
02 Nights Package

Deluxe Room: Rs.15,999/- per couple.
Lake Facing Suites: Rs.17,999/- per couple.
Includes: Welcome drink ( non alcoholic)on arrival. Breakfast and dinner for two persons. Unlimited alcohol( house brands only) on 31.12.2014. Gala dinner with snacks on 31.12.2014. New Year bash with DJ and lots of gifts and prizes..