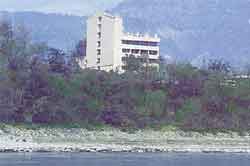 Hotel Ganga View

Rishikesh Code No- AT-UP10

Situated 220Km. from Delhi, and 24Km. upstream from Hardwar at the confluence of the Chandrabhaga and Ganga lies Rishikesh, one of the best located pilgrimage centre along the right bank of the Ganga.
Rishikesh has numerous Ashrams, some of which are internationally recognised as centres of philosophical studies, yoga and medicine.

The holy river emerging from the high mountains not far from here, runs deep and silent through the thickly wooded hill of the terai that straddle this region. A breathtaking experience of natural beauty and undiscovered wildlife await here. Not to mention the peace and tranquility of a landscape associated with munis and meditation.
| | |
| --- | --- |
| | According to legend saga Raibhya, undertook staunch penance at Rishikesh to please God. In answer to his meditation, God appeared here, manifested as "Rishikesh" and place thus came to be called after him. Rishikesh has become a centre for learning and research in Yoga and meditation - the renowned Indian method for mental and physical health. For the adventurous there are opportunities for white water rating on Ganga, trekking on Himalayas, and boating down the Ganga, etc. |
| | | |
| --- | --- | --- |
| Room Catgory | Single | Double |
| Premier | 1950 | 2350 |
| Executive | 4000 | 4000 |
Includes:
* Accomodation For One Night
* Taxes are Extra as Applicable
| | | |
| --- | --- | --- |
| Room Catgory | Single | Double |
| Premier | 2150 | 2750 |
| Executive | 4400 | 4400 |
Includes:
* Accomodation For One Night
* Breakfast
* Taxes are Extra as Applicable
| | | |
| --- | --- | --- |
| Room Catgory | Single | Double |
| Premier | 2550 | 3550 |
| Executive | 5200 | 5200 |
Includes:
* Accomodation For One Night
* Breakfast,Lunch and Dinner
* Taxes are Extra as Applicable
| | | |
| --- | --- | --- |
| Room Catgory | Single | Double |
| Premier | 2350 | 3150 |
| Executive | 4800 | 4800 |
Includes:
* Accomodation For One Night
* Breakfast and Dinner
* Taxes are Extra as Applicable
Click Here for Booking Form

Tele : +91-11-41612107, 26823836. Mobile: 9810112772, 9910003772.
Email :- reservations@ashextourism.com