Emerald Isle
Heritage Villa
Alleppey- Kerala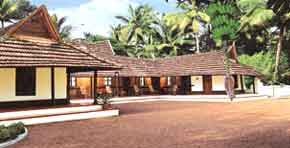 EMERALD ISLE : A RETREAT IN A PARADISE OF PEACE
Welcome to Emerald Isle... Emerald Isle is eight kilometers from Alleppey - the old commercial capital of the erstwhile kingdom of Travencore. Alleppey is 65 Kms from Kochi, the new bustling port city of Kerala. In the beautiful waterways and backwaters of the Kuttanad region of Central Kerala lies Emerald Isle, an exotic haven of tranquility, seemingly remote from city life, yet barely 10 kilometers from Alleppey Town. Tucked away on this delightful island lies the Emerald Isle Heritage Villa, an ancestral Country House set in 7 acres of secluded grounds - your Retreat into a Paradise of Peace. Emerald Isle Heritage Home is situated in an island resplendent with exotic flora, breathtaking flowers, myriad birds and butterflies to make for a memorable holiday, affordable and unforgettable. A truly wonderful way to spend your time on the banks of the backwaters of Kerala. You arrive by boat and step into an eco-friendly world of birdsong and bountiful nature, where cool breezes murmur through the coconut palms and life is immediately sweeter. Now you can relax!
ACCOMMODATION

Emerald Isle Heritage Villa offers peace, privacy and pure relaxation. There are only a handful of rooms for guests and each has its own en-suite bathroom with all modern facilities. The house itself dates back 150 years and retains its original architectural features, mostly in teak, with splendid wood carvings. There is also a fine Ara, the timber storeroom used in former times for the golden harvest of rice – golden because the island's lush green paddy fields turn gold at the time of the harvest.
Dining (Cuisine)
Every day in this place is a feast for the senses - and especially the taste buds! Kerala Cuisine offers delicious meals using locally-grown spices and herbs, local fish - Karimeen Pollichathu, Avoli Fry, Neimeen Curry - and chicken and duck dishes, specialties of the region, as well as dosa, appam-egg roast, puttu-kadala, mouth-watering vegetarian dishes..
Things to Do
When you tire of lazing in a hammock, or sunbathing in the courtyard garden, you can take a walk around the island, go fishing or have a swim. (Or maybe take a shower straight from heaven, in the open-roof bathroom!). The Manimala river meanders past Emerald Isle Heritage Resort and you can go on a boat trip through enchanting waterways where the fishermens' nets like beautiful spread umbrellas kiss the emerald waters. Mingle with the people of the village as you visit the ancient temple or the famous Snake Boat. At the end of the day watch a glorious sunset over the paddy fields. You can also see the traditional paddy harvesting. Marvel at the process of tapping toddy, a local alcoholic drink taken from the coconut trees. At Emerald Isle Heritage Villa you can also the enjoy the experience of traveling in Country Boats through the small village canals watching the life of village pass by you. Or you could also visit the ancient Bhagawati temple or the 1000 year-old Saint Mary's Church ……all just a row away! You could also visit the local pottery factory and maybe pick up a few pieces. Or visit the world-famous Snake Boat after a short ride in your boat! And then sleep deeply in our Paradise of Peace. It is a joy to be here, to be reminded of the simple delights of life. All this awaits you

Ayurvedic package
Ayurvedic Massages can be organised on request. (Rate Rs/- for full body massage)

Tariff

Type

INR

Deluxe Room (CP)
Rs
A/c Room (CP)
Rs
Deluxe Room (AP)
Rs
A/c Room (AP)
Rs
Extra bed Rs on CP plan Rs on AP plan
Child 5-12 years , below five years free
Check in 12 noon, Check out 10 am (in season time )
Full body massage Rs./-
Package 2004
2 Nights stay in Heritage Villa and One night in houseboat, is Rs./- in AP plan.
Check out time : 10 AM.

Backwater package tours (One day on houseboat & one day resort with full board AP)

| | | |
| --- | --- | --- |
| Houseboat route | Single Bedroom houseboat | Double bedroom |
| Alleppey Round | /- | /- |
| Alleppey-Kumarakom | /- | /- |
| Alleppey-Kottayam | /- | /- |
| Alleppey-Quilon (Kollam) | /- | /- |
| Alleppey-Alumkadavu | /- | /- |
| Alleppey-Kochi | /- | /- |
Tele : +91-11-41612107, 26823836. Mobile : 9810002772, 9910002772.
Email :- reservations@ashextourism.com