Aquaserene
Backwater Resort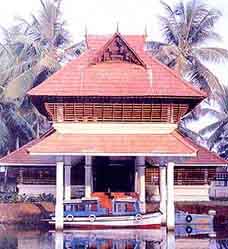 One of the most sought after tourist destinations in Asia is Kerala, India. Secluded beaches, palm fringed backwaters, misty hill stations, lush tropical forests, exotic wildlife give Kerala its unique and distinctive charm. Nestled amongst the picturesque landscape of Paravur, Kerala, lies an untouched paradise called Aquaserene. This unique backwater getaway lies amidst spectacular landscape, unique foliage and clement climate. Rippling waters and azure skies surround this enchanting backwater resort. The resort can be reached both by rail and road. You can also travel by the resort's own boat from Ithikkara to Aquaserene.
Christened Aquaserene due to the azure waters surrounding it, this resort is surrounded by breathtaking beauty in the cleanest of environments. This backwater getaway is an enchanting interlude where you can shed your cares and worries with sweeping beaches, tall palms and moss-green rivers. Comprising of cottages nestled around the main building, Aquaserene gives you the solitude and serenity you've been looking for.
The traditional Indian system of medicine. Evolved through the ages. Developed through millenniums of research and study. For total holistic health care, the natural way.
By returning to Mother Nature, and her bountiful gifts.
Aquaserene's tribute to Ayurveda, A synergy of the omnipresence of nature.
And the legacy of a rich tradition of holistic health care.
For the ultimate experience in restorative, rejuvenative and palliative therapies.As you surrender to the magic of fragrant medicinal oils prepared in strict accordance with authentic age old recipes. And to the skill full hands of a masseur, soothing rhythm of a massage……
Pizhichil (The anointment therapy)
Aches and pains melt away as you lie on a wooden bed, and warm medicinal oils are first anointed, and then squeezed from a saturated cotton cloth, all over the body.
Duration: 14 days Recommended for: Skeletal and muscular disorders, rheumatoid arthritis, osteoarthritis, lumbago, sciatica, hemiplegia, neuropathy and other related conditions.

Dhara (Flow therapy)
Fatigue and listlessness are washed away in a continuous stream of medicated oil, milk or buttermilk, flowing gently on to the head in a prescribed manner for a prescribed period.
Duration: 14 days Recommended for: lack of vitality poor memory, insomnia, chronic head aches, ear and nose diseases, neuropathy, spondylitis, paraplegia.

Navarakizhi (sweat therapy)
Sweat out general malaise by applying medicinal puddings of a special variety of rice and herbal decoctions, tied up in fine muslin pouches. The heat of the pouches brings out the sweat, purifies and heals. Duration 14 days Recommended fro skeletal and muscular disorders, joint pains, paralysis, sciatica and also to improve general health after a course of pizhichil
Sirovasti (Cap Therapy)
Vision, memory and mental faculties are sharpened and enhanced by this special technique. A cap made of flexible leather and open at both ends is fitted to the head. Warm, medicated oil is poured into the cap, and allowed to remain inside for about 45 minutes before being drained out. Duration: 14 days Recommended for: Eye, nose and Ear ailments, chronic head aches, facial paralysis, spondylitis, insomnia and other disorders.

Sirolepa (covering therapy)
Chase away sleepless nights and constant headaches with an application of herbal pastes that cover the head, incorporating highly specialized techniques, that can be a continuation of, or a compliment to Dhara therapy. Duration: 14 days. Recommended for: Poor vision, insomnia
Mathravasthi (flush therapy)
Cleanse the system with herbal oil applied through the rectum, for a purification process that hastens good health. Duration: 3/7/14 days Recommended for: constant constipation, gastric complaints
Oil massage -The energizer
A gentle massage of special oils that improves muscle tone, stimulates blood circulation, relaxes, refreshes and rejuvenates
Rejuvenation course
To turn the clock back Feel younger, stronger, and healthier with a special regimen of relaxing oil baths, a carefully balanced diet and custom made herbal therapy.
Duration: 14 days.

Unwinding therapy
Half an hour of gentle kneading with medicated herbal oils, to wipe out stress and strain and rub in a refreshing, soothing, totally peaceful state of feeling good.
Tariff
FIT TARIFF
(from 1/10/2004 to 31/3/2005)

Single($)

Double($)

Single(INR)

Double(INR)

Lake Villa

$

Rs

Heritage Villa

$


The above rates are valid till March 31, 2005. There would be a supplementary charge of USD 50 per room from December 21, 2004 to January 10, 2005

Winter Package

Rs. 10,900 for a couple for two nights and three days which includes:

Accommodation for two persons for 2 nights and 3 days. 2 Breakfast, 2 lunch and 2 dinner at the restaurant. Welcome drinks on arrival. All applicable taxes. 10% discount at Ojas well renowned ayurvedic center. Complimentary use of swimming pool and indoor activities. Half an hour complimentary country boat country boat ride. Complimentary transfer from Kollam railway station. Complimentary extra bed for extra person sharing the room. Extra person sharing the room on all inclusive meal and taxes for Rs.,750 per day. 10% discount at Antique shop. 10% discount on laundry. The package is extendable on pro rata basis.



RATES FOR AYURVEDIC TREATMENT

TREATMENT

7 DAYS (USD)

14 DAYS (USD)

21 DAYS (USD)

Rejuvenation Therapy

260

520

780

Body Purification Therapy

220

440

660

Sleep Disorder Therapy

300

600

900

Old Age Mobility Therapy

430

860

1,290

Spondylosis Therapy

270

540

810

Back Pain Therapy 3

325

650

975

Mobility Therapy

430

860

1,290

Stress Relief Therapy

325

650

975

Traditional Body Massage

105

210

315

Head & Face Massage

70

140

210

All treatments will be conducted under the supervision of a qualified resident doctor. For the effective treatment diet control and restriction on other activities may be followed; if it is required. Any preveious case history and medical records of ailment will help us to do the duration of the treatment. Consulation facilities are available through e-mail with the Doctor before arriving for treatment. Taxes 15% Extra
How to Reach there
Option 1 : Travel by road to Ithikkara Jetty by the national highway either from Cochin or Thiruvananthapuram. And boat transfer from Ithikkara to hotel.
Option 2 : Travel by road all the way up to the hotel either from Cochin or Thiruvananthapuram by following the road signages put up at Important junctions on the highway as well as the inner roads leading to Aquaserene
Option 3 : Travel by train to Kollam or Paravur. If you get off at Kollam you can drive up to Aquaserene which is 20 Km away or if you get off at Paravur (3 Km from Aquaserene) you could drive up to Ithikkara and take the boat ride directly to Aquaserene. Kindly inform Aquaserene in advance, to avail of the boat service.


Distance
From
Thiruvananthapuram International Airport

65 km

Cochin Airport, Wellington Island

165 km

Cochin International Airport, Nedumbassery

200 km

Nearest Railway station, Paravur

3.5 km

Kollam Railway Station

20 km

The gracious reception lounge gives you a warm welcome as you step into Aquaserene. It is a magnificent architectural marvel overlooking the still waters. Private and secluded, the premium and deluxe cottages surrounding the main lounge are a delight with their ancient structure contrasting with modern comforts. Sloping red roof tiles, sun filled porches, picture postcard exteriors, plush air-conditioned and wood rich interiors make these the highlight of Aquaserene.

Luxurious houseboats and exclusive boats take you across the wide waters for sun drenched holiday. For solitary splendour, you can enjoy the comfort of a canoe, a rowboat or pedal boat. The sweeping beaches facilitate sunbathing, swimming or just lazing. A refreshing oil bath and massage at the Ayurvedic centre rejuvenate you for more fun and enjoyment.

The cuisine offered at Aquaserene is delicious enough to tempt any palate. A multicuisine air-conditioned restaurant offers a picture postcard view of the enchanting backwaters on three sides. The menu covers a wide range of Tandoor, South Indian, Indian, Continental and Chinese delicacies. The specialities of the house are the delicacies of Kerala. You have a choice of a full-fledged Kerala Sadya or feast served in the traditional style on banana leaves.

Swimming Pool

One of the major attractions of Aquaserene is its pool within a pool. The swimming pool forms part of, yet is totally separate from a huge natural pond. Natural beauty combined with man-made comforts makes Aquaserene a magical interlude.
There is a special package for children. A playground, their own wading pool, games, etc. keep your children fully occupied with plenty of fun and excitement The soothing and relaxing ambience of Aquaserene makes it the perfect getaway from the hustle and bustle of city life.
Click here for Booking Form

Tele : +91-11-41612107, 26823836. Mobile : 9810002772, 9910002772.
Email :- reservations@ashextourism.com