Blackberry Hills Retreat & Spa
Munnar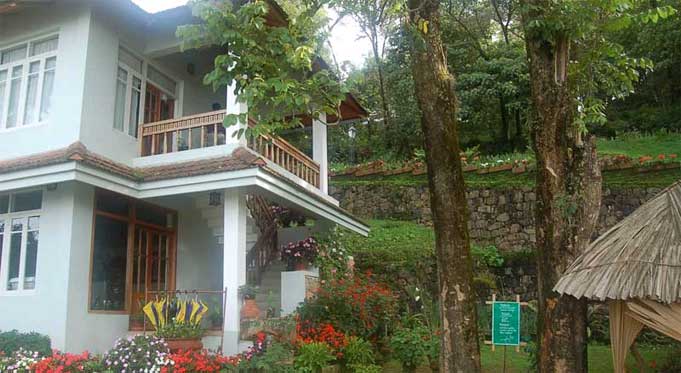 Romance. Nature. And the magic of mountain Gods. Perched on the majestic mountains of Munnar the Blackberry Hills Retreat & Spa offers you the mystic experience which only Mother Nature can provide. Wake up to watch the mist and sunbeams weave magical patterns, take a morning walk along the hilly pathways drenched in the aroma of wild flowers under the shades of cinnamon trees, feel the silence of the rocks which are as ancient as the earth, and watch the sleepy dales and distant villages down below.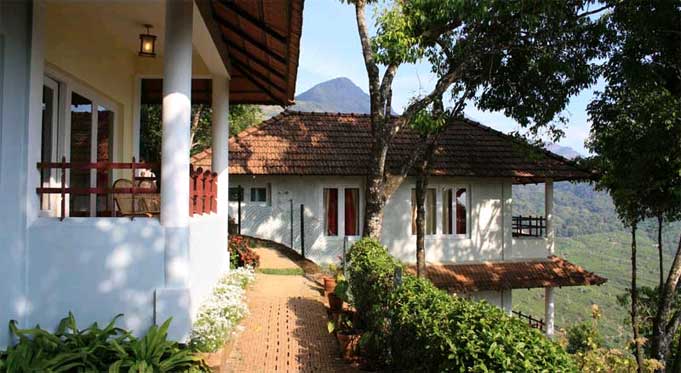 Off the hubbubs of habitual life, nestled against the backdrop of Western Ghats, are a set of delightful cottages. Have a magnificent view of Sahya Mountain Ranges from the Blackberry Hills. Time comes to a standstill at the Blackberry, where days are incredibly snail paced. And you definitely turn out to be the monarch of all your survey. Well furnished ethnic cottages will charm you and invite you to have the most wonderful stay that Munnar can offer. Open your bedroom window to get the view of the most spectacular sunrise, or sunset from your balcony. Feel the life flourishing in the far-flung plantation village of the valley below. You cannot get any closer to nature than this and whisper sweet nothings to the mist-drenched valley.This is a balcony from where you can watch Munnar in its entirety, its tea plantations, waterfalls, tropical forests.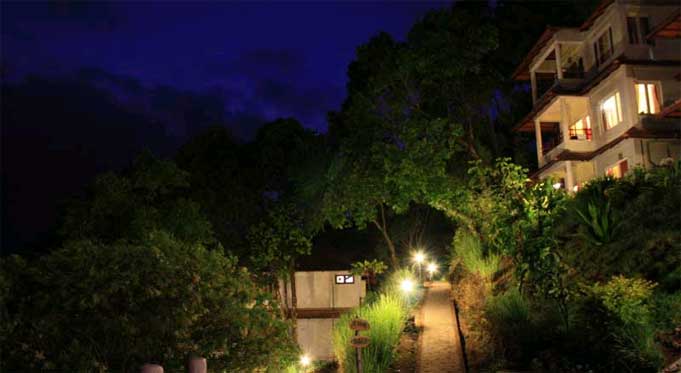 Blackberry Hills Retreat & Spa, Munnar is well connected by road with South Indian cities such as Cochin, Madurai and Coimbatore. Approximately 3-4 hours from any of these cities will take you to the acme of Kerala. Exhilarating journey from the coastal city of Cochin along coconut lagoons of the plains, rubber estates of the middle lands and spice-rich foothills of Sahya ranges to the plantation-clad Kanan Devan Hills is an exploration of variety of life styles, people, agriculture and landscapes. Most of the roads in Munnar were pathways of elephant herds. These Anatharas were proved by modern engineers to be the right way or the best way to Munnar. The resort is located 5 kms from the heart of Munnar town. The point of deviation or the majors land mark is the Head Works Dam from where one needs to take left turn and drive uphill for 2 kms. If you are traveling by a mini coach kindly take the private road by the High Range Club towards Pothamedu.
Accommodation

18 cottages each with individual pathways nestling against Sahya mountain range. 6 Garden Studio rooms. 6 Garden Suites and 6 Villa Suites. Garden Suites and Villa Suites have a living room with dining area in addition to bed room and balcony.
Villa Suites Walk down along the pathways of Blackberry Estate to a nest next to that of sparrows. Your cottage is one among a cluster of houses designed to remind you of ethnic Kerala architecture, you will have all the privacy you need. The resort comprises of 18 cottages , six Garden studio rooms, six Garden Suites, four Villa Suites, and two Honey Moon Villas. Garden Suites & Villa Suites have a living room with a dining area in addition to bed room; an independent balcony is a common feature in all rooms with a splendid valley view. The shower area do not feature a bath tub; however Sisal Spa has a Victorian copper bath tub for a special indulgence.
The Villa Suite have a bed room facing the splendid Attukadu tea valley view and mountain ranges beyond... the living has a double sofa chair, a dining table, a mini refrigerator as amenities. Balcony and bedroom of the villa suites have an immaculate views. An extra bed could be accommodated in the living room.
Garden Suites It was a painful decision to make our guests walk down to their cottages due to two reasons. One, the guest would be exposed to celestial view of the Pallivasal basin and second they would be away from the smoke and noise. Time proved it to be a blessing in disguise as most of our guests appreciate it as they cherish the experience. However it is unfortunate that we do not recommend Blackberry Hills to guests with acute cardiac and knee concerns. The garden suites are located at the mid portion of each cottage. They have private dining area with table as well as a living room and a balcony. The entrance to these suits is from a small garden. The views from the bed rooms and balcony are fantastic too.
Garden Studios The ethnic architecture and selection of eco friendly materials for the floor, roof and ceiling were calculated and conscious decisions for a healthy cause. An you are assured of 99% pollution free environment as we maintain our farm and garden 100% organic.
The garden suites are located on the first floor, it has single sofa chair and a coffee table, the balcony is close to the garden and view from the bedroom and balcony is both facing the garden and the valley.
Honeymoon Cottages Blackberry Hills is one of the most sought after honeymoon destinations in Kerala. Its very natural ambiance, own trekking path, magnificent view, curves and corners of the vast plantation area, rejuvenating special recipes etc may be the reasons behind its demand. Now we have converted two of its villa suites specially for honeymoon couples. The design is very much ethnic. We won't disclose any further. Come. Experience
The honeymoon suites are as spacious as the Villa suites with a large bed room and living room; the living room has a dining table, double sofa, a double swing, mini fridge and a balcony facing the exclusive and undisturbed valley view.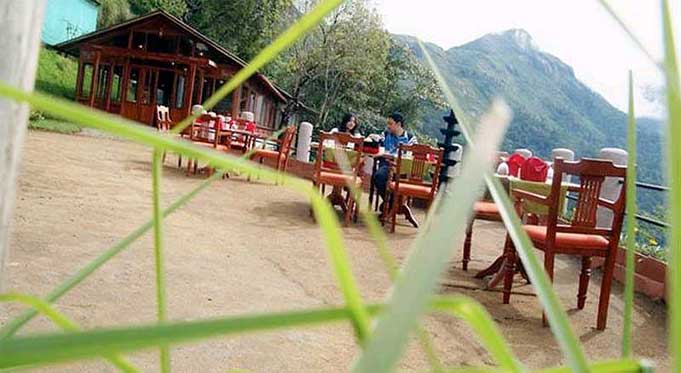 Hornbill – The Restaurant
feast for your eyes and taste buds…dining Soar high into an uncharted world of taste and exclusivity with Horn Bill, where nature serves its platter of unending choices and delicacies. Set amidst the Blackberry estate, Hornbill is an unconventional eatery breaking the myths of usual cluttered restaurants. The place is designed to remain inseparable to Mother Nature with its diligently crafted interiors with wood, terracotta and steel.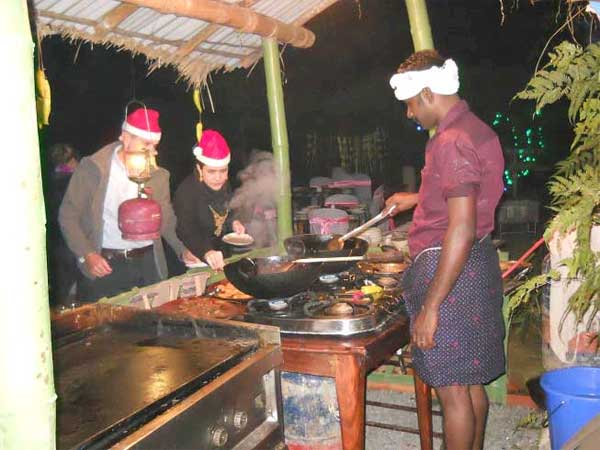 Feast on our exhaustive array of authentic ethnic delicacies or choose to play multi cuisine. Or even try out 'Sadya'- the ceremonial feast of Kerala served for lunch in its elaborate traditional get up on the banana leaf. Share your finest moments with your special one while Hornbill, the restaurant serves you finest cuisines.
Special features Campfire and BBQ nights Candle lit dinner Play a chef and learn.
The activities in the resort include: Activities Mountain biking Guided trekking and Bird watching Tea Tree trek and Tea tasting sessions Soft jeep Safari Camp Fires Paint your canvas Initiation into organic farming and vetiver system Meditation under the cinnamon shades and in the vetiver gardens Flora N Fauna walk Indoor board games Cultural events (on special occasions or on request).
Holistic Wellness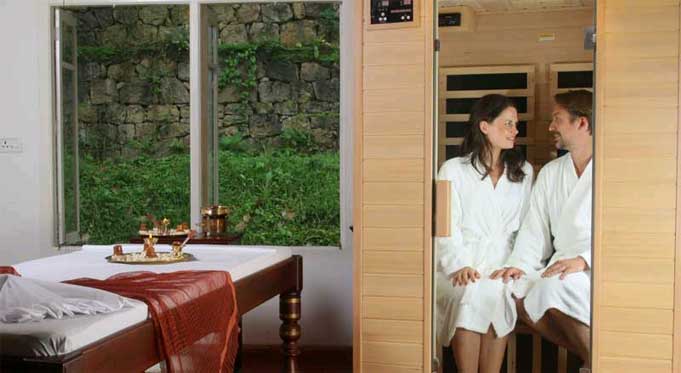 Relax, Rejuvenate and Refresh Holistic WellnessWhere pure mountain air & pristine mother nature cast their magic healing spell hand in hand with international wellness services so rejuvenating and world class spa facilities so inviting all under personalized attention of a caring team harmonizing you to your best self physically. mentally. spiritually. Welcome to a world of well being at Sisal! At Blackberry Hills and Sisal everyone is in a sober yet romantic motion in tune with nature. Touch as an element of Spa is well designed and perfected by Ms. Christina Watson, renowned wellness personality with more than a decade international exposure. "The magical fingers of Sisal wellness associates are a class apart" as commented by a one of our guests recently. The fine elements of aesthetics are well executed in the Spa right from the reception areas to the balcony. The quality and value for money that our guest experience has been our continuous focus as you feel the synchronized movements of the fingers for spiritual, mental and physical healing. The blend of natural essential oils and ingredients are signature elements at Sisal Spa.
Sisal offers a wide range of wellness services such as: Sisal's Signature Indulgence, International Wellness, Indian Rejuvenation, (eg: Ayurvedic Abhayangam) Spa Body Care, Facial Care and Teasers and Special honey moon packages
Features:Holistic Wellness Spa single suite with steam cabinet for ayurveda therapies attached shower cubicle Spa Couples suite or double room with attached double shower cubicle Double size Carbon far infra red sauna (Italian make ) with inbuilt music system Hand hammered copper bath tub for therapeutic herbal baths, rejuvenation baths such as rose milk, Marie gold flower, sea salt Spacious wooden deck facing the mystic river and valley for Yoga Thai stretch massages and yoga sessions and meditations Spa library