Carmelia Haven
Thekkady, Kumily

Carmelia Haven is a stylish, eco friendly resort set amidst a tea and cardamom plantation where guests will be in communion with many of nature's many splendored charms. Situated close to the village of Vandanmedu, a half hour drive from Thekkady along the Thekkady - Munnar road, the area is the world's largest producer of premium quality cardamom.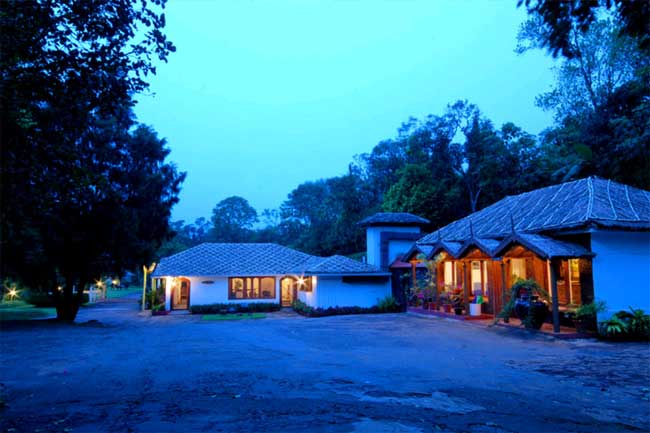 Accommodation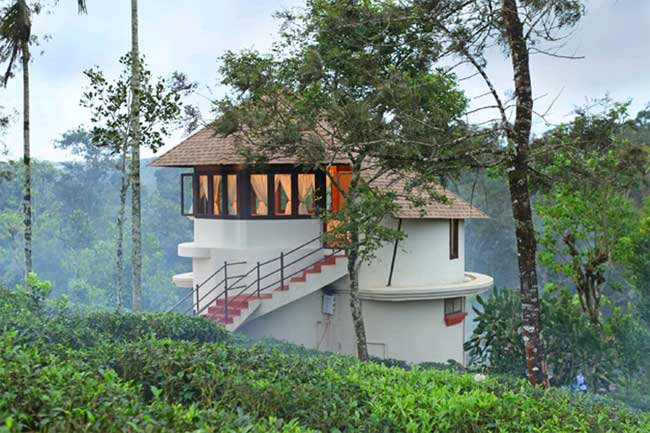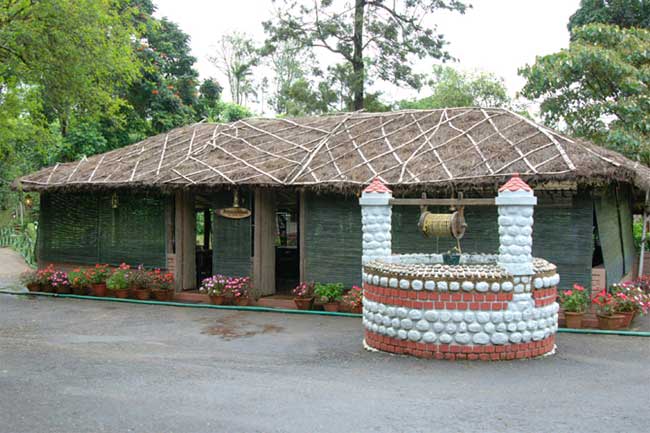 Set amidst the lush plantation - exquisitely furnished cottages, villas and suites with thatch roofs along the rim of a ridge. Tree houses set high above a lush canopy of trees and honeymoon suites with beautiful views that extend welcome to cupid's designs.
Tree House Tree houses that are built with wood on solid stilts and soar into the canopy of trees around them. Guests with an adventurous streak will find much to enjoy in the novelty of residing high above the ground, in the embrace of the foliage and the spectacular views of the plantation below from the wrap around balcony. The tree houses also offer elegant ethnic themed furnishings and the state of the art in amenities.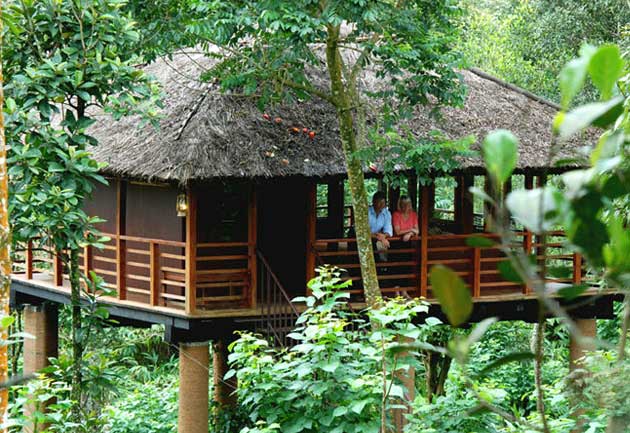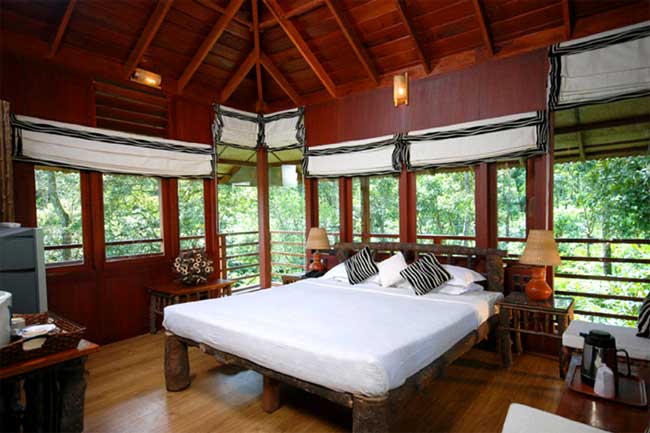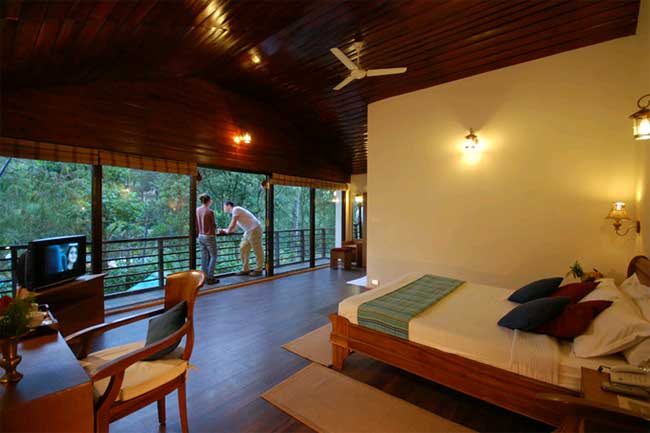 Jacuzzi Villa Villas that are the very definition of luxury, exclusive, serene - equipped with a Jacuzzi, the best in amenities and tastefully furnished. Outside a private garden and verandah are surrounded by picturesque views of the surrounding plantation.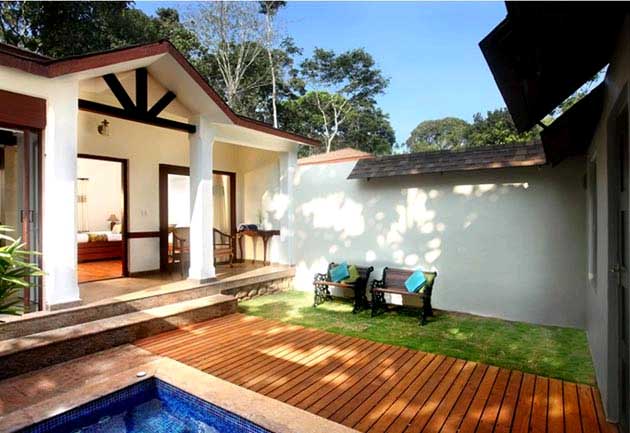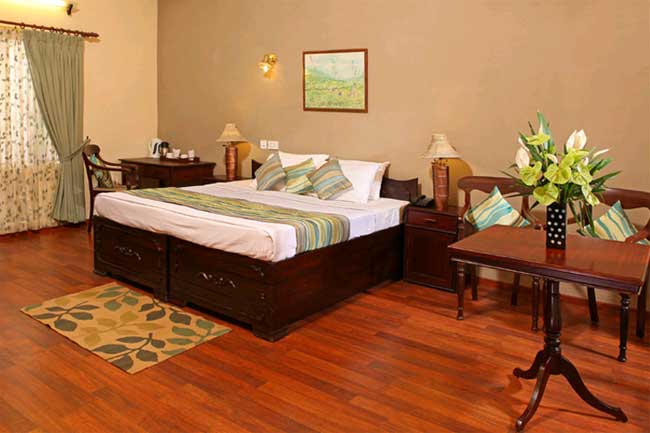 Deluxe Cottages Surrounded by orange trees, cardamom and coffee bushes and set on a slope beside a ridge, the deluxe cottages are twin storied units with private balconies that look down at the swimming pool in the bowl of the valley below. Spacious, elegant and furnished with all requisite amenities, with easy access to the restaurant, the leisure area and the pool.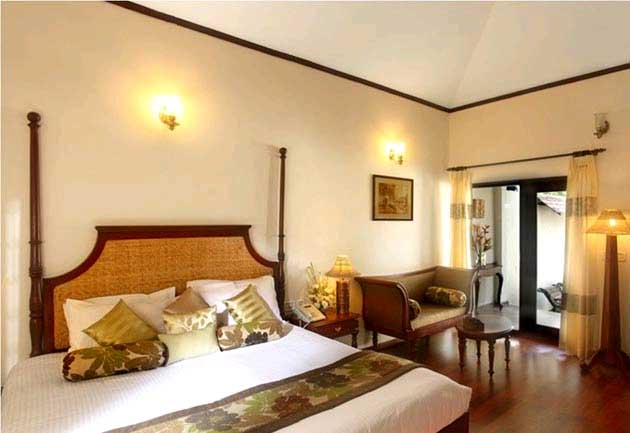 Deluxe Room Situated next to the reception and leisure areas, the Deluxe Room exude an old world charm. Each room offers warm, cozy interiors furnished with robust wood furniture and fabrics in muted colors. A living room leads to the bedroom and further inside.
Cave Cave Those who want to be all by themselves, stay in our Cave, an underground cellar where they can shut out the world and give free run to their imagination.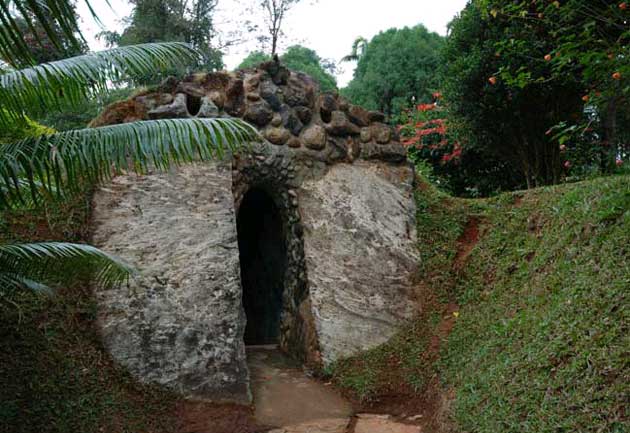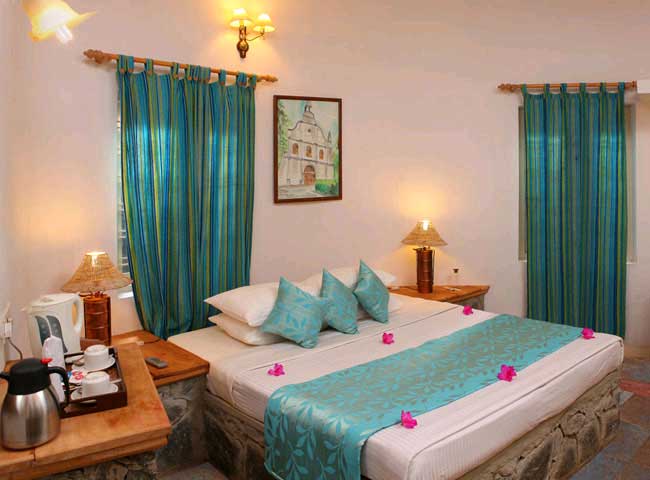 facilities : Now add a tinge of variety to your days at Carmelia Haven and enliven the moments. Play a game of tennis or take a swim in the swimming pool. Tread to the woods with our guide or warm upto the open air barbecue with bonfire. Enjoy the culture shows, tribal dances or a gorgeous theme dinner. Or just unleash your wildest fantasies and immerse yourself in the wilderness. Purchase spice and other goodies from a shop inside the premises. Get a doctor's medical assistance in case of an ailment and enjoy many more services as you please at Carmelia Haven. Here days don't end. And you won't feel like going back. You become part of the plantation beauty and life. Get swept away!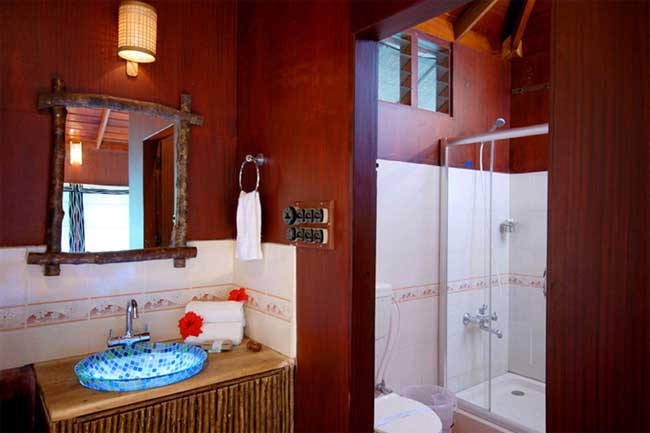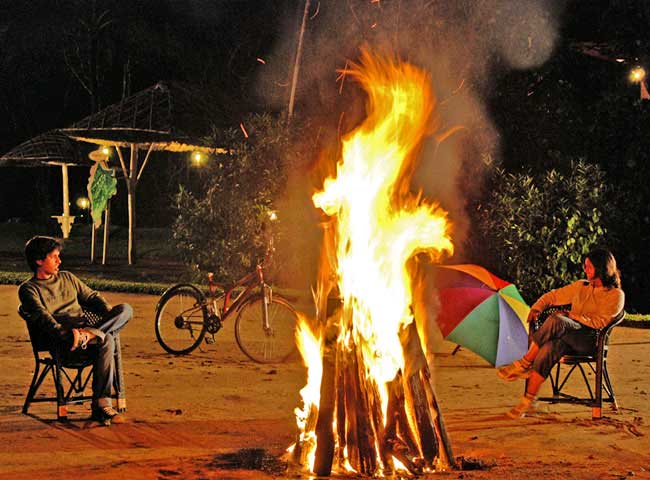 Dine in our exquisite restaurant and have multi-cuisine delicacies. Read books in our library in your leisure moments or hold conference in the most exciting way in our exquisite Conference Hall aptly named ''Nattukoottam" which can accommodate upto 300 people in theatre style.
Conference, Hall Multi-Cuisine Restaurant, Coffee Shop, Swimming Poo,l Games Room, Ayurveda Centre, Kids Park, Safe Deposit Lockers.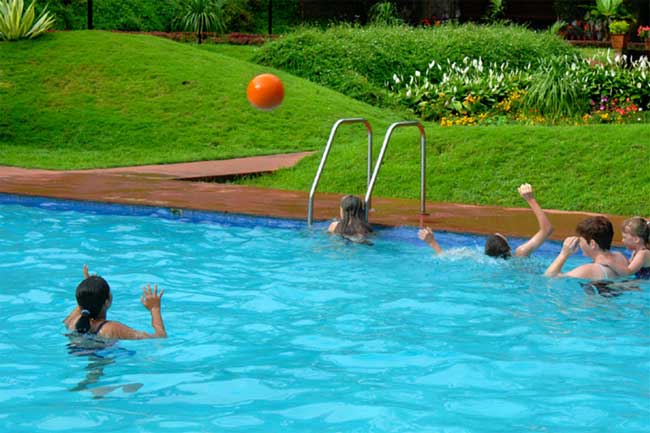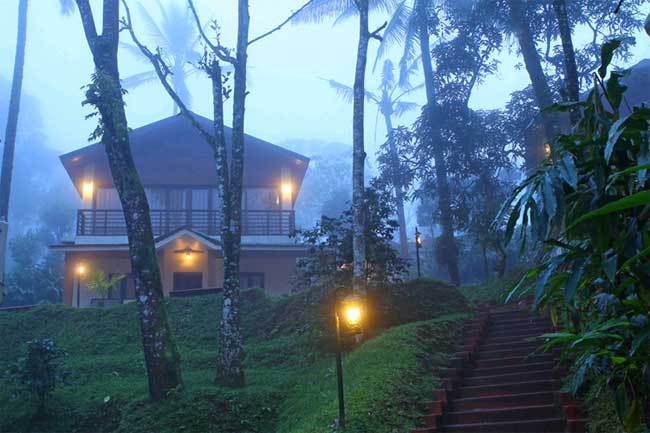 Kolumban - elegantly furnished multi cuisine restaurant. The restaurant is named after a chieftain of the Malaya Araya tribe Kolumban who first showed a couple of British officials on a hunting trip the site of the present arch dam in 1922. The Syrian Christians (also called 'nasranis') of Kerala have a very distinctive cuisine using spices grown in the region, meats and vegetables all cooked in recipes that are have been handed down through many generations. The restaurant serves both buffets and an 'a la carte' menu of Indian dishes and culinary delicacies from other regions of Kerala
Rithgeham - the Ayurveda Spa Ayurveda is an ancient system of holistic health care that is essentially a way of life concerned with promoting healthy living along with therapeutic measures that relate to physical, mental and spiritual harmony and the promotion of the body's own capacity for maintenance and balance. Treatments are non-invasive and non-toxic and can be used safely as an alternative therapy or alongside conventional therapies. It is in Kerala that Ayurveda is most effective with equable climate and abundance of forests, herbs and medicinal plants. Traditional texts reveal that the monsoon is the best season for rejuvenation programmes. The atmosphere remains dust-free and cool, opening the pores of the skin and making the body receptive to herbal oils and therapy.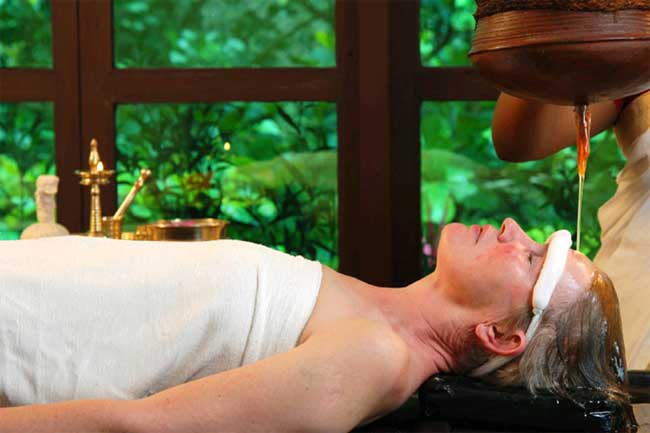 'Natukootam' - Banquets, conferences and MICE. A 'natukootam' is traditionally an assembly of villagers meeting to discuss matters and issues of common interest. Set above the restaurant is the resort's banquet and conference area, equipped with state of the art in conferencing facilities.
Tariff valid from 1st April 2015 to 30th September 2015
No.of Rooms
Room Category
Rack Rates (INR CP)
DOLLAR RATES

2

TREE HOUSE

12000

$ 270

5

JACCUZZI VILLA

10000

$ 225

1

CAVE ROOM

6000

$ 135

14

DELUXE COTTAGE

6000

$ 135

3

DELUXE ROOM

4000

$ 90
Extra Person: Adult (Above 12 years) On CP - 1500/- ( $ 35 )
On MAP -2100/- ( $ 48 ) On AP - 2700/- ( $ 62 )

Child (Between 05 to 12 years) On CP - 1000/- ( $ 23 )
On MAP -1500/- ( $ 35 ) On AP - 2000/- ( $ 46 )