Casamaria Beach Resort
Alleppey- Kerala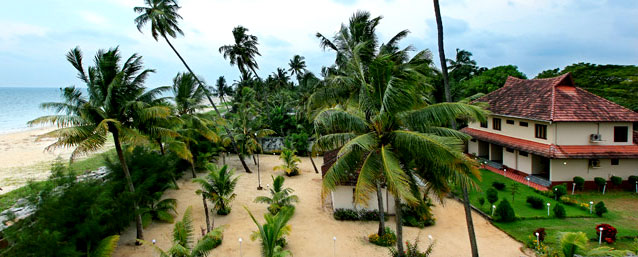 Casamaria Resort Alleppey- Welcome to a place where senses are delighted and desires are indulged. A place where you pick the pace and you choose the mood. A place of inimatbale style, unprecedented privacy and ultimate personalised attention. Welcome to Casamaria set on the shores of a far blue Arabian sea of wonderful beauty. Designed for those seeking an easy going foot-in-sand experience this dazzling, small and sleak boutique resort feels like home away from home and offers the ultimate holiday experience for you to indulge with your loved ones.

If you are loking to explore the backwaters or just escape to a new world Casamaria is your perfect heaven. At Casamaria, you may choose to Unwind in the garden, Plunge into your hammock, Relax from the comfort of beach umbrellas, Dream to a symphony of rolling waves, Wiggle your toes in the soft, white sand, Snooze off in the bedroom or let the naturally air cooled winds to soothe you as you train your eyes on the horizon. When not in resort embark on a voyage of discovering the back waters or the nearby temples or the town famously known as Venice of the east. At Casamaria you create a collage of timeless moments – as perfect as you'd imagined them to be.

Facilities at Casamaria Beach Resort : Break away from the crowds. Live on your own terms. Let your spirit flow. Prepare to lose yourself in the experience of privacy, warmth, comfort and a promise of utter contentment fulfilled.located very close to the backwaters and Railway station, Casamaria provides you with all necessary amenities in addition to the stunning views of the sea and smooth flow of collong sea breezes.

• Airconditioned rooms • 24-hour room service • Direct dial telephones • Multichanel Television • Broadband internet facility • Mini Fridge • Express Laundry Service • Welcome drink on arrival • Money Exchange • Hot Water Facility •
HighSeason ( 01 st Oct 2010 - 31st Mar 2011 )
Peak Season ( 15 th Dec 2010 - 10th Jan 2011 )
Place to See
Kuttanad : Kuttanad, called the rice bowl of Kerala because of her wealth of paddy crops, is at the very heart of the backwaters. The scenic countryside of Kuttanad with its shimmering waterways also has a rich crop of banana, cassava and yam. This is perhaps the only region in the world where farming is done 1.5 to 2 m below sea level. Inland waterways which flow above land level are an amazing feature of this region.
Alappuzha beach This is one of the most popular picnic spots in Alappuzha. The pier, which extends into the sea here, is over 137 years old. Entertainment facilities at the Vijaya beach park add to the attractions of the beach. There is also an old lighthouse which is greatly fascinating to visitors. The Vijaya beach park: Picnic spot with children's park & boating facilities (Open 1500 - 2000 hrs). Entrance fee Rs. 2 per person; Free entrance for children below 5 years. Boating charge: Rs. 10 for 10 minutes. Other facilities for children: Toy train, bicycles, Video permit Rs. 25, Camera permit: Rs. 5 respectively.
Tele : +91-11-41612107, 26823836. Mobile : 9810002772, 9910002772.
Email :- reservations@ashextourism.com