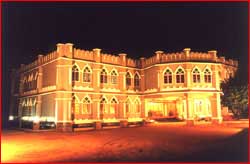 Fort Munnar
Munnar, Code No- AT-KR11

Fort Munnar is conceived under the concept of eco-friendly holidaying and gives you an experience of nature as never before. Fort Munnar with its colonial architecture blends with the nature, surrounded by enormous trees, enchanting hills and foliage.
Fort Munnar is located in the salubrious surroundings of the Anaryirangal lake with 26 deluxe rooms and suites. The multicuisine restaurant, the conference and convention halls and the activity centre will make your stay pleasant and purposeul whether it is business or pleasure.
The hotel offers you a breathtaking panorama of gentle slopes with its sheer drops, the meandering streams, the anayirngal lake, all speckled with lush vevetaton and forest life.
Built in the colonial style amidst the enchanting beauty of thehills, Fort Munnar has a 24 hour coffee shop and service at your command. A richly laid lobby welcomes our guests and our cordial staff ensures your comfortable stay. An efficient tour desk organises adventurous treks and sightseeing to inhale the fresh breath of nature's green bounty and guides you in making holiday plans in Munnar.
Winter Packages - Validity
2 Nights 3 Days Package on CPAI Rs/-
Welcome drink on arrival, accommodation in Deluxe room for 02 adults and 2 children below 5 yrs, breakfast with a food credit of Rs 250 per room per day ( can not be carried over to next day), Free use of activity centre adn free use of cycle for one hour, child/ extra person above 5 yrs Rs/- per person per day with food credit of Rs 125 per day , Room upgradaton Executive MV Rs per day, Executive LV RS 700 per day, Executive suite Rs 1500 per day, Royal suite Rs per day, sightseeing assistance all taxes
2 Night / 3 Days package on MAPAI Rs/-
Welcome drink on arrival, accommodation in Deluxe room for 02 adults and 2 children below 5 yrs, breakfast with a food credit of Rs 250 per room per day ( can not be carried over to next day), Free use of activity centre adn free use of cycle for one hour, child/ extra person above 5 yrs Rs 750/- per person per day with food credit of Rs 375 per day , Room upgradaton Executive MV Rs 400 per day, Executive LV RS 700 per day, Executive suite Rs 1500 per day, Royal suite Rs 2000 per day, sightseeing assistance all taxes
2 Night / 3 Days package on APAI Rs/-
Welcome drink on arrival, accommodation in Deluxe room for 02 adults and 2 children below 5 yrs, breakfast with a food credit of Rs 250 per room per day ( can not be carried over to next day), Free use of activity centre adn free use of cycle for one hour, child/ extra person above 5 yrs Rs 975/- per person per day with food credit of Rs 625 per day , Room upgradaton Executive MV Rs 400 per day, Executive LV RS 700 per day, Executive suite Rs 1500 per day, Royal suite Rs 2000 per day, sightseeing assistance all taxes
The above packages starts with lunch and ends with breakfast, Check in 12 noon Check out 11 a. m, These packages are not valid for the period from

Click here for Booking Form
Tele : +91-11-41612107, 26823836. Mobile : 9810002772, 9910002772.

Email :- reservations@ashextourism.com