Green Paradise Resorts
Vythri, Waynad- Kerala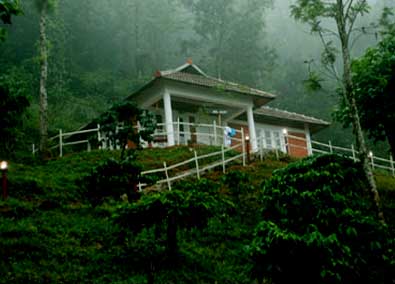 Green Paradise Resorts, Wayand- Welcome to Wayanad. Welcome to Green Paradise Resorts. A climate that parallels any hill station, yet giving you the joy of basking in subtle, warm sunlight. Green, as far as your eyes reach, with intermittent hills and valleys. Skies blue, and gentle mist that wraps on your every move. Birds, breeze and flowing water - together in musical harmony.
Rail: Nearest railway station: Kozhikode Major towns in the district and distance from the nearest railway station: Kalpetta: 72 km from Kozhikode, Mananthavady: 80 km from Thalassery & 106 km from Kozhikode, Sulthan Bathery: 97 km from Kozhikode, Vythiri: 60 km from Kozhikode. Road: Well connected by roads from Kozhikode, Kannur, Ooty (175 km from Kalpetta) and Mysore (140 km from Kalpetta).
Accommodation @ Gree Paradise Resort
There are different type of cottages in the resort.
Kabani & Kaveri Cottages: Imagine waking up to the sound of waterfalls. At Kabani & Kaveri Cottages imagine more as we promise to surprise you with an ambiance combining nature and pure sensation. Well spaced ethnic wood furnished rooms, surrounded by exotic waterfalls and exciting freshness. Your experience is our priority at Green Paradise Resorts.
The Green Paradise ambiance includes the following amenities: · Internet · Cable TV · Hot and Cold Water · Restaurant · Laundry · Car Parking
Green & Paradise Cottage : In tune with the best that nature has to offer, Paradise Cottage is the ideal choice for small families or a couples getaway. Adding all of nature's colors to the comfort of your home, these fully furnished cottages remain an experience, ensuring you have to yourself a rejuvenated mind and body.
The Green Paradise ambiance includes the following amenities: · Internet · Cable TV · Hot and Cold Water · Restaurant · Laundry · Car Parking

Rock House : Waterfalls, lush green landscaping, and a sun that peeps in and out. Nature ensures Wayanad is as dreamy as it sounds. Complete your back to nature experience in our very own Rock House; full furnished, and made entirely of rock from bedroom to bath, Rock House is your escape from the every day and to reconnect with fun and family
The Green Paradise ambiance includes the following amenities: · Internet · Cable TV · Hot and Cold Water · Restaurant · Laundry · Car Parking.

Al Bin Cottages: Adopting its name from the Green City of UAE, Al Ain Cottage adds an Arabic flavor to the Indian wind. Full furnished interiors resembling the Arabic "Majliz" and a perfect blend of ethnicity and nature, ensure you live life king size as we put you on top of the world with our aesthetically built Al Ain Cottages.
The Green Paradise ambiance includes the following amenities: · Internet · Cable TV · Hot and Cold Water · Restaurant · Laundry · Car Parking

Facilities
Green Paradise Resorts also provides the following services:
• Ayurvedic Rejuvenation Programs • Camp Fire • Adventure Hill Walking • Sight Seeing Tours • Currency Exchange • Travel Assistance/Rental • Doctor on Call.
Restaurant
At Green Paradise, we ensure you enjoy cuisines of the world at your fingertips. An authentic multi-culinary experience serving you diversities of the world, Green Paradise boasts of a line of specialized chefs, efficient personalized service and choicest of food across:
• Local Delights (South Indian / Kerala Cuisine) • Continental • Chinese • Arabic .
Type of Accommodation

Tariff

AL- AIN Cottage.

Rs. 4000.00

ROCK HOUSE

Rs. 4000.00

GREEN Cottage

Rs. 3000.00

PARADISE Cottage

Rs. 3000.00

KABANI Cottage

Rs. 2500.00

KAVERI Cottage

Rs. 2500.00

Extra Person

Rs. 1000.00

Rates are inclusive of Bed coffe and Breakfast

*

Taxes and duties extra applicable
12 noon Checkout.
Must See
Pookote Lake: Set in a beautiful valley and surrounded by evergreen forests and wooded hills, Pookote is one of Wayanad's top visitor draws. This natural lake near Lakkidi is just a short distance off the National Highway 212.
3 km from Green Paradise Resorts.

Chain Tree: This large Ficus tree, bound by a prominent chain is the source of a dramatic local legend. As the tale goes, an Adivasi youth named Karinthandan was instrumental in guiding a British Engineer through the difficult mountain terrain into Wayanad. Eager to take credit for the discovery, the engineer conveniently killed his guide, whose soul according to the legend constantly haunted subsequent travellers. It is further believed that a priest chained the troublesome spirit onto this tree.
4 km from Green Paradise Resorts.

Chembra Peak: At 2100 metres, the spectacular Chembra Peak located towards the southern part of Wayanad is the tallest summit in the region. Climbing this peak is a challenging mountaineering endeavour and would take a full day. The surrounding areas offer exceptional photo opportunities. Camping on the peak is a unforgettable experience.
23 km from Green Paradise Resorts.

Meenmutty Falls: A interesting 2 km jungle trek off the main Ooty Road, Meenmutty is the largest and most spectacular waterfall in Wayanad. A unique feature is that water drops about 300 metres over three stages.
37 km from Green Paradise Resorts.

Banasura Sagar Dam: Considered to be the largest earth dam in India, the Banasura project precincts are an ideal starting point for treks to the Banasura Peak. An interesting feature is a set of islands that were formed when the reservoir submerged the surrounding areas.
25 km from Green Paradise Resorts.

Edakkal caves: An interesting trek up the Ambukuthi Hill near Ambalavayal town takes you to the fascinating neolithic cave site of Edakkal. Etchings found on the walls of these caves have drawn the serious attention of archaeologists and historians worldwide. With at least three distinct sets of petroglyphs, the earliest thought to date back over 5000 years, it is assumed that the Edakkal caves had been inhabited at various stages in history. An interesting attraction close by is a telescope installed by the DTPC a few feet from the caves that offers a panoramic view of the surrounding country.
46 km from Green Paradise Resorts.

Pazhassi Raja's Tomb: Pazhassi Raja, a scion of the Kottayam royal family was one of the earliest to strike the banner of revolt against British overlordship in this part of India. Taking refuge in the Wayanad hills, he resorted to classic techniques of guerrilla warfare against superior British forces. He remained successful for a remarkably long period until finally the English brought in heavy reinforcements from Madras and Bombay. This Lion of Kerala was downed in a ferocious encounter that took place at Mavilanthode in the last days of 1805. Pazhassi's tomb marks the point where he was cremated.
43 km from Green Paradise Resorts.

Tele : +91-11-41612107, 26823836. Mobile : 9810002772, 9910002772.

Email :- reservations@ashextourism.com