Palace on Water - Waves
Houseboat, Kettuvallom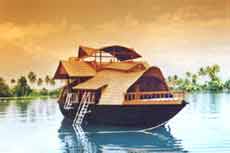 Code No- AT-KR17
Kettuvallom (House boat) is a country boat that was used in the early day for the transport of goods from the isolated interior villages to the towns. With the advent of reads, bridges and ferry services, gradually the Kettuvalloms went off the scene. Now these Kettuvallom is a fabulous way to explore the fascinating beauty of the backwaters.
| | |
| --- | --- |
| | It is about 67 feet in length and has a width of around 13 feet in the middle. The materials that go into the making are all local and eccofriendly; bamboo poles, coconut fibre, ropes, bamboo mats, carpets etc. The main wood used is "Anjali". There are gouse boats with fully furnished single room, double rooms and triple rooms. All of them have sundeck, private balcony with comfortable chairs, kitchen and toilet with w.c. In addition there is a separate rest room for the crew. |
Traditional lanterns are used as lights. The crew includes a chef, and two oarsmen. The cuisine is of traditional Kerala flavour along with the local specialities; delicious fish and prawns. There are single bedroom house boats for two people and two bedroom houseboats for four people .
Palace on water (Static Houseboat)
This static luxury houseboat has two hedrooms which can accommodate four persons. There is a balcony on top, quite convenient to get a feel of the panoramic nature around. A similar balcony is also there below. Another feature is the sundeck for sunbathe. Canoes are always connected to the static houseboat which takes the visitors for back water cruises.
Rates:
(Package for 2 Nights / 3 Days for a couple)
Tariff :- Rs. /-

Package Includes:-
* Breakfast, Lunch, Dinner, Tea, Coffee and Fruits.
On Extra Payment :-
Mineral Water, Soft Drinks are available.
Guide service are provided on request .
Click here for Booking Form

Tele : +91-11-41612107, 26823836. Mobile : 9810002772, 9910002772.
Email :- reservations@ashextourism.com