Peppervine
Thekkady
When you need to cleanse your soul of the city dust, and soothe the noise in your mind to gentle music, Thekkady awaits. When you have had enough of rush hour traffic jams and seemingly unending work, Thekkady beckons with its misty mornings and calming shades of green. Here, in the lap of nature, wake up to the comforting sounds of birdcall, take long leisurely nature walks, and crank the speed of life down to one. Nestled in the Western Ghats, Thekkady is also home to the Periyar Wildlife Sanctuary. In this land of animals and spice plantations is the contemporary hotel Peppervine, by the Vijaya Hospitality Group. The only 3-star leisure-cum-business hotel at Thekkady, Peppervine offers the finest value for money, with 5-star facilities at 3-star rates – luxury that's within your budget. Come, experience for yourself the unique charm and hospitality of Peppervine.
PEPPERVINE - LIVE VALUE @ NATURE'S PALM.
This destination is ideal for a family holiday, far from the noise of the city. The hotel, chic and contemporary in architecture, has 43 rooms including deluxe rooms and suites. With the views of the sanctuary and plantations all around, you will be living right in the heart of nature. Facilities at Peppervine include a multi-cuisine restaurant, conference hall, spa, outdoor swimming pool and a kids' pool. If work really cannot wait, you could head over to our business centre that is fitted with all modern amenities and high speed Wi-Fi connectivity; we provide secretarial services, too.
Peppervine's prime location makes it easy to access all the attractions in the area—the Periyar Wildlife Sanctuary, MullaperiyarDam, spice markets, elephant safaris and spice plantations. The hotel is also well connected by road to major tourist destinations in the region, like Fort Kochi, Munnar, Kumarakom, Alleppey, Madurai and Kovalam.
Accommodation
Suite Spend your holiday wrapped in the luxury of Peppervine's exclusive suites designed to meet every need of the discerning traveller. These offer large spaces and are ideal both for families with children and business travellers who need that extra space for work and meetings.
Deluxe rooms Take in the beauty of the many shades of green from these spacious and well-appointed deluxe rooms, which can be provided with twin beds or double beds, as per your requirement. The attached modern bathrooms have running hot water and everything else you need for a comfortable stay.
.
Dining at Peppervine
Our Multi Cuisine Restaurant offers you the very best of local as well as national and international cuisine. You can reserve candle light dinners for special occasions and get the choicest delicacies of the region from Peppervine's Master Chef.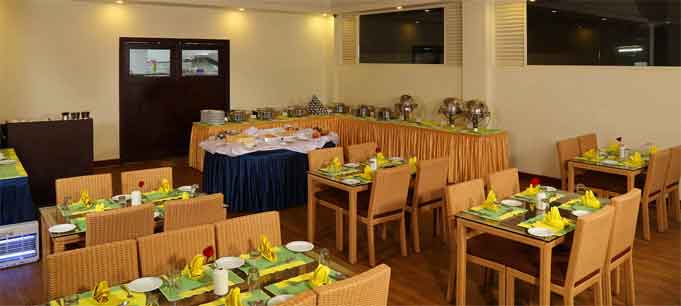 Swimming pool
An enchanting Outdoor swimming pool is available from 07.30 till 20.30 hrs. And a wide range of pool site active can be arranges as per the requests.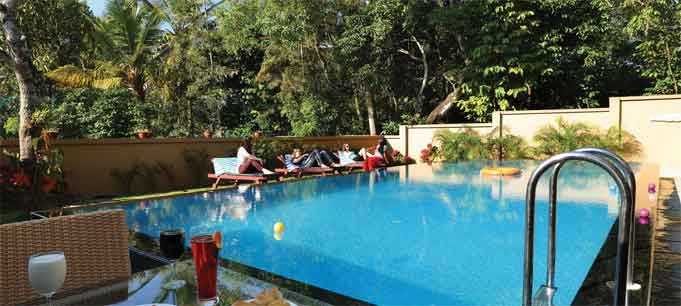 Activities at Peppervine An array of activities like Boating, Trekking, Nature Walks, Jeep Safaris, Elephant Rides, Spice Plantation Tours and Bullock Cart Rides are available, to make your holiday memorable.
Events / Conferences
Planning a conference? Invite your business associates to Peppervine to make it not merely productive, but also memorable. The modern Conference Hall here can accommodate 80 guests. This hall is also ideal for small parties and celebrations. If you want a more exciting venue, check out the open space available by the poolside for small gatherings.
.