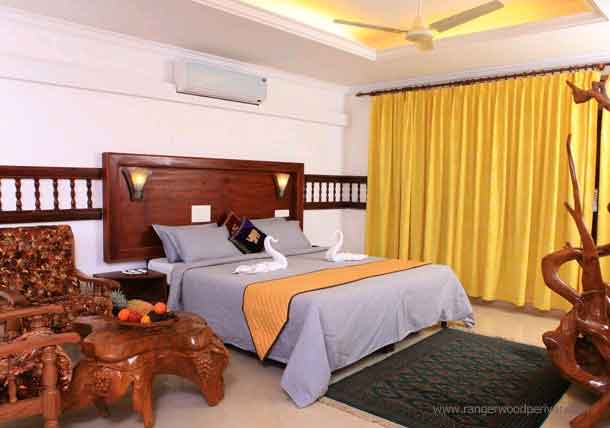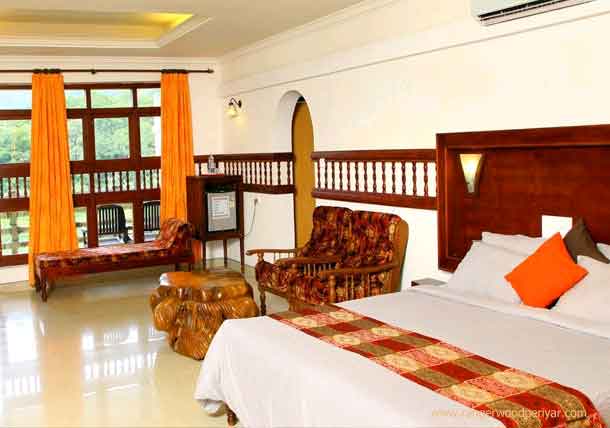 Amenities Rangerwood Nature Castle is your true window to the wild. In the resort, each and every window open to the wild life of Periyar reserve forests. Far from the hustle and bustle of busy city life, Rangerwood Nature Castle offers you a true holiday experience with Nature's luxury. Our cottages are spacious, well furnished and equipped with all kinds of modern amenities. We have always wanted to offer more and better services to our guests, in this regard we have ventured into several outdoor activities such as trekking in the reserve forest (with permission from Forest Department), Boating in Periyar Lake, Nature Walk, Tiger Trail, Border Hiking, Bamboo Rafting, Jungle Patrol and Jeep Safari.
We love enriching your experience with us. So, we are always in the pursuit of providing improved and better services. To name a few we offer additional options like Ayurvedic Body Massage, Therapeutic Oil bath and several different kinds of Rejuvenating Ayurveda Massages from one of our sister concern, Thejus Ayurveda Center. Additional outdoor activities like Elephant Ride, Kathakali, Kalari payyatu, several kinds of traditional & folk dance forms are also organised for our guests on requests.
Nearest private resort to Periyar Tiger Reserve. Each & every balcony window faces Periyar Lake and Reserve forest 25 premium & luxurious cottages with 4 different tariff rates. Most spacious cottages extends up to 600 Sq.Ft. Multi cuisine restaurant with buffet space. 1500 Sq. Ft. roof top party area with facility for camp fire Ample parking space Provision for fishing at resort premises. Facilities for recreational activities and health club within the resort Party and conference hall available
The Restaurant
Rangerwood nature castle offers an exemplary multi cuisine restaurant to savor the traditional tastes of Kerala and South-Indian food in addition to Continental, Chinese & North Indian dishes. We provide both vegetarian and non-vegetarian dishes maintaining separate hygienic kitchens for the preparation of both. Special attention is paid in order to maintain the freshness and cleanliness of the dishes we serve. We also cater special dishes provided it is done at the time of booking.
Feast on Kerala food! Exotically flavored, Kerala food is our specialty. There is a vast number of dishes to choose from within the. Kerala meals which include white boiled rice with side curries like 'thoran', 'kalan', 'pachadi', 'olen' or 'avial'; and major curries as 'sambhar' or 'moru' . A crispy, crunchy 'pappadam' is served alongside to add completion to the meal. It is served on tender green banana leaf.
If you wish for something spicier, you can choose to have pulao, biriyani or pilaff with additional curries. For breakfast, there is 'puttu', which is white rice flour dough steamed in a bamboo stalk served with 'kadala' or 'peas' curry. Another hot favorite is 'Idli' and 'dosa'. We also deliver the great Kerala's much-coveted 'kappa' (tapioca) with spicy red-chilly fish or mutton curry.
At Rangerwood Nature castle, everything is set according to the preference of our valuable guests. Depending upon their choices we create a customized menu for each day. For those who would like to taste varieties of dishes available, we provide them with buffet for lunch and dinner. For others, orders are taken according to their food interests and served either at their rooms or at the Rangerwood restaurant.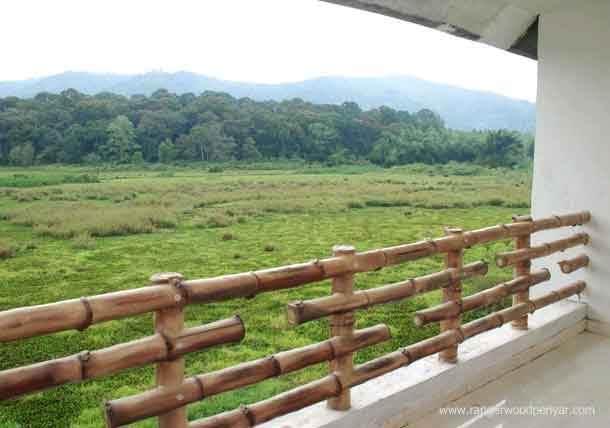 Come and enjoy the warm delicacies of ethnic & traditional Kerala dishes during your pleasant stay with us. A million delights await you at Rangerwood Nature Castle!