Sopanam Heritage
Guruvayoor, Thrissur- Kerala.
| | | |
| --- | --- | --- |
| | | |
About Guruvayoor - It is one of the most important and holiest pilgrim centres in Kerala, South India, attracting thousands of pilgrims from all over India. The major attraction is the temple of Lord Sree Krishna who is also called 'Guruvayurappan'. To trace the history of Guruvayoor, we have to go back a few thousand years. Lord Krishna was born as the son of Vasudeva and Devaki in the dwapara yuga. He was not an ordinary boy! He performed wonderful deeds and everyone was convinced that the boy was none other than Lord Vishnu in human form, an avatar of Vishnu or the perfect manifestation of the supreme power. Before leaving the earth to the heavenly abode, Lord Krishna told Udhava, his foremost disciple that he had installed the image of Lord Vishnu in the temple built by him at Dwaraka. Later Dwaraka was submerged in the sea and Brihaspathi (Guru) recovered the idol and with the assistance of Vayu (Wind God). Together, they traveled all over India in search of a holy place and finally reached Kerala. Here, with the help of Parasurama, they located a holy spot. Guru and Vayu installed the image of Lord Vishnu (Lord Krishna) in the temple built by Viswakarma, the architect of the Gods. As Guru and Vayu together founded the temple, the place came to be called 'Guruvayupura' in accordance with Lord Shiva's wish. Later the name was shortened to Guruvayoor. With regard to the number of devotees visiting each day to receive the Lord's blessings, Guruvayoor Temple ranks first in Kerala and fourth in India. Considering the number of devotees, it is a 'Maha Kshetra'.
GURUVAYOOR - "A Jewel in the Crown" of God's own country. Introduce yourself to a land that sways to the rhythms of nature - the dance of the palms and a blue sky that changes its colours in tune with the beautiful, tranquil surroundings. You will experience that everyday you stay at SOPANAM HERITAGE. SOPANAM HERITAGE is a four star hotel with state of the art amenities: 72 rooms, suites with all modern comforts, 2 restaurants, coffee shop, bar, banquet halls, swimming pool, health care.... Being located in the most important pilgrim centre of South India, SOPANAM is designed to attract the cream of domestic and international guests. SOPANAM HERITAGE is a deluxe hotel providing 4 star facilities. It is conveniently located within the main temple area, shopping centre, railway station and the bus stand. The Trichur town is located 25 Kms from Guruvayoor and 80 kms from the Cochin International Airport, a couple of hours drive from the hotel.
ACCOMMODATION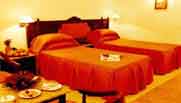 The most spacious rooms with all the modem facilities and amenities. Elegantly furnished rooms with classic upholstery, qualified staff welcoming you at the reception and best of all, a service with a smile. It is an experience in itself to stay at the SOPANAM HERITAGE. GUEST ROOMS 72 well appointed rooms, centrally airconditioned. 66 Double rooms and 6 suites. All rooms have individual temp. control switch. Direct dialing , colour televisions with local and international satellite channel facilities are available.
RESTAURANTS
| | |
| --- | --- |
| | RASOI- The best reason for dinning at the Rasoi is its cuisine which is unrestricted by the boundaries and incorporates a fusion of diverse tastes and cultures. Fresh ingredients and herbs mix and match to give familiar dishes, new and exciting flavours presented in an exceptionally creative way. A journey into the menu unveils such delectable culinary gems |
| | THE AGRASALA (The Vegetarian Kingdom) - Specializes in authentic vegetarian cuisine. You can count on the master chefs of Agrasala to create sumptuous, exotic south Indian specialities. It's an ideal family joint. For your convenience, set meals are also available, served on the plantain leaf in this comfortable and relaxing place. Whatever your preference be, you can always expect the freshest food when you dine at the Agrasala. |
| | HI SPIRITS- A spacious bar with an attractive ambience well stocked with Indian liquor, cocktail and snacks is sure to raise your spirits high. |
| | SPLASH- You can always unwing yourself at their pool side coffee shop which offers you a relaxing atmosphere. |
Single
Double

Double Room (Non AC)

Rs/-
Rs/-
Regal
Rs/-
Rs/-
Suite
Rs/-
Rs/-
Dukes
Rs/-
Rs/-

Extra bed Rs/-

All rates are subject to 15% luxury taxes on rooms, 8% on food. Govt. taxes are liable to change without notice.

KOOTHAMBALAM AND STUDIO (conference )

| | | |
| --- | --- | --- |
| | | |

A comfortable place for the corporate, as well as medical companies', social get-togethers and for major offices who believe in the real meaning of banqueting and want both food and service to be of class. Here we treat you as GOD not just as guests. The 2 Conference halls can seat 25 to 200 pax theatre style.

Their Conference facilities reflect an understanding of space and attention to facilities which is so important in today's business world. Whether it be a meeting for two or a conference for three hundred their staff have been trained to cater to your requirement. The Mini suite room will accommodate easily upto 10 to 15 pax.

SWAYAMVARA- The Terrace can accommodate any kind of forge get-togethers and marriages upto 1000 pax. With a separate dining place it will be the ultimate facility. We specialize in large get-togethers and can give you the best in the hospitality market in this region.
Mammiyoor Temple Many of the devotees who visit the temple also visit the Shiva Temple at Mammiyoor, the abode of Lord Shiva. Located about half a Kilometer from Guruvayoor, it is not only a visiting place for the devotees, but also a temple worth visiting by ordinary visitors.
Chavakkad Beach Chavakkad Beach with its virgin waters, will entice you to come again. The famous mural paintings will certainly touch a deep chord in your heart and bring out the hidden artist in you. The beauty of the beach and its mesmerising atmosphere is an experience you wouldn't want to miss.
Punnathur Kotah This lovely elephant sanctuary is attached to the Sree Krishna Temple at Guruvayoor. The open green area is the home of around 55 temple elephants. An utterly captivating place indeed!
Kerala Kalamandalam Kerala Kalamandalam is situated on the banks of Bharathapuzha river in Cheruthuruthy, It is 32 kms north of Thrissur, a major town, 112 kms north of Cochin and 330 kms north of Trivandrum, the Capital city. Founded in 1927, Kerala Kalamandalam, is a place for Kathakali dance drama and other performing arts of Kerala. Here one can see Kathakali, Koodiyattam and Mohniyattam performances in its theatre, known as Koothambalams. In kalamandalam there are schools specializing in the dance / theatre forms of Kathakali and Koodiyattam offer visitors an insight into the Keralas traditional arts.
Click here for Booking Form
Tele : +91-11-41612107, 26823836. Mobile : 9810002772, 9910002772.
Email :- reservations@ashextourism.com