Vivanta by Taj
Taj Malabar
Kochi [Cochin]- Kerala.
Taj Malabar - Take a cluster of beautiful islands and narrow peninsulas surrounded by sparkiling, azure water, Carpet them with mile after mile of unending lush, green paddy fields and towering coconut trees In a touch of divine whimsy, throw in the oldest European church in India; a Jewish commuity whose roots go back to the Diaspora; cantilevered Chinese fishing nets; wnding roads crammed with 500-year-old portuguese house; a Dutch Palace containing breathtaking murals depicting scenes from the great Indian mythological epics Give it a people with the sun in thier soul. And you will discover a corious, captivating contradictory, claming cornucopia.


Cochin. The gateway to Kerala. And on one such island, on the waterfront, with the Arabian Sea nibbling at its toes, lies a beacon that has guided thousands of travellers to days of joy. Situated on the Willingdon Island, which has a magnificent view of the Cochin harbour and beautiful backwaters, the Taj Malabar is a fine blend of old-world charm and contemporary amenities. The Taj Malabar on Willingdon Island, is an hour away from the airport. The hotel has 97 rooms, most of which offer a magnificent view of the waterfront or lush gardens.
Taj Malabar has , 97 centrally air-conditioned rooms including 9 suites.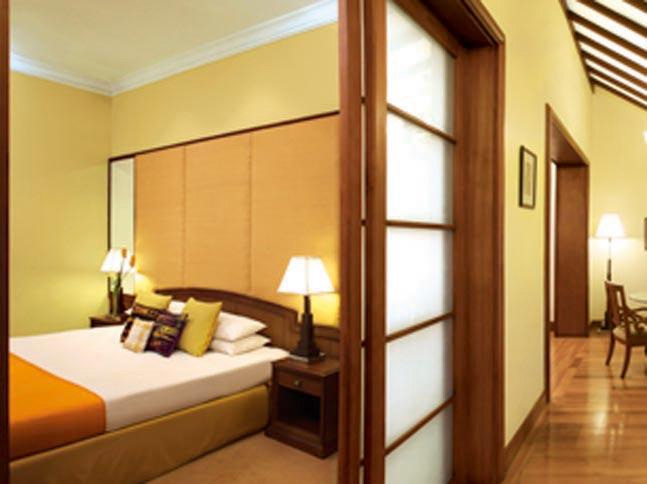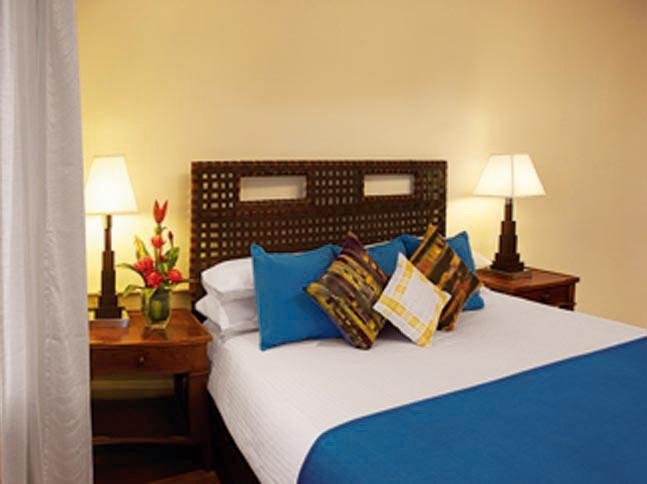 Standard Rooms: All rooms are elegantly appointed and offer guest amenities like with international direct dial facility, channel music and colour television with satellite programmes.

New Wing Rooms: These rooms offer breathtaking views of the waterfront and Chinese fishing nets or spectacular views of the harbour. Corner rooms offer views of the waterfront, harbour and of the sunset.

Old Wing Rooms: Rooms with a Victorian touch, overlooking the waterfront or lush gardens.

Suites: Choose from 7 Executive Suites and 2 Deluxe Suites. Suites in the New Wing have balconies with splendid waterfront views, while those in the Old Wing are decorated using Indian and Chinese themes.

BUSINESS FACILITIES 24 hour copier / facsimile facilities. Secretarial service on request

RESTAURANTS & BARS
Waterfront Café: The waterfront café is a 24-hour coffee shop, romantically situated on the Waterfront, offering you a wide range of Indian, Continental and Local cuisine.


Thai Pavilion: The restaurant is the first of its kind in Kerala to serve authentic Thai cuisine.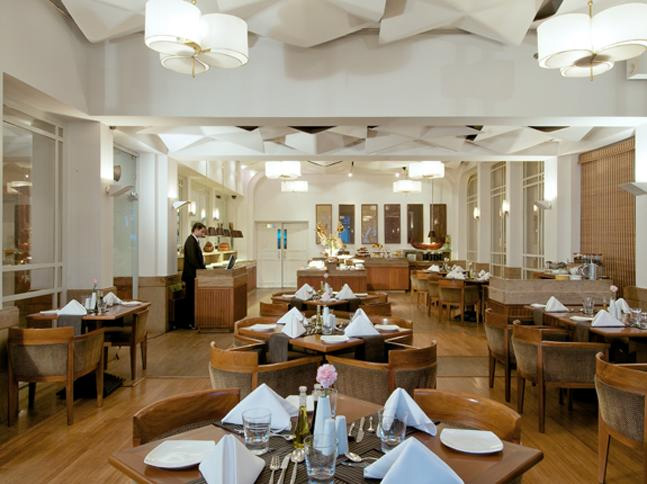 Rice Boat: A Unique restaurant set in a Rice Boat, serving ethnic seafood delicacies. Guests can interact with the chef, watch the ships go by and be serenaded by the sound of waves lapping the boat.
Dolphin's Point: An open-air seasonal eatery serving barbequed delicacies cooked to your taste. Open on Fridays, Saturdays and Sundays.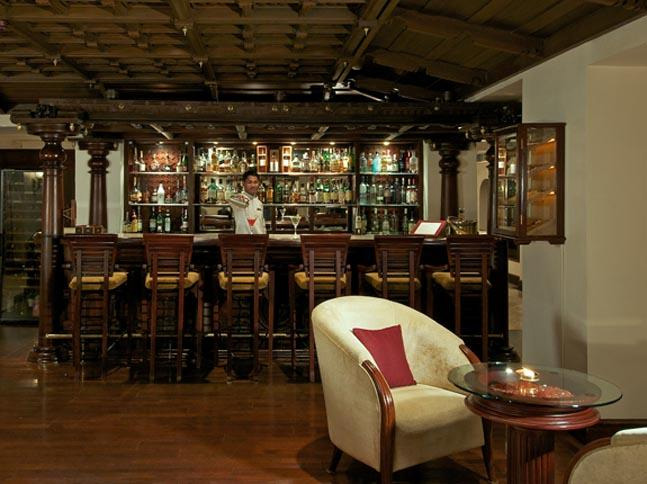 Mattancherry: The Lobby Lounge bar set in a Colonial ambience. The bar serves spirits and cocktails as well as an assortment of ethnic Keralite, Thai & International snacks. A pianist plays light music in the evenings.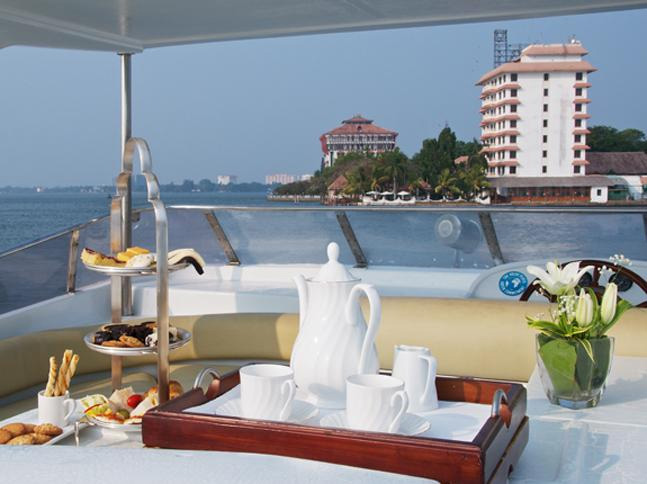 Pool Side Bar: An enchanting bar, overlooking Aquarius, the swimming pool. The bar serves a wide range of exotic cocktails and mocktails and snacks, throughout the day.
FACILITIES & SERVICES
Swimming pool, travel desk, car rental, boat rental for sunset or backwater cruises, book shop, currency exchange, safe deposit lockers, doctor-on-call and Ayurvedic massage.
24-hour room service and laundry service.

MEETING ROOMS & BANQUET FACILITIES

3 banquet halls with a capacity ranging from 60 to 300 persons auditorium style or 65 to 350 persons for cocktails/receptions. The hotel also has a state-of-the-art business centre with 2 small meeting/board-rooms. Boat cruises with cocktails/ lunch/ dinner on board can also be arranged.

Set on a cluster of islands and a peninsula, Cochin (now, Kochi) is a blend of medieval Portugal, Holland and an English country village. Here you can see the oldest church in India, winding streets crammed with 500-year old Portuguese houses, cantilevered Chinese fishing nets, a well-settled Jewish community, a 16th century synagogue and a palace built by the Portuguese and given to the Raja of Cochin.

The Mattancherry Palace was built by the Portuguese in 1557 and presented to the Maharaja of Cochin, Veera Kerala Varma (1537-61), as a gesture of goodwill. It was substantially renovated by the Dutch after 1663, hence its other name, the 'Dutch Palace'.

The most important feature of this palace, however are the astonishing murals in the bedchambers and other rooms, which depict scenes from the Ramayana, Mahabharata and Puranic legends connected with Shiva, Vishnu, Krishna, Kumara and Durga.

These murals are undoubtedly some of the most beautiful and extensive to be seen anywhere in India.

Recreation

The newly renovated Infinity Pool-Aquarius offers a stunning view of the Arabian Sea.

A qualified practitioner at the Taj Malabar's Ayurvedic Massage Centre demonstrate the efficacy of this 2000-year old tradition of Herbal Massage.


Moored right at your doorstep, the Taj Malabar's own 'Pathira Manal' is the best way to take in Cochin's famed natural beauty. Enjoy cocktails and dinner as you cruise languidly in the harbour. Even go on up to charming, colonial Kumarakom on the banks of Vembanad Lake, spending the night in a charming cabin on board. Swimming, jogging, table tennis, indoor board games and sightseeing on request.


Packages - Romantic Rendezvous (2014-2015)

Validity: 1st October 2014 to 31st March 2015.
(Rates not valid from 23rd December 2014 to 3rd January 2015.)


02 Nights / 03 Days Package.

Tower Wing

Premium Indulgence Sunset View Room: Rs.58500/- per couple.
Deluxe Allure Suite: Rs.79500/- per couple..

Heritage Wing


Superior Charm Sea View Room: Rs.61500/- per couple.
Premium Temptation Suite: Rs.84000/- per couple..

Package Includes: Accommodation, Cochin airport transfers by car. Bed tea and breakfast in bed. A private romantic dinner - cuisine of choice (subject to availability) once during the stay. Romantic floral bath with Sparkling wine once during the stay. An authentic Indian aromatherapy massage (60 minutes) per person at the Jiva Spa. Yatch ride for 45 minutes once during the stay. (Option of high tea at Yatch ride / Breakfast cruise at additional cost of Rs.5000/- per couple and Activities at gundu Island at an additional supplement of Rs. 4000 per person) Current Taxes..
Click here to book Taj Malabar | Click here for Special USD deals

Tele : +91-11-41612107, 26823836. Mobile : 9810002772, 9910002772.
Email :- reservations@ashextourism.com