Enjoy the sea breeze, the lush gardens, the swinging palms and the serene backwaters. And nestled across 26 acres, our cottages and villas play hide and seek. Sit under swinging day beds. Stretch out on deck chairs. Explore open spaces that are refreshingly breezy. The perfect blend of modern design with raw country, in our luxurious hotel rooms at Vivanta by Taj – Bekal.
SUPERIOR CHARM ROOM WITH BALCONY Style and comfort – get it all with our 330 square feet rooms! These rooms are fully equipped for your business and leisure needs.
SUPERIOR CHARM ROOM WITH SIT OUT A lounge bed in your own private courtyard. Our spacious 330 square feet rooms are the perfect getaway!
DELUXE DELIGHT VILLA WITH COURTYARD Enjoy a 611 square feet private courtyard with outdoor showers, a large tub, day bed and a stylish fountain leading to these spacious 470 square feet rooms.
DELUXE DELIGHT VILLA WITH PLUNGE POOL A private pool in your own private courtyard. Your comfort is at the top of our list!
PREMIUM INDULGENCE VILLA WITH PLUNGE POOL More space means more pleasure! Sink into your private pool in a private 611 square feet courtyard. Bliss!
PREMIUM TEMPTATION VILLA WITH TERRACE
PREMIUM TEMPTATION VILLA WITH PLUNGE POOL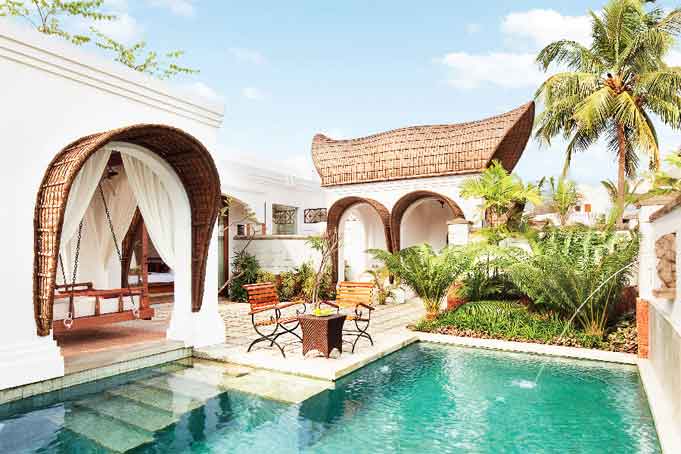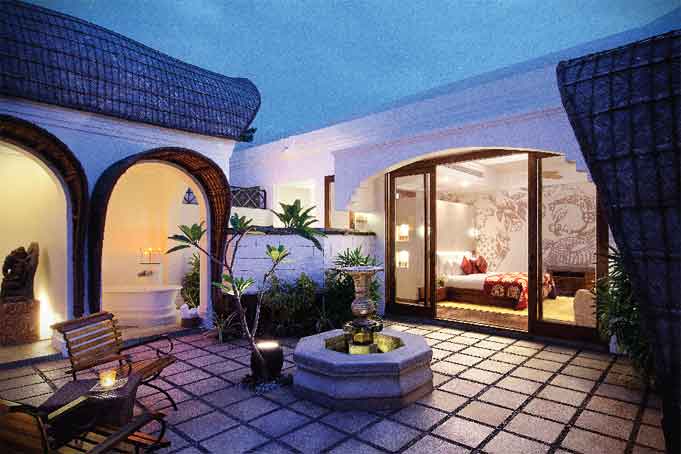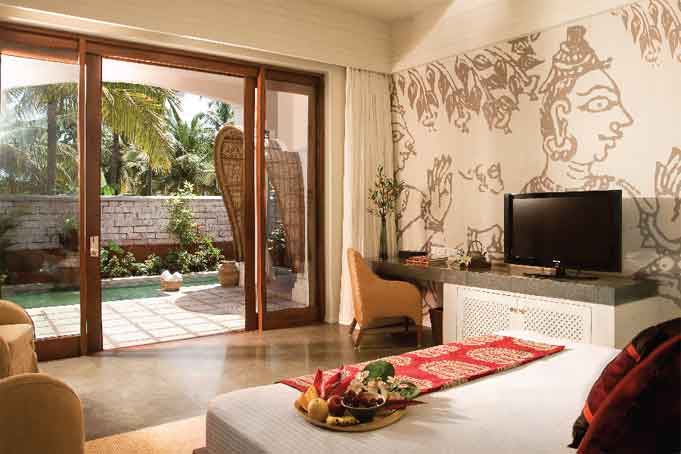 LATITUDE
INSIDE. OUTSIDE. DELICIOUS. This vibrant all-day diner in Bekal has a chic uncarpeted indoor space with sculptured damsels delightfully stretching across the centre area. Step out and enjoy the wooden terrazzo with alfresco seating and cosy sit outs overlooking the infinity pool and the backwaters. Latitude, one of the best multi-cuisine restaurants in Bekal, is where Chef Valentine and his team conjure up Continental, Middle Eastern, Far Eastern and traditional local Kerala favourites. Recharge in the casual ambience with open, interactive kitchens. Take your pick from the buffet or sit back and relish a menu specially designed by our chefs. A hot favourite is the Karimeenpollichathu (Pearl spot fish steamed in banana leaf with a unique tamarind based paste). And the bamboo steamed puttu (rice cake) with a spicy chick pea curry is to die for. You must try the traditional Kerala banana leaf lunch, served with local flavour, and lots of affection by staff dressed stylishly in the traditional fashion.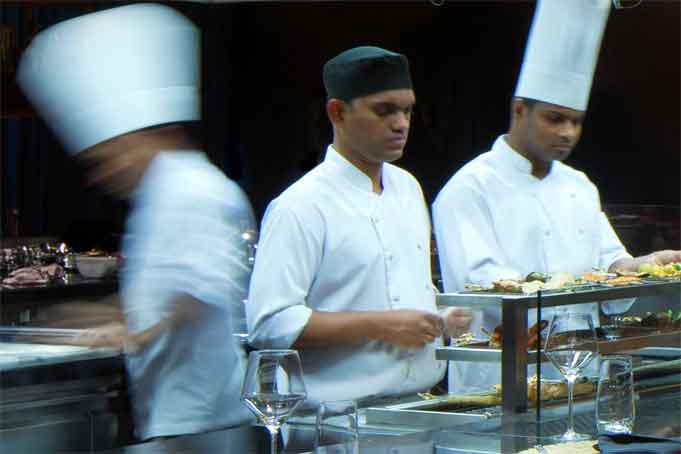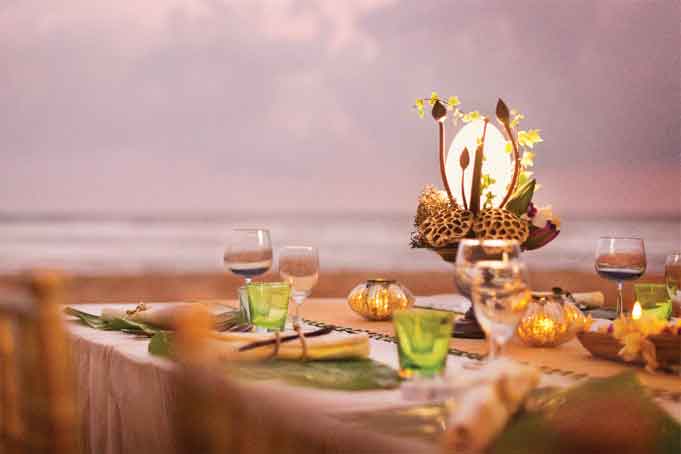 IVORY BAR
FOR PERFECT HARMONY. JUST GO IVORY. You've seen the artistic elephants all across the property. Now you are welcomed to the elephant's watering hole. The chic elephant-themed Ivory Bar is one of the best lounges in Bekal. This is where exotic cocktails, fine wines and a host of international spirits are complemented by great cocktail snacks.The Ivory Bar brings alive a unique brand of nightlife. Quench your thirst for eclectic style and designer décor. Soak in the vital, modern interiors. All in symmetry and perfect balance. Chill to the wide range of world music with dramatic views of the backwaters as a backdrop. Sample the mix of signature Vivanta by Taj cocktails. Allow Vishnu, our gifted mixologist to offer you Nature's Gift. A white rum based cocktail that balances ginger, cardamom, cinnamon and clove with cool coconut water. The South Indian Sangria with curry leaves, Cointreau, red wine and sugar syrup is another house favourite.
BBQ BY THE POOL
WHERE THERE'S SMOKE, THERE'S SIZZLE. While on the poolside, look west and it's the Arabian Sea; look straight ahead and the breathtaking backwaters of the Kappil River stare back at you. Look in your plate and discover barbecue food with a fresh twist at BBQ by the Pool! As fresh as fresh can be, at one of the finest barbeque restaurants in Bekal. Enjoy the Fresh Catch of the day straight from the nets to your plate. Delightfully grilled the way you like it. We rely on the breeze from the sea and the backwaters to spread the good word of what is on the charcoal grill. Last heard, the ethnic spiced mackerel served on a bed of idiyappam (rice vermicelli) was making headlines.
BY THE BAY
GET FISHED OUT BY THE BAY. By the Bay, Bekal pays tribute to Kerala cuisine. The swaying palms; the playful sea; the bracing breeze; the imaginative architecture that evokes an unmistakable sense of Kerala in its wooden beams and thatched rooftops, all come together to make your dining experience a memorable one. Our flavours stem from the belief that nature is the only true artist. So, each dish is prepared using fresh produce and pure ingredients. The Chef's Specials include fresh regional catch prepared with an international twist. And our chefs are more than willing to customise dishes to suit individual tastes. Our curries, infused with North Kerala and Konkan influences, are designed to seduce the palate and uplift the senses. So sit back and bask in the calm at one of the top seafood restaurants in Bekal, as we take you on a divine journey of God's own country.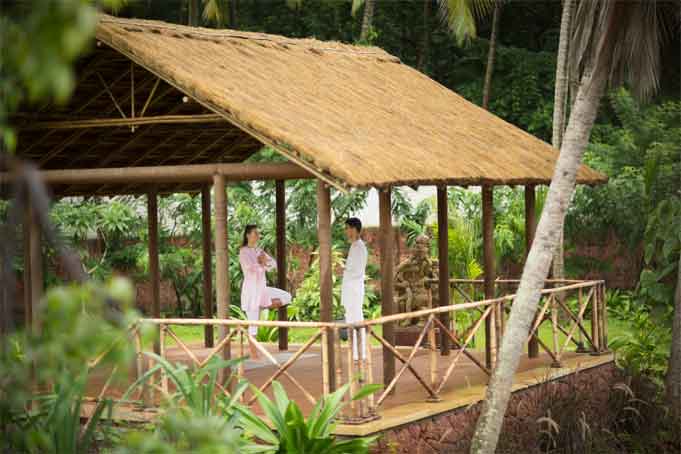 BUSINESS CENTRE
OVAL – THE BUSINESS CENTRE Your work. Your terms. Our guests need to be ready to work or play at a moment's notice. The hotel is wired for connectivity but sometimes you need more than the internet. At our business centre, "office hours" are a thing of the past. We keep it open around the clock to accommodate any schedule, time zone or inspiration --whenever it may strike.
BUSINESS CENTRE SERVICES OVAL IS READY TO ROLL, 24X7 Open 24 hours a day High-speed Wi-Fi access Facsimile Photocopying Independent workstations Secretarial services
FITNESS CENTRE Walk, run, stretch and sweat it out – do everything you usually do in your exercise slot, and more. The Fitness Centre at Vivanta by Taj – Bekal has state-of-the-art equipment and facilities in one of the best gyms, to make sure you stay healthy on the go.
AGENDA It may seem small, but our 243-square-feet boardroom is equipped with state-of-the-art technology and all that you need to make a meeting progressive. MAX. CAPACITY 10
THE SOIREE HALL Make a grand statement with our 3,405-square-feet Soiree Hall. This is where chic elegance and style meet high-end practicality. MAX. CAPACITY 300.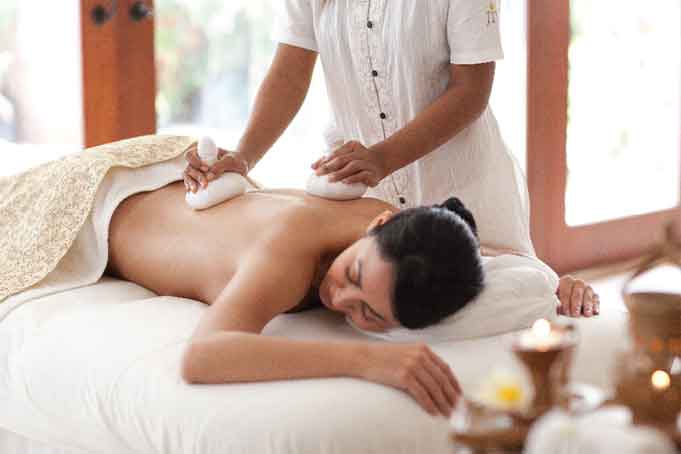 Jiva Grande at Vivanta Bekal is spread across 165,000 square feet and is possibly India's finest spa. The spa will focus on long term wellness programmes of 2 - 4 weeks of Yoga, Ayurveda and Spiritual Retreats and for the first time in India, guests will have the opportunity to enjoy luxurious modern comfort while practising authentic and traditional wellness programmes. The Jiva Spa Menu at Vivanta Bekal features signature experiences, Ayurveda programmes, Indian therapies, Indian aromatherapy, scrubs and wraps, and beauty rituals. The Alepa and Abhisheka pavilions dedicated to our signature experiences of body anointment and purifying bathing ceremonies are amongst the unique Jiva experiences offered here. Also on offer are Ritualistic Fire Ceremonies (Homams) for guests' AYUS and AROGYA (life longevity and health) with chanting by the Resident Priest. The Ayurveda sanctuary at Jiva Grande is the high point of this wellness retreat. Designed in traditional style as an Ayurveda Physician's (Vaidya's) house, built by the backwaters with its satvik dining lounge, courtyards, landscaped relaxation spaces and meditation nooks, a full fledged wellness library and water bodies, this tranquil pocket of wellness offers authentic, holistic and comprehensive Ayurveda programmes, by qualified and experienced Ayurveda physicians.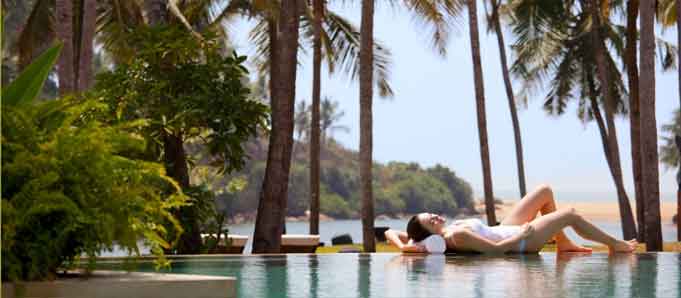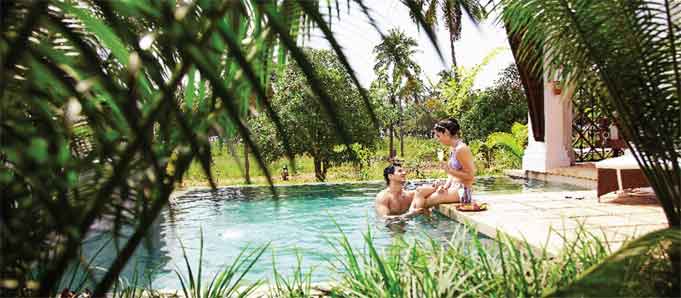 Tele : +91-11 9810002772, 9910002772.
Email :- reservations@ashextourism.com