The Elephant Court
Thekkady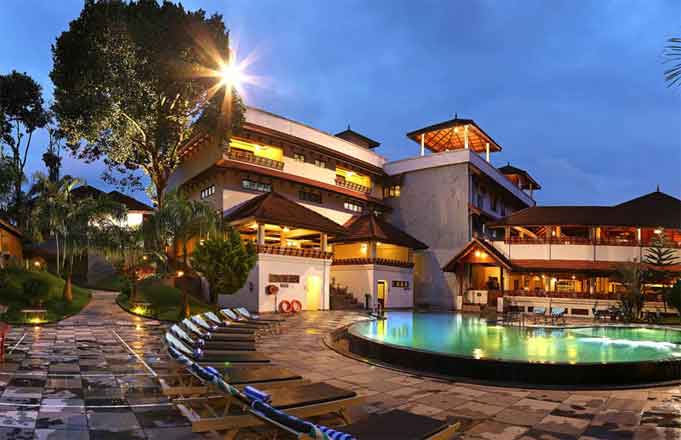 The Elephant Court lies wrapped in tranquility and shades of green in Thekkady, near the Periyar Wildlife Sanctuary. Here, the air is scented by spices from the nearby plantations and the quiet is broken only by birdcall and the rustle of the wind.
The Elephant Court, the only five-star hotel in this region, invites you to come and experience the rejuvenating power of nature. Come, surround yourself with dense rainforest.
Thekkady, Kerala Undulating, green hills. Thick forests. Shimmering lakes. Cool, spice-scented air. With all this and more, Thekkady is a perfect getaway. When you want to shake the city off you and escape the heat, head to this luxuriantly green destination and rejuvenate mind and body.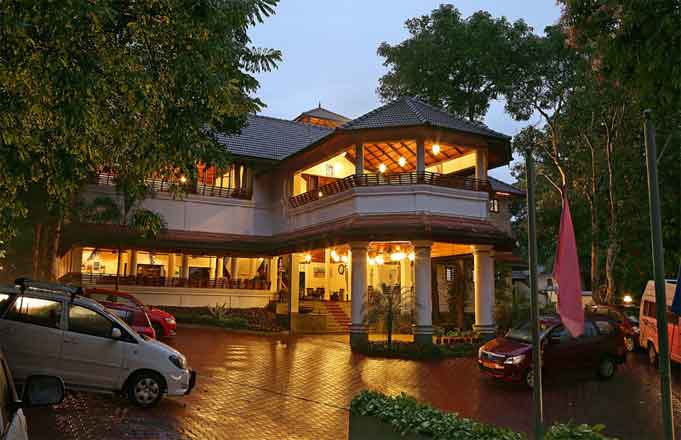 Feel the royal air wash over you as soon as you step into the regal lobby of The Elephant Court luxury hotel, with its exquisitely carved antique-finished furniture, imperial chandeliers and majestic interiors. An island of sophistication amidst its rustic surroundings, the resort enjoys a reputation for style, service and excellence. We are timeless yet contemporary, classic yet cutting-edge – we are the ultimate holiday address. After your journey through hill country, soak in the warm welcome at The Elephant Court and spare an eye for the grand architecture. Alternatively, relax by the poolside and let our locale mesmerize your senses. With its prime location and facilities, The Elephant Court is the perfect getaway for a luxurious stay. Book yourself a holiday that will give you memories to cherish for a whole lifetime, for every moment at The Elephant Court is one to savour.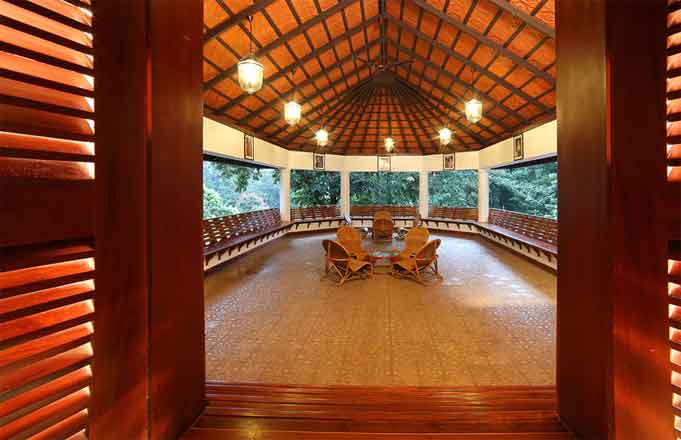 Accommodation
All categories rooms are equipped with contemporary facilities to best suit individual comforts. Furnished in natural tones and textures with a subtle local aesthetic, the rooms encompass a soothing ambience, each endowed with a breath-taking view. Combining elegant Indian style with seductive modern touches each of our rooms and suites enjoy its own distinct character. Sink in the luxury of your living space. Very modern. Very In.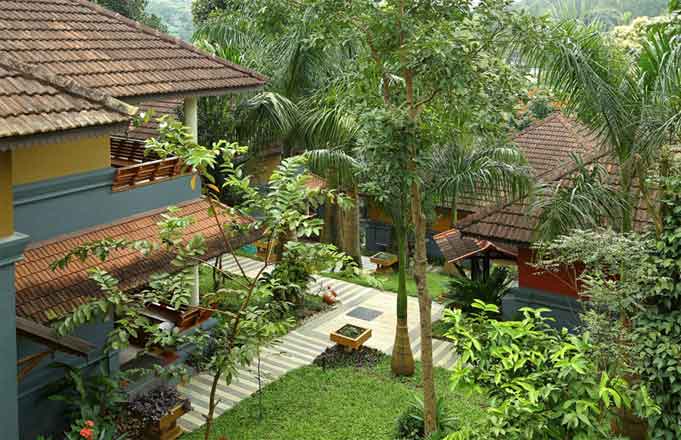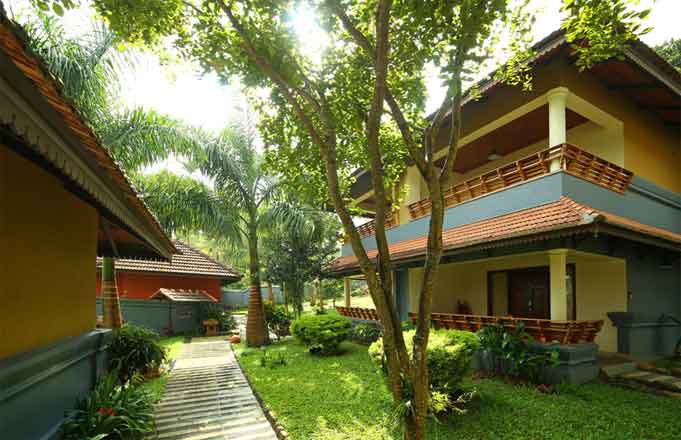 Garden Suite
In our Garden Suites, enjoy strolls in your own little private garden, complete with a fishpond. The cosy suite, separated from the garden by a verandah, is your personal bit of heaven on earth. During the monsoon, watching the rains can be a magical experience here. All garden suites are equipped with a Jacuzzi.
Honeymoon Suite
Complementing the romance of the location, enhancing the senses, the Honeymoon Suite is a special and intimate space. The glass walled Jacuzzi is sunlit through the day by a frosted skylight and opens into the bedroom.
Integer at erat malesuada, tincidunt orci nec, aliquet quam. Nulla accumsan sapien eu ultrices pulvinar. Proin tincidunt augue a auctor placerat. Morbi in fermentum erat.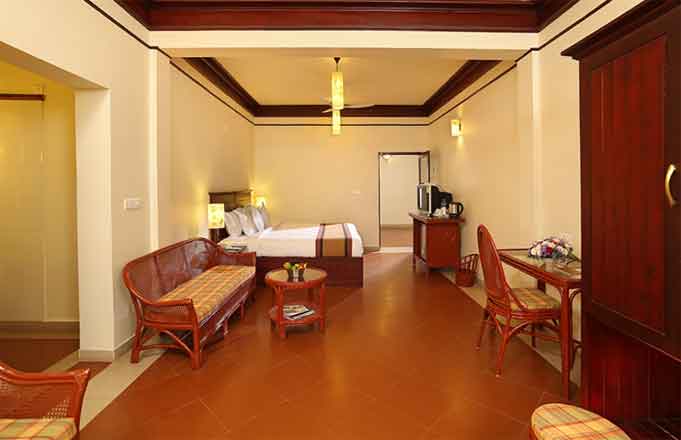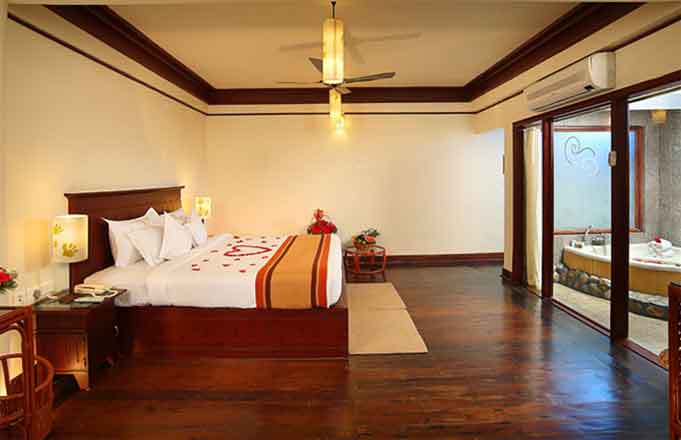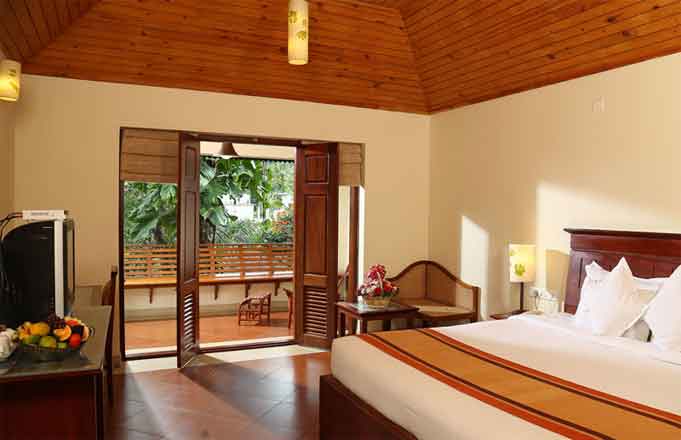 Pool Studio
What could be better than having your own private pool to plunge into? Our Pool Studios come with a rippling blue pool in the living room, diffused sunlight bouncing off it to throw beautiful patterns across the walls. This is an intimate space full of possibilities.
The Patio Rooms
The Patio Rooms are comfortably appointed with twin beds, a bath and toilet. The roofed patio that opens to the glorious green cover outside is bound by a chaarupadi – a carved wooden bench that is a feature of traditional Kerala homes. It's the perfect place to enjoy your morning cup of cardamom tea as you watch the day bloom. Our patio rooms preserve a sense of privacy and yet offer a hint of the outdoors. .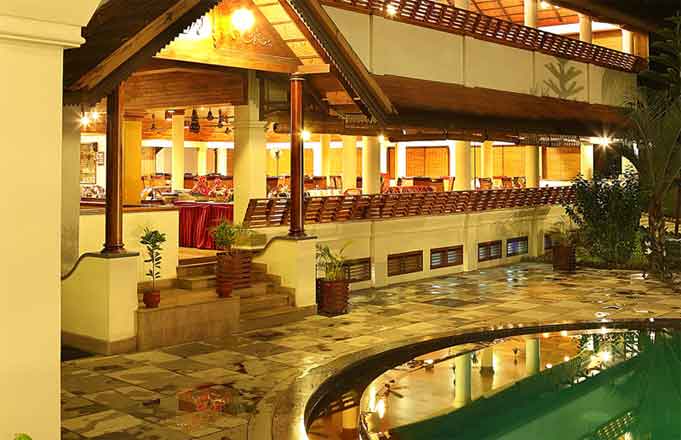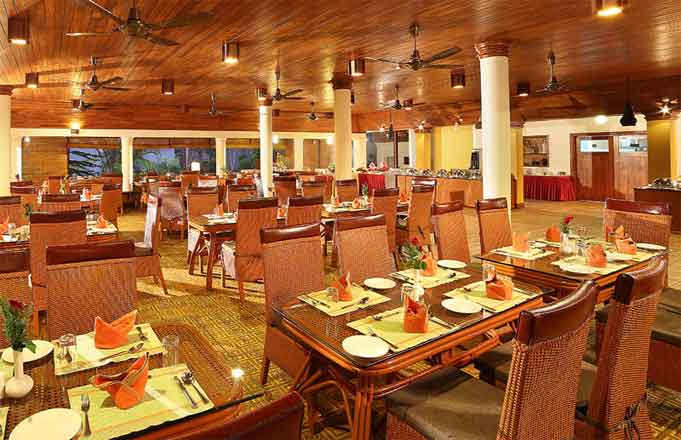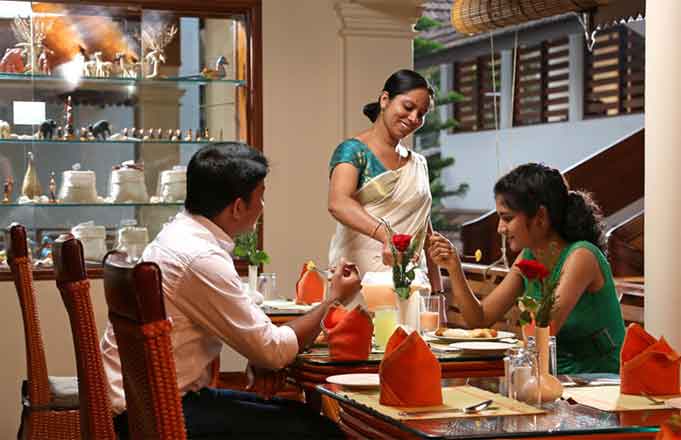 DINING WITH US Tickle your taste buds as you experience our dining multiplicities.
What's a holiday without good food? Enjoy the warmth of our hospitality and savour the extensive array of flavours at the multi-cuisine restaurant at The Elephant Court. Let our culinary experts enchant you with delectable dishes to suit every palate. If you prefer a more casual setting, or have a craving for a snack at midnight, the resort's 24-hour coffee shop has you covered. Sit back and refresh yourself in its relaxing ambience.
YOGA & MEDITATION
Yoga is a powerful complement to Ayurvedic treatments
Ayurveda and yoga stem from the same philosophy. No surprise then that they both complement each other beautifully. Both examine the body and mind from the perspective of maintaining of health and treatment of diseases. Only recently embraced in the West, yoga has been practiced in India for hundreds of years as a powerful complement to Ayurvedic medicine and healing. Yogic postures and breathing techniques have long been known for their health benefits.
The 15th century manual on Yoga practice, the Hatha Yoga Pradipika, states that practising the postures (asana) will result in "sturdiness, absence of disease and lightness". Some of the asanas activate the endocrine system, which consists of ductless glands. The endocrine system is responsible for keeping all the vital organs healthy and functioning properly, and aims at the perfection of the body. Apart from the curative value, yoga has a calming quality and brings tranquillity into our lives. The two aspects of yoga thus make it a powerful tool for coping with the physical and mental stress of modern day living.
WEDDINGS CEREMONIES
If you are looking for an exotic destination for your special day, look no further. At The Elephant Court, romance is in the air. And on ground is our efficient team that can organise your perfect wedding. Leave to us the decoration of the venue as per your specifications or theme – favouritecolours, flowers, laces and ribbons – we will weave them all together to bring to life the fairy tale wedding you are looking for. Make this a magical day not just for you, but for everyone who attends.
MENU & ACCOMMODATION
Our wedding planners will meet with the couple to share ideas and ensure there are no glitches on D-day. Trust our world-renowned hospitality and planning resources to coordinate every detail, from the guest list and accommodations to the menu. Our Food and Beverages department will handle all your requests to create a magnificent feast for your guests.
HONEYMOONS Tucked away in the midst of pristine nature, far from the crowds, The Elephant Court is where romance thrives and memories are created. Your only companions will be the creatures of the forest and the silent, rolling mists. Make yourself comfortable in an upscale Honeymoon Suite or any of our well-designed, luxurious guest rooms. Head out and explore nature, or stay in to revel in each other's company. We can help plan your outings and ensure you aren't disturbed.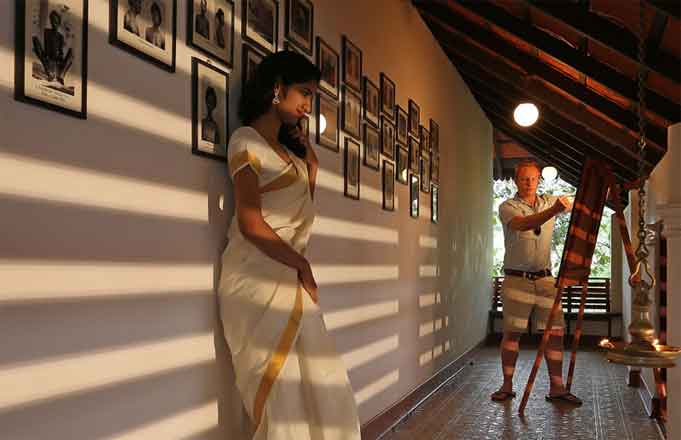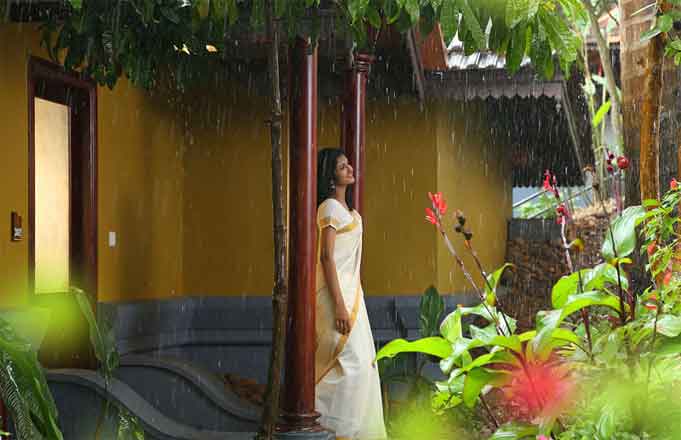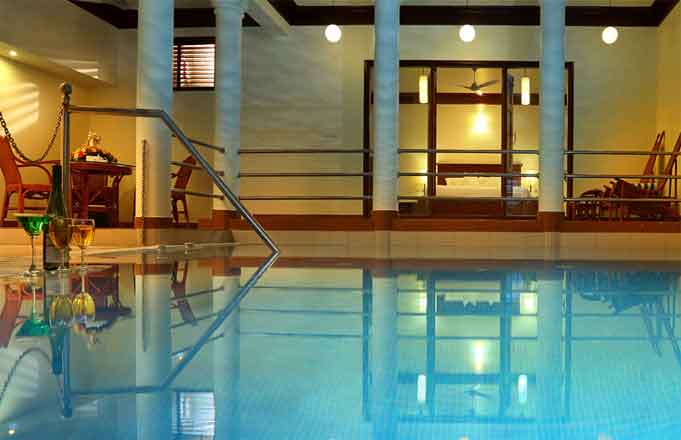 We may be seen as old-world charm, but we take a modern-day approach to technology. There are built-in screens and projectors in our meeting & conference facilities and Wi-Fi throughout our resort. All of our guest rooms feature high-speed Internet access and dual telephone lines with direct international dialing.
SWIMMING POOL WITH JACUZZI Separating the lobby, dining and recreational spaces from the residences is our azure swimming pool. It also has a paddling pool for young children. The poolside is a great place to soak in the sun during the day. Come sundown, the poolside bar is the place for conversation and star-gazing.
INDOOR GAME AREA AND HEALTH CLUB Guests can occupy themselves with indoor games here. Ample space is provided for table tennis, carom boards, badminton and other table games.
LIBRARY LOUNGE The Elephant Court has a library with the latest publications for guests. The lounge also has a charupady, overlooking a garden, a lounge feature influenced by the native architecture of Kerala..
BOUTIQUE WITH COLLECTABLES AND CURIO SHOP Guests will find tribal art and craft at reasonable prices. The boutique also stocks an extensive range of high quality organic spices that are grown in the area around Thekkadi.
ROOF TOP FACILITIES The roof top of the main building overlooks the Thekkadi forest and is a space that may be used for parties, or to simply view the forest on a clear day. Moonlit nights are special..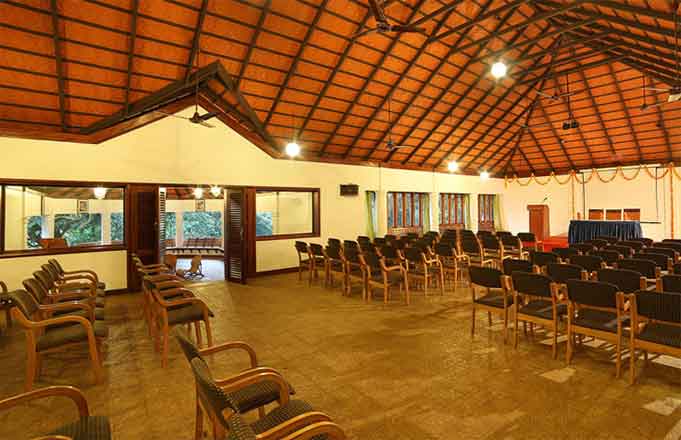 CONFERENCE FACILITIES
Large Conference Hall -A/C : Length – 17.10 Mtr / Width – 8.85 Mtr Location : Just above the Reception (LOBBY) 1st Floor Mini Conference Hall – A/C : Length 13:88 Mtr / Width 8.62 Mtr Location : Adjacent to Yoga Centre & Gymnasium
.