Tranquil Resort
Sultan Battery, Wayanad
Tranquil Resort is a 400 acre private coffee and spices plantation, nestled within the remote and lush rainforest of Wayanad, in northern Kerala, India. If you are looking for a calm and quiet vacation within an environment of exquisite ecological beauty and unending relaxation, Tranquil resort with just seven rooms and two tree houses a comfortable drive away from the cities of Bangalore and Calicut, is a homestay experience like none other.
Tranquil is run with the efficiency of a resort but with the intimacy of a homestay. Here you will be staying as house guests of Victor, Ranjini, Ajay and Nisha and their family who offer a personalized experience of living on the plantations. Much of the experience at Tranquil is to enjoy the serene surroundings and re-charge your batteries.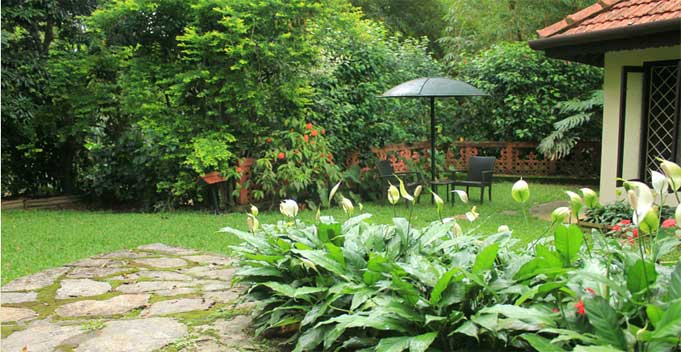 Coffee and Spices Plantation The plantation originated in the late 1800's in the colonial era. The British plantation pioneers and owners sold out to Dutch and then to Indian entrepreneurs after independence. In 1994 the plantation was bought by M/s Aswati Plantations Ltd. It remains very much a working plantation, coffee being the main crop, inter-planted with pepper and areca nut. A major project of inter-planting with nutmeg and exotic fruit trees like mangosteen and lychee is underway to en-cash on the rich fertile environment. The main cropping season for Coffee and Areca nut is between mid January to mid March, during which time, the plantation buzzes with activity. Conducted plantation visits can be enjoyed between January and March.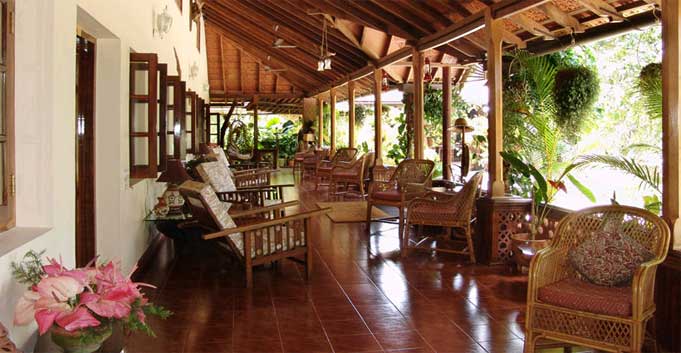 Accommodation
The five Garden rooms are housed in the annexe – built by the then owners to accommodate friends and family. The building has been extensively renovated, retaining the ambience of a colonial planter's bungalow. The rooms open out onto a large shared verandah overlooking the lush tropical gardens.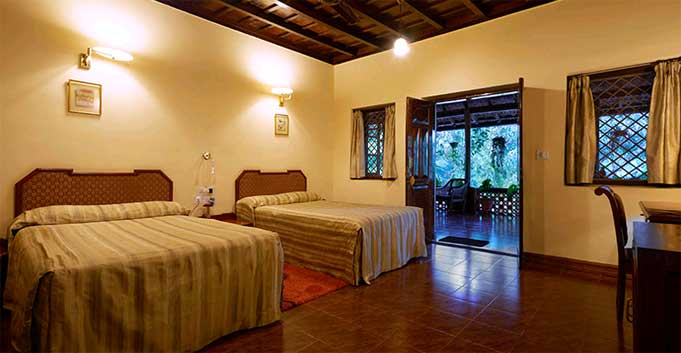 The deluxe room located in the west wing of the main bungalow, adjoins the patio and looks down over the swimming pool from a private verandah. The room is large, airy and has wooden floors, ceiling and paneling. For the convenience of guests, there are two individual bathrooms and dressing room en-suite.
The suite set close to the swimming pool, is tucked away below the Deluxe room. The Suite offers both space and privacy with the added luxury of a private garden and a large lounge room offering the perfect hideaway.
All rooms are well appointed, inviting and meet the high expectations of the discerning traveler. The bathrooms are large, airy and have all the modern amenities. Other features include a TV, Satellite receiver, electronic safe and a Tea/Coffee maker.
Tree Houses
Nestled under the beauty of a Gul Mohr Tree is our "tranquilitree" the luxury tree house rests on three trees. At a height of 35 feet from the ground level and overlooking a valley facing north, the entire structure measures 517 sq.feet, comprising of a bedroom, and a modern bathroom. The verandah offers a panoramic view of the estate.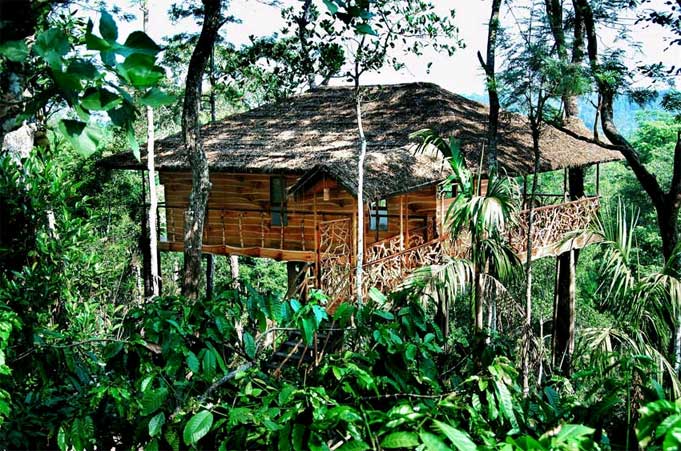 "Serenetree" greets you with a large bedroom with a queen size bed, two day beds and two bathrooms and can easily accommodate a family of four. Beautiful views of the coffee plantation from its large verandah is a relaxing experience.
Modern amenities include a TV, DVD, Satellite receiver, mini fridge, electronic safe, back up generator and a Tea/Coffee maker. Adequate light and ventilation has been provided with insect screens on all openings. Approach is from an inclined walkway with railings, ensuring easy access for even the elderly.
Cuisine
Integral to the homestay experience is dining at our table, as part of the extended family, where each meal is an occasion to sit down and enjoy a few hours together. At Tranquil, meals are enjoyed in a common dining area. We serve a mixture of western fare, regional Indian favourites, traditional Kerala cuisine on occasion served on a banana leaf and "Grandmother's" secret recipe's. You can enjoy our home grown vegetables, fruits and bread fresh from our ovens accompanied with our home-made jams, preserves and relishes. Finish your meal with a steaming cup of hand-picked Arabica/Robusta coffee beans from the estate, roasted and ground to perfection. Garden fresh tea with a dash of milk or high grown teas with a twist of lemon are also great ways to end a sumptuous meal..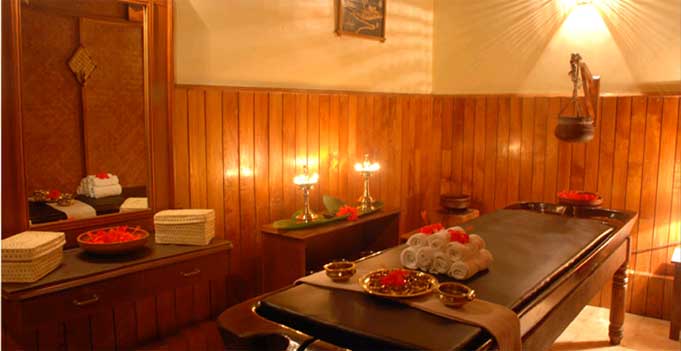 Amenities: TV, DVD Player( in some rooms ), Satellite Receiver, Electronic safes, Express Laundry.
Swimming Pool: Do your daily laps in our outdoor pool or relax in the Jacuzzi adjacent to it. Swimming pool towels are provided in all the rooms. The depth of the shallow end is 3.5 feet and 5.5 feet at the deep end. The "Machaan" or Treedeck overlooking the pool is ideal to do your yoga and meditate, or for that afternoon siesta. One can relax in the hammocks below the "Machaan" area.
Ayurveda: Ayurveda, which means "science of life", was founded by the seers of ancient India, centuries ago in the Vedic period. At Tranquil, you can pamper yourself with authentic and traditional Kerala ayurvedic massage by trained masseurs / masseuses.
Tranquil walks: Choose from 13 routes, spanning the 400 acre plantation ranging from the "Braveheart" to the "Teaser" walk which are well marked out and sign boarded along the route. Guests are provided with maps of the walks. We advise guests to bring proper footwear to enjoy the walks.
Bird Watching: Tranquil is a bird watcher's paradise – we have identified around 127 odd species of birds on the plantation.