Vanya Treehouse
Thekkady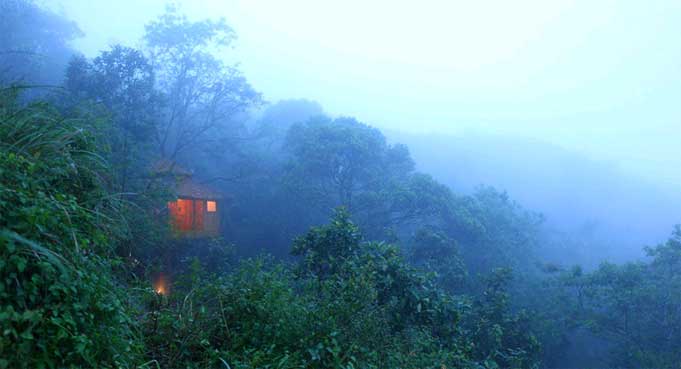 Your journey begins as you arrive at the Cochin International Airport. Making your way out of the bustling business metropolis of Cochin, you head towards the district of Idukki where the region of Thekkady is situated. On the way, you will be greeted by the pristine hills of Idukki and the Periyar River. Welcome to The Vanya Experience.
This is where we take you on a journey - a journey that will take you back to your true roots. Man has always evolved throughout time in tune with nature's rhythm. In this presentation you will experience a virtual tour of the Vanya trip. The presentation aims to be as informative as possible on various aspects of nature and trekking in the forest without compromising on the visual aspects. So sit back and enjoy the trip as we take you back to nature's loving arms.
The Vanya journey begins with a 6 km drive along the hills by Jeep. This four wheel drive jeep is suited to match the terrain which awaits those who want to experience Vanya. At the end of the drive you will reach the starting point of the trek to the Vanya Tree House. This is the route on which you will be trekking to reach Vanya. The trek involves a climb across the face of a hill in the forest. There are three different resting points during the trek. This is the tree house of Vanya. As you can see, it is built on a single tree on the face of the hill. Quietly nestled in the forest, it offers you a perfect escape from the chaos of civilization.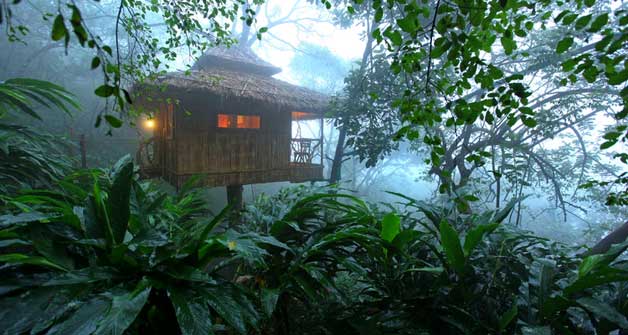 Tree House is located 4 kms away from Greenwoods Resort.
Accommodation
The interiors are of a raw and earthy tone and all the decor is completely sourced from nature. One can experience what it truly means to be in the cradle of nature, as the tree house gently sways when the wind blows.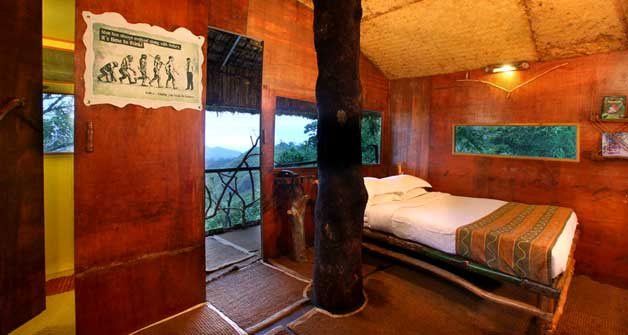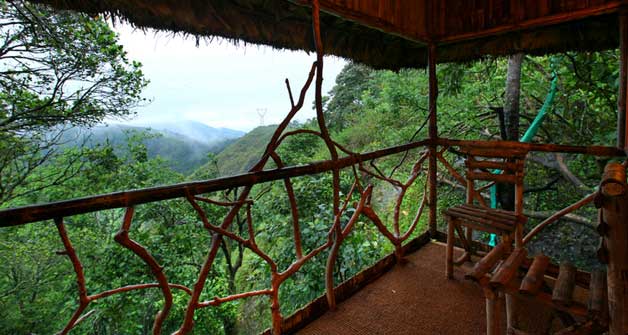 Dining
The coffee shop is where you can relax and spend your time watching the sunset during the evenings while you sip a cup of tea or just admiring the wild beauty of the forest and the surrounding hills.
Food is served from Butler Home which is connected with Tree House with Intercom. There is 3 staff in Butler Home exclusively at your service
Power is supplied by Solar Panel and Wind Mill. There is a coffee shop 10 meters away from Tree House, which is also build on a natural tree.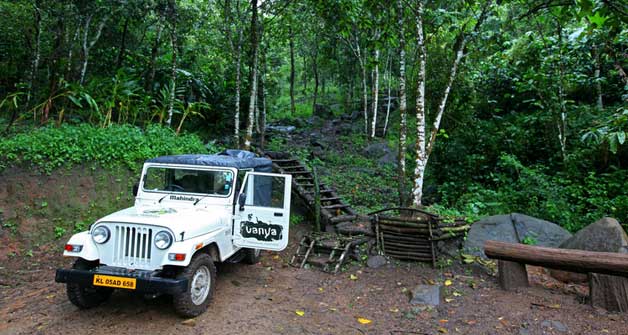 From Greenwoods Resort, you are taken in a 4X4 Jeep and then you have to trek 700 meters up to reach the Tree House, which is located in Forest Ambiance. The terrain is 3000 feet height from seal level with panoramic view of surrounding Forests, Hills and Valleys.