Backwaters
Kollam


One of the oldest ports of the Malbar Coast, Kollam was once the centre of teh international spice trade. North of Thiruvananthapuram,30% of this historic town is coveredd by the renowed Ashtamudi Lake.This eight hour boat trip between Kollam and Alappuza is the longest and most enchanting experience of Kerela's Backwaters.
Alappuzha
Also known as the Venice of the East,Alappuzha is famous for its boat races, houseboat holidays, beaches, marine products and coir industry. A singular characteristic of this land is the region called Kuttnad. The granary of Kerela,Kuttanad is one of the feww regions in the world where farming is done below sea level.
Kumarakom
Just 12 km from Kottayam, this unique backwater destination situated on the banks of the Vembanad lake is considered the gateway to the backwaters of Kuttand.The Kumarakom Bird Sanctuary is a favourite haunt of migratory birds from across the world which makes it a renowned bird watching centre. Kumarakom is also a centre for houseboat cruises.
Kochi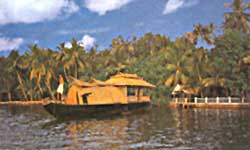 The commercial and industrial capital of Kerela has one of the finest naatural harbours in the world. the city is home to the oldest synagogue in the Commonwealth as well as numerous old Churches and Temples.Jew Town, the area around the synagogues is a centre of spice trade curio shops. ancient mariners from Arabia, China, Holland, Britain and Portugal have all left their mark on this beautiful island city. Half the fun of visiting Kochi is moving around on teh local ferries. A conducted cruices trough the winding water ways will take you to several quaint spots. Accessibility:Kochi is well connected to all the cities in India by excellent air, sea, road and rail networks.