Beaches & Beach Resorts
Kovalam- Beach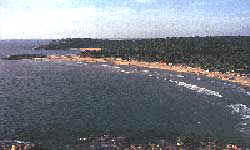 The star attraction of Trivandrum, 25 kms. south of the city ,is an enchanting sea resort where you can commune with the nature .It is among one of the best beaches in the world.Here silvery white sands,mellow sunshine dark green palms swaying so gracefully all along the coast ,perfect swimming, marvellous views of seascape and a lot of fun await a traveller.
Kovalam (16 Km.)is accessible by service buses, taxis and cars.Local buses start for kovalam from the bus stand opposite the Sri Padmnabham Swamy Temple. There are frequent buses and the journey takes hardly half an hour.
Varkla- Beach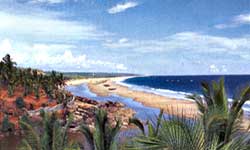 A quite, secluded stretch of sand, the Papanasam beach in varkala is known for its minerals springs and rocky cliffs. The 2000 year old Sree Janardhan Swamy Temple and the Nature Care Centre are the two main attaractions here.
Cherai Beach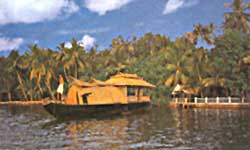 This a Lovely beach boredring Vypeen islands is ideal for swimming .Dolphins are occasionally seen here. A typical Kerela village with paddy fields and coconut groves nearby is an added attraction.
Bekal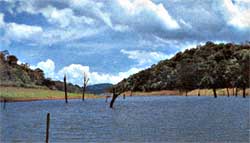 Bekal fort stands on a promontory between two long,classically beautiful palm fringed beachs.This is the largest,best preserved fort in Kerela.The fort has been under the control of various powers including the vijaynagar Kingdom , Tipu Sultan and the British. The fort's commanding position offers breathtaking views across the bays to the north and south.
Muzhapilangad Beach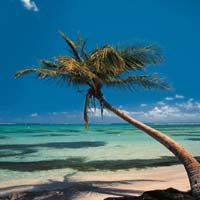 Black rocks protect this long,clean beach from the currents of the deep, making its shallow water swimmer's paradise. Perhaps this is Kerela's only drive in beach where you can drive down the entire length of 4 km.