Beaches
Puri

Abode of Lord Jagannatha, literally Lord of the World, Puri is one of the four holy places in India. Located on the shores of Bay of Bengal, it has one of the finest beaches in the world. The population size of Puri is 125,000. Puri is situated at sea level. It has an equitable type of climate, with maximum temperature varying between 25-33 degree Celsius and minimum temperature varies from 18-26 degree Celsius. November to March is the best time to visit Puri.


Chandipur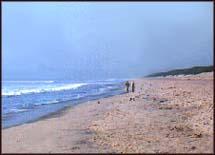 An ideal beach resort of Orissa situated 16 kms. from Balasore, 200 km from Cuttack and 230 km from Bhubaneswar, awaits you for a memorable experience along its shores. It is a unique sea beach where seawater recedes about 5 kms. during low tide and advances to the shoreline again during high tide , each day.
For assistance contact: Government of Orissa Tourist Office, SPA Marketing Complex, Block-B, Station Square, Balasore. Tel: (06782)-62048.

Gopalpur-on-sea
On the Bay of Bengal lies this favourite spot for sea lovers. Warm and gentle sunshine greets you and the golden beach is an ideal place to swim or laze around. Once an ancient seaport, today Gopalpur-on-sea is a modern beach resort fringed by sand dunes attracting tourists from all over the world. Nearby are the ruins of an old jetty from where sailors set out to Indonesia in medieval times.

Konark Beach

The place is famous for it's sun temple. The population size of this small town is 12,000. Although most people make a day trip to Konark from Puri or Bhubaneswar, it's a wonderfully peaceful place to spend a few days. However, there isn't a lot of accommodation here as yet.

Paradeep

Paradeep offers evergreen forests, a huge estuary of the Mahanadi with islands and creeks, a good marine drive and beach. This is a major commercial seaport of the country. It is 94 kms. from Cuttack and 125 kms. from Bhubaneswar.