Hotels and Resorts | North East Tours
Yet another small state of India is Tripura, which is the second smallest state in India. It was conquered by Mughals in 1733 when it used to be a largely Hindu kingdom. More than 50% of the state is covered with forests, with Handloom Weaving being the major Industry. Majority of the people speak and understand Bengali. Anyone planning to visit Tripura should have a local advice before going as to which places are safer to visit.
History of Tripura dates back to as early as 14th century when it was under the Manikya Dynasty (former Indo-Mongolian Tribal chieftain). Some signs of the customs followed during that era can still be seen in rural areas. While under the British rule the kings of the princely states had to be first get themselves approved by the British Lords . After Independence the state was taken into India though Sylhet district joined East Pakistan (now Bangladesh).
AGARTALA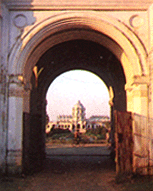 The capital of Tripura was shifted to it's current destination in 1850 by the Maharaja Radha Krishna Kishore Manikya Bahadur. The main attraction of this town is the Ujjayanta Palace, which is a place worth a visit. This palace is built on the Indo-Saracenic architecture and was completed in 1901.
Cultural Heritage


Tripura has rich cultural heritage of 19 different tribal communities. Each community has its own traditional musical instruments and dance form. Long and intimate association of Poet Rabindranath Tagore with Tripura has added lustre to the rich cultural heritage of the state. The state has produced the famous musicians Sachin Dev Barman and Rahul Dev Barman.