Shopping Places
Connaught Place
This immense shopping complex comprises comcentric circles containing shops, hotels and restaurants. The rows of small shops along Janpath selling curios are an added attraction. An air-conditioned underground market called Palika Bazar and government emporia of many Indian States are also situated in or close to this complex.
Delhi Hatt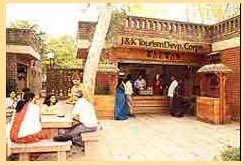 The Delhi Haat in Kidwai Nagar is a nice place to spend the day. The Haat or the market has good eating joints and handicraft shops. Delhi Haat provides you delicacies from all parts of India in its various stalls. From time to time theme fairs and festivals are also organised. The South Extension market and the Lajpat Nagar Central market are places where you can find all the big names in any category. These places are also good for window shopping and for a cool stroll.


Chandni Chowk
Chandni chowk was famous for the Fountains and the shops during the Mughal period. Located opposite to the Red fort, the fountains of the Chowk have disappeared but the shops still remain. The attraction of the shops in the region are not the big showrooms but the small shops in the by lanes. Some of these shops offer you better bargain than the big showrooms. The Sadar Bazzar and the Khari Baoli are the largest whole sale markets in the northern region of India. Dariba Kalan is still known for the perfumes and Jewellery. One can not miss the Lajpat Rai market where one gets any kind of electronic item. While going around Chandni Chowk pay special attention on your pockets and beware of touts and the duplicate products.
GREATER KAILASH-ONE(M-Block) :
GREATER KAILASH-ONE(N-Block) :
GREATER KAILASH-TWO(M-Block) :