Temples
Chidambaram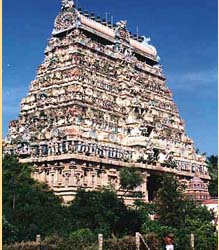 Chidambaram is one of the holiest and most venerated temples in Tamilnadu dedicated to Lord Natarajah. When people refer to 'koil' (the Tamil word for temple) the word denotes the temple in Chidambaram. Chidambaram is referred to in Hindu scriptures by other names such as Thillai, Puliyur, Chittambalam, Vyagrapuram and Pundareekapuram. The temple has attained such sanctity and sacredness due to its antiquity and its association with so many miracles mentioned in Hindu scriptures. Many sages, saints and religious savants have sung in praise of the presiding deity.
Location:
Chidambaram is about 250 km south of Chennai (Madras) and is easily reached by rail and road. The town is situated on the main railway route between Chennai and Trichi about halfway between these two towns. There are buses from all the major towns of Tamilnadu to this temple town.
Temples in Chennai
Kapaleeswarar Temple in Mylapore

Parthasarathy Temple in Triplicane

Pazhani Andavar Temple in Vadapalani
Kapaleeswarar Temple
Kapaleeswarar temple is situated in Mylapore a suburb of Chennai. The main deity, Lord Shiva, is worshipped as Kapaleeswarar and the Goddess as Katpahavalli. Mention of this temple in the
old devotional hymns by Hindu 'Nayanmars' who lived during the 7th century is evident that this temple had been in existence for more than a thousand years. Some scholars cast doubt as to the age of the present building as the architecture and the images in this temple point to a period of about 300 years ago. They believe that the original temple had been in the Santhome area near the sea as recent archaeological excavations in that area point to the presence of a temple during that period. However, this temple has become very famous and attracts thousands of devotees especially during festival days.
Sri Parthasarathy Temple
Situated in the Triplicane area of Chennai, this temple is dedicated to Lord Vishnu who is worshipped as Lord Venkatakrishnar. He is seen with His consort Rukmani on His right and His brother Sri Balaraman on His left. Sri Parthasarathy is installed as a processional deity with his consorts Sri Devi and Bhoo Devi on either side.
Palaniandavar Temple (VADAPALANI)
The temple at Vadapalani is dedicated to Lord Subramanya and the deity is worshipped as Pazhani Andavar. A picture of Lord Subrahmanya was brought here from Palani that became a very potent divinity, thus acquiring the name Vadapalani. Vadapalani lies in the northern part of Chennai.
Rameswaram
Rameswaram, an island about 160 km Southeast of Madurai is connected to the mainland both by a railway and a road bridge. It is a major pilgrim site. It is believed that the pilgrimage one undertakes in Kasi in the very north should culminate in bathing in the sacred waters of Rameswaram in order to obtain the full benefit. According to 'Ramayana', the Hindu epic, Lord Rama himself had installed the Lingam in this place which therefore gains an added importance and is held in high esteem by all the Hindus of India both Vaishnavites and Saivites. The other pilgrimage point in this island of Rameswaram is Dhanuskodi that is also called 'Sethu'. It is considered meritorious to take a dip in the sea off the coast of Dhanushkodi. There are several other small temples of interest scattered around this island.
Swamimalai
Swamimalai is one of the six famous abodes of Lord Subramanya. The temple is built on an artificial hill and is reached by a flight of steps.The deity is worshipped as Swaminathan.
The temple has three 'gopuram' with three 'praharam'. The 'gopuram' on the south side of the temple is decorated with statues and contains five storeys while the other two entrances have no towers above them.
Kanyakumari
Kumari Amman Temple
Picturesquely situated overlooking the shore, this temple and the nearby Ghat attract tourist from all over the world.According to a legend, Devi did penance here to secure Lord Siva's hand in marriage.When she was unsuccessful, she vowed to remain a virgin (Kanya).The Diamond nose-ring of this deity is famous for its sparkling splendour which is supposed to be visible even from the sea.