Sunderban
A land ruled by 269 Royals.
The vast swampy delta of the two great Indian rivers, the Brahmaputra and the Ganga, extends over a vast area. Mangrove forests, swamps and forested islands are interwoven with a network of small rivers and rivulets. The Sundarbans National Park, covering about 1330.10 sq. km., forms the core of this area. This mostly estuarine mangrove forest is the habitat of nearly 200 Royal Bengal tigers. Bangladesh lies to the east of the Park and it is estimated that the combined population of tigers in the region could well be about 400 in number. Adapting itself to the saline and watery environment, the tigers at the Park are good swimmers and practically amphibious! Traversing the mangroves by motor launch is quite an experience, for the area is completely unspoilt and very different from the more conventional wildlife park. The estuarine crocodile is often seen along the mud banks but owing to the dense undergrowth the tiger is rarely sighted. The Park is also noted for its conservation of the Ridley sea truffle.
The Undiscovered Greenery
Sunderbans, the place that owes its name to Sundari trees, consist of a large flora population like Genwa, Dhundal, Passur, Garjan and Kankra. Apart from these trees, inpenetrable Goran trees between 1.8 mtr and 3.6 mtr high covers almost the entire region. One of the most remarkable feature of this place is the bayonet like roots of mangrove forests that stick out above the water level.
Nature apart, if you want to feel the essence of spirituality then this is the place to be. A place of Ma Bonobibi (the goddess of the forest) to Shiber Kumir (Lord Shiva's Crocodile) or from Dakshinaroy (an ogre, the ancester of all tigers) to Kapil Muni (an incarnation of Vishnu).
Cruises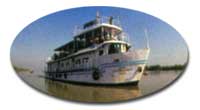 At Sunderbans you can expect the thrills of a life time. While cruising through the brackish kharris flanked by dense mangrove forests all around in the luxury launch MV Chitrarekha and M V Madhukar, experience the two day river cruise with one night on board with your family and friends.
From the wide open upper deck you can watch the forest vibrant with life while sipping your morning tea. Of course there is a great news for the corporate houses. Have a cool brain-storming session on the deck all morning followed by a sumptuous Bengali lunch consisting of delicacies like fish and prawns. You can also have a foot tapping dance session in your evening party and retire to the cozy bunks at night all these to give you a feeling of adventure along with the safe comforts of home.
Permission for river cruise : A general river cruise requires no approval. But to visit places outside the core area permission should be taken from the authorities.
General Information :
Best time to visit : Between September to March. Specially in winter to catch a view of the migratory birds.