KALI WILDERNESS CAMP (JUNGLE LODGES)
Dandeli Code No- AT-KT08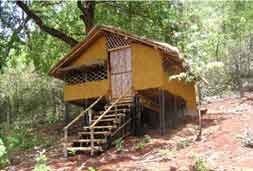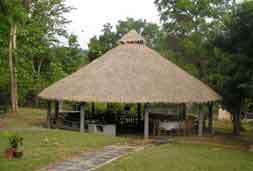 The camp is located on the banks of River Kali, which is the most famous perennial river flowing through the Uttara Kannada district in Karnataka, India. It is close to two wildlife sanctuaries; the Anshi National Park and Dandeli Wildlife Sanctuary. The whole district is a dense forest with around 70% area under forest cover.
There is plenty of bird-life and animals here at the Kali Wilderness Camp, but the sighting of animals is a matter of chance.
A coracle ride down the river Kali is a memorable experience. You will encounter large crocodiles and turtles, apart from dozens of different species of birds. Accompanied by experienced naturalists, you can go on elephant back or in a jeep ride into the forest.
The Camp and the River Kali live in harmony and this camp brings you closer to the greens and browns of nature. The wildlife sanctuary here spans an area of approximately 400 sq km of bamboo and moist deciduous trees. A liberal growth of thyme and basil permeate the air as you trek through it.
ACCOMMODATION

The camp has 9 tents that can accommodate 18 tourists. They are very comfortable with attached baths and overlook the river, providing a perfect setting for your stay.
The main building has 11 rooms that can accommodate 22 guests. This building has a huge reception area and a dining hall, suitable for conferences and meetings of up to 100 persons.
Hop abroad a coracle with a life jacket and a helmet on for the ideal bird watching experience. Birds of every shape, size and color dot the landscape. Dazzling hornbills and cormorants, snake fish and woodpeckers. You could also spot some crocodiles as they laze around in the sun on the rocks.
Rive rafting is another important activity at the Kali Wilderness camp. For that you are taken in the resort jeep to Ganeshgudi which is around 29 kms from the camp. Once you get started and as you battle the foam, oars in hand, you can feel the spray on your face and excitement and fear coursing through your veins. Some rapids are tame while the others test one's tenacity The experience is a total communion of man and the elemental forces of nature.
One could also go on one of the most scenic wildernes safaris in jeeps and also for nature walks. Elephant rides in our campus is another major attraction.

for more details about the package and booking click below:
Click Here for Booking Form

Tele : +91-11-41612107, 26823836. Mobile: 9810112772, 9910003772.
Email :- reservations@ashextourism.com