Taj Holiday Village
Beach Resort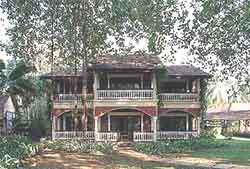 Taj Holiday Village - 45-minute drive from the airport, the Taj Holiday Village with its terracotta roofed cottages, scattered under palm trees amidst acres of landscaped gardens, has a rustic appeal. 70 acres of prime beach front, is modelled along the lines of an authentic Goan village.

140 air-conditioned villa rooms.

The complex comprises of independent one-bedroom villas, two-bedroom interconnected units, three and four bedroom units and even a six or eight bedroom block for large groups.

All villas are elegantly appointed and offer guest amenities like international direct dial facility, channel music and colour television with satellite programmes.
Seashell Restaurant: Serves Indian, Continental and Goan specialties.

The Trattoria: For Italian cuisine.

Raampon: Offers Goan specialties.

The Beach House: Serves Continental, Indian and Goan cuisine. A sizzling barbeque of the day's catch is also served.

The Banyan Tree: Resting in the shadows of huge Banyan tree and surrounded by a shimmering fish pond, this charming restaurant serves authentic Thai and Chinese cuisine.

Caravela: This restaurant on the beach front serves intoxicating cocktails and seafood.

The Anchor Bar: A café and bar that serves snacks, cocktails and Goan wines.

Poolside Bar: For seafood grills and tandoori specialties from 7:30 to 10:30 p.m.
Business Facilities

Meeting Rooms and Banquet Facilities

A conference room which seats up to 40 persons auditorium style or up to 50 persons for cocktails/ receptions. Beach parties and barbecues can be arranged.
Recreation

Swimming pool, parasailing, windsurfing, surfing, sailing, water-skiing, boating, water scooters, speedboats and jet skis are available. Facilities for tennis, squash, badminton, table tennis, billiards and golf (five-hole course). Fitness centre with sauna, Jacuzzi and gym. Children's Activity Centre. An astrologer is also available on request.

Facilities and Services :

Beauty parlour, Ayurvedic massages, barber shop, travel desk, car rental, shopping arcade, currency exchange, safe deposit lockers, doctor-on-call and babysitting. 24-hour copier/facsimile facilities. Laundry service (until 8 p.m.) and room service (until 11 p.m.).