PRAINHA COTTAGES
Panjim GOA, Code No- AT-GA10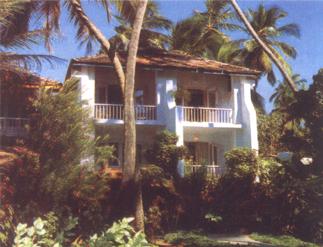 Cottages By The Sea
Prainha Cottage - In the year 1963, a little whitewashed summer cottage with its surrounding coconut grove was inherited by Aires Dias, He made his father's dream of "Cottage by the Sea" into what is today the resort PRAINHA which centers around the original cottage. the name derives from the Portuguese word for 'Little Beach'.
Prainha is the perfect setting for an exotic holiday. Though only seven kilometers from the city of Panjim, it is distant from the glamour and the sights of the typical tourist spots, it overlooks the secluded Dona Paula beach and is surrounded by tropical vegetation and tall palm tress. it's simple offerings the vibrant colours of the Goan landscape, the fragrance of country flowers, waves lapping on a little used beach home cooked meals with a professional touch, spacious rooms and cottages make staying at Parinha an unforgettable experience.
Our staff , brought up on a traditions of simple and honest values will work their way into your heart with their smiling eagerness to please you in every way. Our rooms have been designed to reflect the relaxed, easy going life style of Goa, We offer you a choice of accommodation:
Madeira Cottages : The original timber ceiling cottages are just 10 meters from the beach. These four units are housed in two cottages each with their own garden.
Cottage Rooms : Rising from the natural contours of the landscape these rooms in terraced cottages have an airy, spacious feeling French windows open onto balconies or terraces.
Double Rooms: Located on two floors , these rooms are popular for their tranquility and treetop views , all have large windows , with balconies in most cases.
| | | |
| --- | --- | --- |
| | | |
Restaurants
Patio : Dining alfresco, wider the palm trees has been a favorites pastime here for years, we have selected some of the best examples of the regional and continental cuisine which will be individually prepared on order.
Harbour Lights: The bar under the eaves of a typical Goan cottage offers a select choice of cocktails and spirits including "Feni" the fiery local distillation of coconut or cashew juice.
Moon Palace : Our Malaysian connection ensures that you are served innovative and authentic Malaysian and Chinese fare in our lively restaurant.
Our personal attention to detail extends to our larger functions too, We organize in our picturesque Gardens, Weddings, Parties and Business Dinners according to your requirements. We also offer our function room with its own patio for smaller gatherings. Talk to us you'll find us full of useful suggestions...
Other Services
* Telephone/Facsimile/Email, * Money changing , * Credit Cards ,* Safe Deposit Lockers,* Tours and Travel Counter ,* Parking , * Airport pick up on request * Laundry Service, * Gift shop, * Baby Sitting , *Doctor on call ,* Swimming pool, * Sun beds ,* Games

Click here to Book Prainha Cottages