Festivals
Kerela's Kaleidoscopic cultural canvas unfolds itself before the visitors in the form of exotic snake boat races known as Vallamkali,teh magnificient Kathakali,the Lyrical Mohini attom dances and temple celebrations.A festival is a time for fun, food and celebration. It teach us to live in harmony.The famous festivals of Kerala are Onam and Pooram.
Onam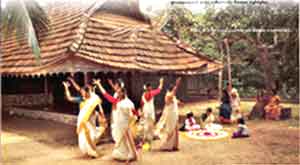 Is the most popular harvest festival of Kerela and its festivities begin ten days before Onam with making of beeautiful colour and flour designs in the front of the house in the courtyard. The most interesting part of the festival is the boat races called as Vallamkali.The tourism week celebarations during Onam are a major attaraction.
Pooram
Festival at Trichur is marked with the display of caprisoned and decorated 30 richly capariso -ned elephants to the rolling drums and scintillating fiireworks in the end. It is an aannual celebaration held in April-May.
Annual feast at St. Theresa's Chruch is one of the highlights of Kerela's festive.
A devotional offering made by rolling on the ground, unique to this chruch. St. Theresa's Chruch is among one of the beautiful chruches which kerela posseses and looks marvelous specially on the annual eves.