Art and Culture
KATHAKALI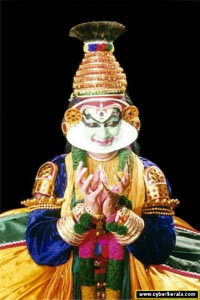 The educative, didactic, religous and entertainment value of dance - drama has always been emphasised by the Indian genius. In this da- nce recital, performed in a divine setting, a great gift of Kerela to the world of art, mythological themes are enacted.

Its mass appeal is to be underlined. Everything in Kathakali is larger than life because it presents through elaborate make-up, song and gesticulations epic cycles and Puranic themes to large audience.Kathakali dance recitals can br enjoyed at Cochin and Triv-andrum as there are regular performances

.

ART
At the northern end of the city,in a spacious park are located the Museum and the Art Gallery in an attractive building. The museum contains a fine collection of bronzes,ornaments,carvings and temple cars and local objects of arts and crafts.The Art Gallery or chitralya is another interesting place here for an art enthusiast. There are on display Rajput, Mughal and Tanjore school paintings along with the copies of Ajanta murals and works from Tibet, China, Bali and Japan.There are also paintings from Indian Masters including those of Ravi Verma.
CULTURE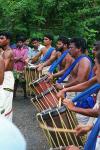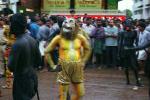 An intrinsic part of the traditional Kerala are it; handicrafts. Kerala's most important natural resources are the coconut palms. No part of this tree is wasted and a flourishing coir industry exists because of its plentiful presence, Coir products, woven from coconut husk fibre are a Kerala speciality. In Cochin on the Gundu island the entire process of mats and carpets being made, can be watched. Kerala is also famous for intricate rosewood and sandalwood carvings, ivory work (which carries on a centuries old artistic tradition), brass and 'bell metal' lamps (Aramula is the centre of bell metal mirror crafts). Besides coir and cane, bamboo and straw are also used to make a number of interesting and useful things. Also found are horn products, wooden toys anc lacquer ware. Amongst Indian khadi (hand spun and hand woven and handloom (hand woven) textiles, Kerala's fabrics are unique. The greatest skill goes into the traditional sari and lungi lengths which can be stitched into other garments. The northern city of Calicut, owes its origin to the English word Calico and local weavers still make exceptionally soft polished cotton, so tightly woven and delicately coloured that they can easily pass for silk. Other Religious Festivals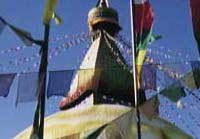 The family deity of the former rulers of the state,Sri Ananta Padmnabham swamy is enshrined in this temple,located in the center of the city.Bulit in 1733,this shrine with its seven storey entrance goppuram is meant only for the Hindus.The Hindus have to wear white dhoties to enter it.Non-Hindus are not allowed at all. The white dhoti can be hired from a nearby shop for a rupee.
AYURVEDA
Kerela,the land of Ayurveda. Around 600 BC a new system of medicine evolved in India. A system that in addition to treating an alignment, stressed on its prevention. A system that came to be called ayurveda.Ayurveda treatment or massage is one of the greatset speciality of Kerela .All the problem like joint pain or any other problems like headache, body ache can be cured very easily through the ayurvedic treatment. People are a expert in there work .Even the tourists from all over the world take massage and find themselves relived of there pains.The abve picture shows one of the ayurvedic center where people of kerela are taking the famous ayurvedic massage and getting relieved of there pains.
This tradition of healthcare was followed closely across the entire country, and has been practised ever since. Today's, it's a unique,indispensable branch of medicine, acomplete naturalistic system that depends on the diagnosis of the body's humors to achieve the right balance. Ayurveda believes in the treatment of not just the Ayurveda believes in the treatment of not the affected part, but the individual as a whole. Making it the natural way to perfect health and harmony of life.